New coffee and outdoor-gear shop, mural with a message and Wishing Bench revival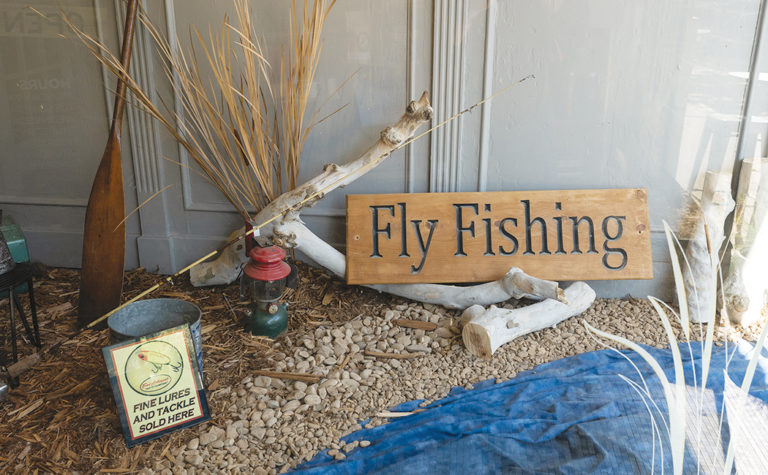 Even in a downtown district beloved for fun and funky coffee-shop concepts, Great Blue Heron Outdoors is quickly—and quietly—getting noticed for its new take on two old ideas: a full-service coffee bar within a tidy showroom of outdoor gear.
Bob Marsh's hope for Great Blue Heron Outdoors, at 823 Mass, is to encourage "community and connection"—without TVs or a blaring stereo—among water-sports enthusiasts from across the region, as well as curious newbies and even visitors looking only for a relaxing spot to read while enjoying coffee and a pastry.
"You don't need an outboard motor," Marsh says of the fishing and boating interests supported by Great Blue Heron. "Paddle or wade. Simplify, so you don't need to carry a bunch of gear in a big basket. We're the quiet-water outfitter."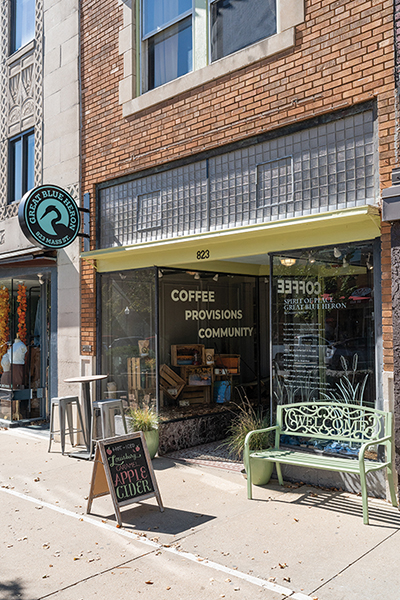 Amid a challenging time for acquiring retail stock, Marsh was delighted when the owners of a popular local fly fishing store, which had moved online years ago, dropped in shortly after the shop's recent opening and offered to sell him their inventory; now Great Blue Heron features flies, lures, rods and reels alongside carefully curated outdoor gear, as well as a custom-built coffee bar and sparkling espresso machine.
"The heron is the patient but strong wading bird, quietly working in the water, hunting and fishing alongside us, familiar with us but keeping its distance," Marsh says. "It's that message, of patience and wading, that we keyed in on with Great Blue Heron."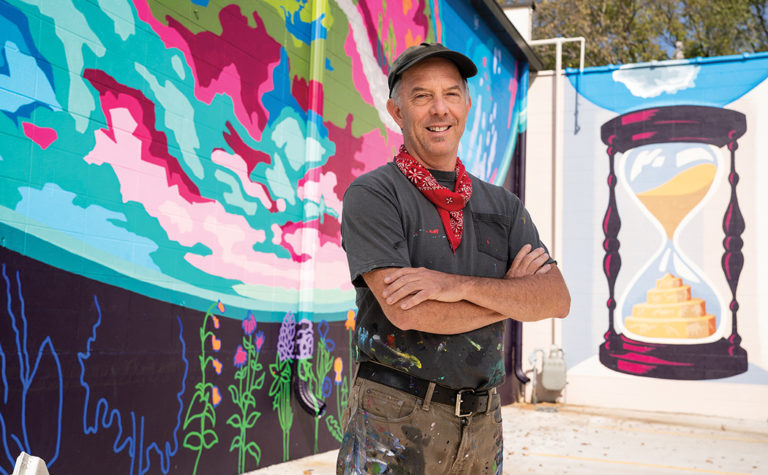 Home-improvement enthusiasts and visitors to the weekly farmer's market at Cottin's Hardware & Rental have a new sight to behold: A 50-foot mural, spanning the entire east exterior wall and a smaller one on the adjacent south wall were designed and painted this fall by longtime Lawrence artist Dave Loewenstein.
Loewenstein created the work, which highlights the environment and its current endangered state, with input from store owners Tom and Linda Cottin, b'04. "They were interested in doing something about the earth and climate," says Loewenstein, '93, "and that was exciting to me."
The expansive mural features an image of the earth, with North America at the center, and includes illustrations of hurricanes and wildfires, which have increased in frequency and severity in recent years. Native and ancient plants that transform into constellations are pictured below the earth, bearing its weight. A 15-foot hourglass, representing the imminent threat to our planet's natural inhabitants, is featured on the adjacent wall.
Lawrence artists Missy McCoy, f'77, and Ardys Ramberg, who in 2002 painted the other popular mural on Cottin's exterior, assisted with the project, as did fellow Lawrencians, who were invited to help during two community-painting events.
"We hope that Dave's thoughtful design inspires us all to take what actions we can to address the seriousness of climate change," Linda Cottin says.
For viewers willing to listen, these walls can talk.
News of the grant was delivered personally by NSF director Sethuraman Panchanathan, who visited KU Sept. 17 with U.S. Sen. Jerry Moran, c'76, l'82, to meet some of the researchers and students involved in NSF-funded research at the University. 
"This award highlights the key role Kansas plays in advanced manufacturing and how they continue to innovate in critical areas such as renewable plastics that will benefit the entire nation," Panchanathan said.
The project will strive to reduce the environmental toll of discarded plastics in two ways. First, researchers will develop sustainable methods to transform non-food biological resources such as grasses and crop leftovers into plastic products—which in turn will advance economic growth for farmers. Second, the team will improve processes for breaking down used plastic into elements to create new plastic.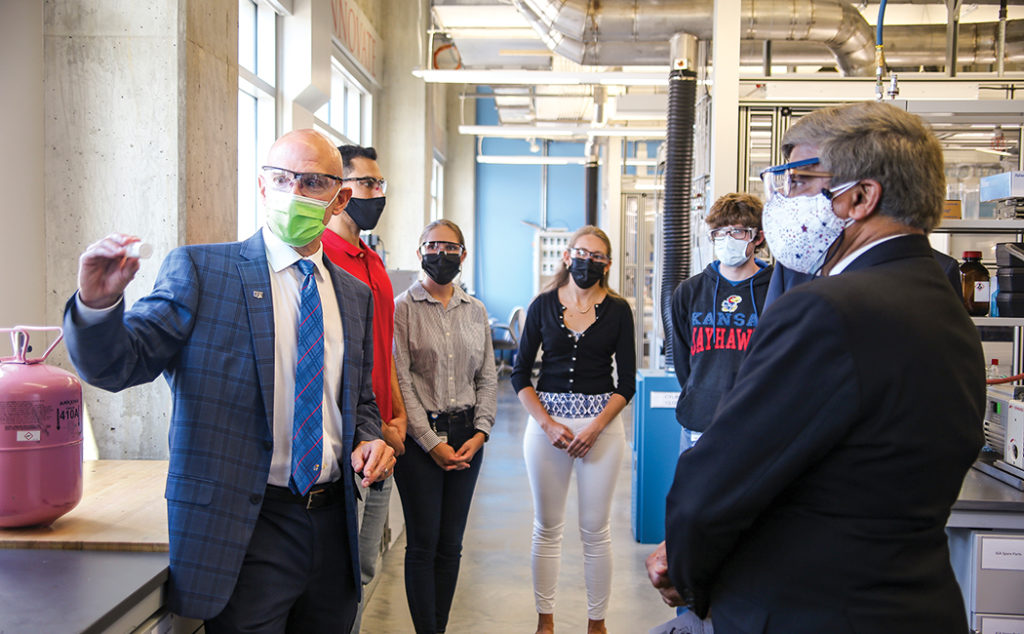 When East Lawrence's beloved "Wishing Bench" burned down after an early-morning fire in August, devastated neighbors rallied to restore the sacred structure.
The bench, a community-art installation at Ninth and Delaware streets in the Warehouse Arts District, had been a fixture in the neighborhood for years, inviting passersby to stop for a moment, make a wish and contribute meaningful, sometimes quirky items to its whimsical and ever-changing appearance. 
In the days following the fire, neighbors and fans of the bench mobilized to rebuild it. And thanks to HAMM Companies and Diamond Everley Roofing Contractors, which donated materials and labor, the East Lawrence treasure has been restored and is ready for a new generation of artistic offerings. 
"It's a community art project with secret participants—ongoing, no deadlines. It belongs to everyone," says KT Walsh, '83, a longtime Lawrence resident and vice president of the East Lawrence Neighborhood Association. "This is how our culture is created and sustained in East Lawrence."