Accountability, transparency are priorities for KU's new police chief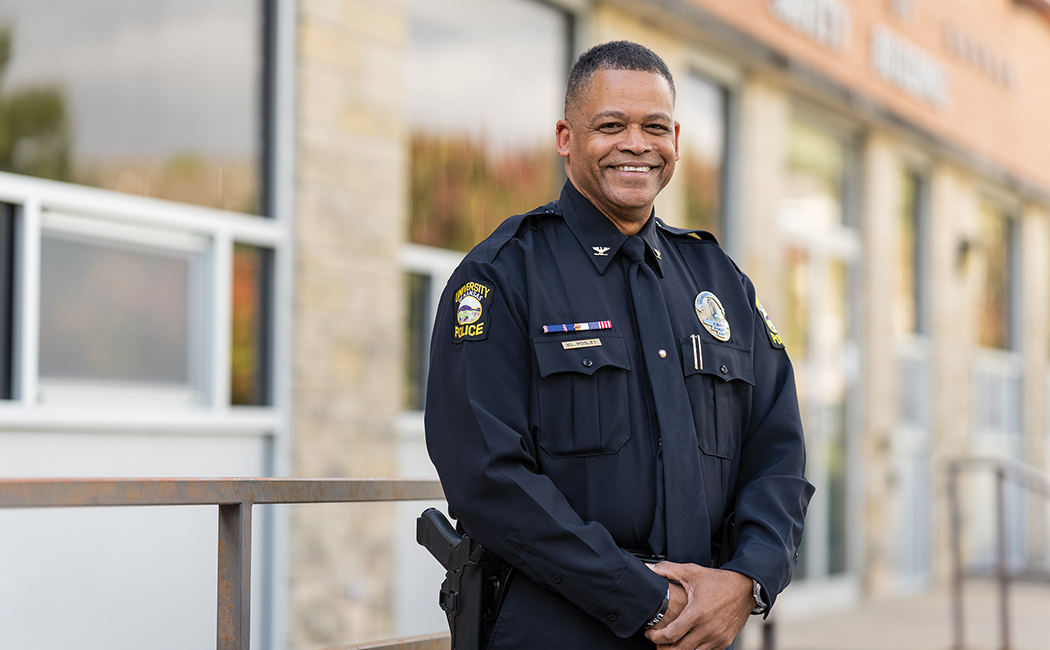 Nelson Mosley, the University's new chief of police and director of KU Public Safety Office, has led departments both large and small in his nearly 35-year career in law enforcement. So, then, what attracted him to the Jayhawk community? "Well, number one, I'm a KU fan," he says with a grin, "and I have been for a while." 
But for Mosley, who in September replaced retired KU Chief of Police Chris Keary, c'83, it's more about continuing the good work of his friend and predecessor and promoting community policing by strengthening relationships with KU students, faculty and staff. "Just like anything, we can always make things better," he says. 
Mosley grew up in Felton, Delaware, a town with just over 1,400 residents, and moved to Kansas after completing basic training at Lackland Air Force Base in San Antonio. Throughout his military service, he remained committed to a career in law enforcement. "I always wanted to be a police officer, since I was little," he says. "I had two uncles who were state policemen, and I remember they had the high boots. I used to help take them off and I thought, 'I want to do that.' So that was my motivation from then on."
In 1987, Mosley joined the Wichita Police Department and was promoted to deputy police chief in 2009. Along the way, he served as captain of the Crimes Against Persons Bureau and led the unit that responded when the city's notorious serial killer BTK resurfaced in 2004. He retired in 2016, after nearly two years as Wichita's interim police chief, but the break was short-lived. "After getting through my list of chores and things that needed attention around the house—and that went rather quickly—I made a decision," Mosley, then 50 years old, says. "I'm ready to get back to work."
When the chief of police position opened in 2016 in Rose Hill, a suburb southeast of Wichita where he and his family lived, Mosley jumped at the chance. The change of pace was welcome, and he embraced the opportunity to get out and interact with community members, something that didn't come easily as chief in a much larger metropolis. Now, five years later, Mosley enjoys a similar experience on Mount Oread. "I came here with the idea of building and maintaining our relationships with everyone out there," he says. 
"I came here with the idea of building and maintaining our relationships with everyone out there."
—Chief Nelson Mosley
In his first few months, Mosley has focused on the 12 recommendations created last fall by the 27-member Chancellor's Task Force on Community-Responsive Public Safety. The recommended changes, all of which Chancellor Doug Girod approved this year, include improvements to KU's response to behavioral health crises, updates to policies on officer conduct and the formation of an oversight board ["Public Safety changes planned," issue No. 3, 2021]. Mosley also stresses the importance of recruiting a diverse staff of qualified law enforcement officers—more closely representative of the University community itself—and prioritizing accountability and transparency, an increasingly important issue following the recent deaths of George Floyd and other Black men and women during police encounters. 
"It's just a matter of making sure we're doing the right thing," he says. "Most police departments are doing it and should be. I know we're ahead of the curve; we're doing those things. We're a leader by continuing what we've been doing."
Mosley, who recently served as president of the Kansas Association of Chiefs of Police, also looks forward to working with local law enforcement agencies, which KU relies upon during games and other University events, and getting involved with the greater Lawrence community. But for now, KU students, faculty and staff get his immediate attention.
"I have an open-door policy," he says. "If I'm here, you can stop in and talk to me about any number of things.
"This is your police department."