Milestones, money and other matters
KJHK tops chart, Buzbee joins Post, Soberon named director, Sigma Chi serenade, KU debaters win, Baron honored and more
In March, the Kansas Association of Broadcasters confirmed what Jayhawks have known for years: KU's student-run radio station, KJHK 90.7 FM, totally rocks. Competing against dozens of college radio and television stations across the state, our student DJs and staff tallied 15 awards, including seven first-place honors and best website—an incredible feat, considering the challenges they faced this year.  
"I couldn't be more proud of our staff at KJHK," boasted Mike MacFarland, f'97, general manager and adviser at KJHK. "Their hard work, enthusiasm and creativity throughout the pandemic have been a constant inspiration for me. I'm thrilled to see their efforts acknowledged and recognized by industry professionals as well."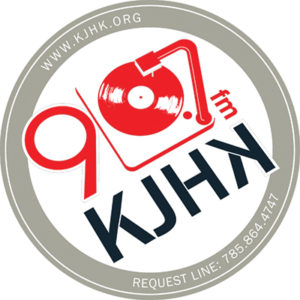 For the fourth-consecutive year, KU received Military Friendly Schools designation, securing a No. 5 ranking among Tier 1 research institutions across the country, up one spot from last year. KU also was one of 162 schools nationwide to earn Gold Award status, an honor reserved for institutions with outstanding practices, outcomes and programs for military-affiliated students. The University has been a Gold Award recipient since 2017.More than 1,200 schools participated in the Military Friendly Schools 2021-'22 survey, which assesses services and support for military-affiliated students and includes data on core standards, such as retention, graduation and job placement for student veterans.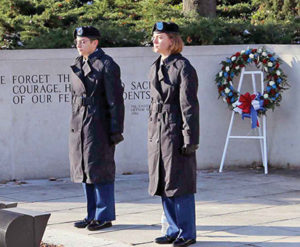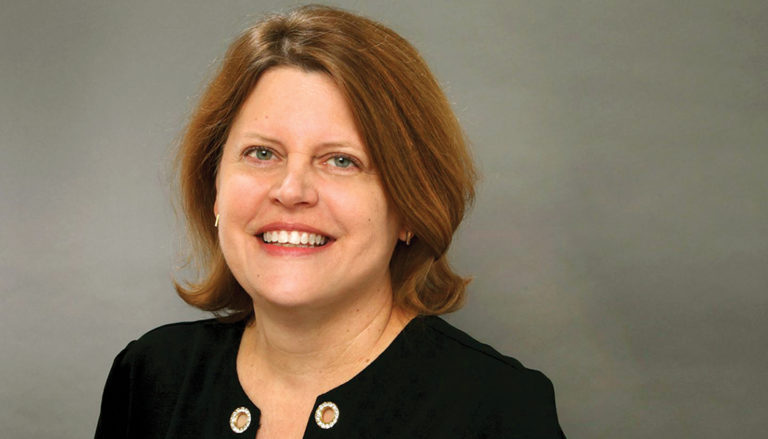 The Washington Post on May 11 introduced Sally Streff Buzbee as its new executive editor. Buzbee, j'88, joined the Associated Press after her KU graduation and since 2017 led the global news machine as its executive editor; she now becomes the first woman atop the Post's editorial masthead. Publisher Fred Ryan praised the Post's "runaway unanimous choice" as an "inspiring leader" with "credibility and gravitas."
University Distinguished Professor Jorge Soberon ("A Long View," issue No. 1, 2019), a renowned scholar of biodiversity modeling, has been named director of the KU Biodiversity Institute & Natural History Museum, following the retirement of longtime leader Leonard Krishtalka. Since joining the Biodiversity Institute and the department of ecology & evolutionary biology in 2005, Soberon has helped establish KU as a world leader in the rapidly expanding field of biodiversity informatics. "He is well known," said Simon Atkinson, vice chancellor for research, "for both his scholarship and his collegiality."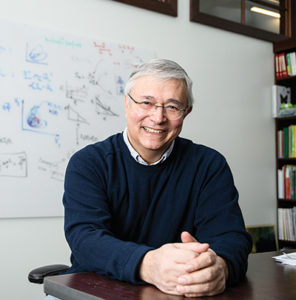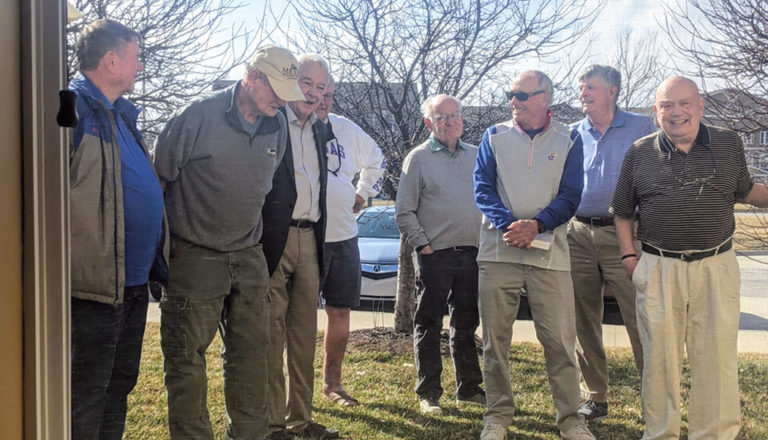 Phil Hammons was that one special sort of college pal we all had, or wish we had. Always laughing, quick to poke fun, more often than not at himself. His family and fraternity brothers alike treasured his happy demeanor, so when Hammons in February faced the darkest days of his life during lung and liver cancer treatments, praying he might fall asleep and never again awaken, their concern was very real.
Hammons, c'66, only recently retired from the family real estate firm in Fort Scott, was recuperating at an Olathe rehab center when one of his Sigma Chi brothers, Chuck Warner, b'67, l'70, reached out to Carey Parks and asked whether her father might be up for a visit, of sorts: 1960s-era Sigma Chis from across the area who in recent years had reconnected over monthly gab sessions in Kansas City barbecue joints decided it was time to serenade the serenader.
And so, with blessings from both Carey and Phil, the men of Sigma Chi on March 10 assembled on a tiny strip of lawn and sang three of their favorite tunes from back when Hammons held down harmony, wrapping up with perhaps the most famous fraternity song of 'em all, "The Sweetheart of Sigma Chi."
"That's when I lost it," Hammons said with a chuckle from his Fort Scott home, where he was under the care of home health specialists, along with nurses and a surgeon who lived nearby and Roxy, his beloved rescue dachshund. "It's a feel-good story, isn't it? And I think people need more of those."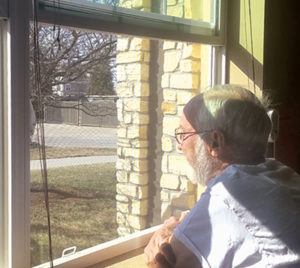 On May 2, an impromptu "friendship parade" 100 strong marched outside Hammons' bedroom window, where he greeted each of his well-wishers by name. Two days later, Phil Hammons passed away.
Recalling in his obituary their patriarch's "quick wit, his roaring laugher, and his irrepressible personality"—along with his abiding dedication to family, friends, church, community, KU, Sigma Chi, The Wheel and golf—his family summed up the memory of the man with this:
"He was his own laugh track."
KU Debate finished a strong season with three students winning national honors. Azja Butler, Lansing sophomore, in March became the first Black woman to win the Ross Smith Top Speaker award at the National Debate Tournament, where she and teammate Ross Fitzpatrick, Leawood senior, reached the Final Four. Nate Martin, Lansing senior, won the second speaker award. In April, Butler was named National Debater of the Year,andassistant coach Jyleesa Hampton, c'15, g'18, '21, was named the Graduate Student Coach of the Year by the Cross Examination Debate Association. Butler is KU's third Debater of the Year, joining Hampton (2015) and Kenny Delph, '21 (2020). KU Debate has won six national championships and competed in 18 Final Fours. 
Marty Baron, retired editor of The Boston Globe and The Washington Post, received the William Allen White National Citation during a virtual event hosted by the School of Journalism April 21. In his speech, Baron—whose newsrooms won 17 Pulitzers under his leadership—noted the resonance White's own 1922 Pulitzer-winning editorial, "To An Anxious Friend," holds now. "Today it could be called, 'To An Anxious Nation,'" Baron said, decrying the political polarization, "coarsening public discourse" and erosion of pressfreedoms that White championed. A complete list of National Citation recipients is at journalism.ku.edu.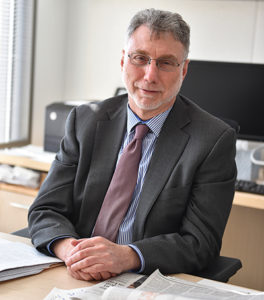 The fourth-annual One Day. One KU. fund drive on Feb. 18 generated more than 5,400 gifts totaling nearly $3.4 million, including a surprise $1 million gift to benefit the KU Alzheimer's Disease Center and a $10,000 gift through Facebook, the largest gift received via social media since the 24-hour fundraising whirlwind began in 2018. 

"I grew up in Santanta, Kansas," said Mary Haddican, c'73, l'76, of St. John, who made the $10,000 gift to benefit the KU School of Medicine-Salina. "I know the importance of rural health care." This year's drive saw 2,000 more gifts than in 2019 and a boost in donations by more than $2 million. "Donors stepped up at record levels to support KU in these times of great need," said KU Endowment president Dale Seuferling, j'77. "We couldn't be more thankful for every meaningful gift that totaled such a tremendous result."
Kristin Bowman-James, University Distinguished Professor of Chemistry, has been elected to the American Academy of Arts & Sciences. A KU faculty member since 1975, Bowman-James directs the Kansas National Science Foundation's EPSCoR and has helped bring as much as $20 million over five years in NSF research grants to the state. Her research focuses on the challenges of nuclear waste site cleanup and the depletion of the world's phosphorus reserves.