At-home COVID-19 test nears commercial readiness, alumna's book optioned by ABC
At-home test progresses
Production is underway on an at-home COVID-19 test developed in spring 2020 by KU researchers. Led by Steven Soper, Foundation Distinguished Professor of chemistry and mechanical engineering, a team of graduate students has worked throughout the year to repurpose a chip-based blood test that KU launched in 2018 to detect a variety of cancers and other diseases. The COVID-19 test uses the same technology to isolate virus particles from a saliva sample and delivers an accurate result in about 15 minutes.
Although testing for COVID-19 has decreased in recent months, thanks in large part to the widespread availability of vaccines, Soper insists it remains an important component in combating the virus, especially as new variants emerge. "This is such a dynamic event," he says. "Who knows what's going to happen in the next few months. Are new variants, in addition to the ones that are already out there, going to be generated that might require more rigorous testing?"
If so, says Soper, PhD'90, this chip technology could easily be reprogrammed—in just a few weeks—to detect new COVID-19 variants or other SARS-related diseases. In addition, the test will be helpful in determining if and how affected persons should be quarantined during a pandemic.
Both the chip and the cell-phone-sized handheld device in which it's housed are in the end stages of development, and Soper's team will work with two large-scale commercial manufacturers to produce the quantities needed for distribution. As with KU's other blood-based chip tests, the COVID-19 test will be marketed through BioFluidica, a San Diego-based company that has an advanced research lab in Lawrence. Soper hopes the tests will be available by the end of 2021.
Though it will take more than a year to get the test from laboratory conception to commercial readiness, Soper points out that a project of this scale usually takes two to three years to complete—and his graduate students have done it in about one-third the time. "The way we were able to get that done is just mobilizing a lot of students to work on this and work as a team," he says. "And we didn't have millions and billions of dollars to do this. We had a very tight budget, and we were still able to pull this off."
Editor's note: An earlier version of this article incorrectly stated that Biofluidica is based in San Francisco, rather than San Diego. We regret the error.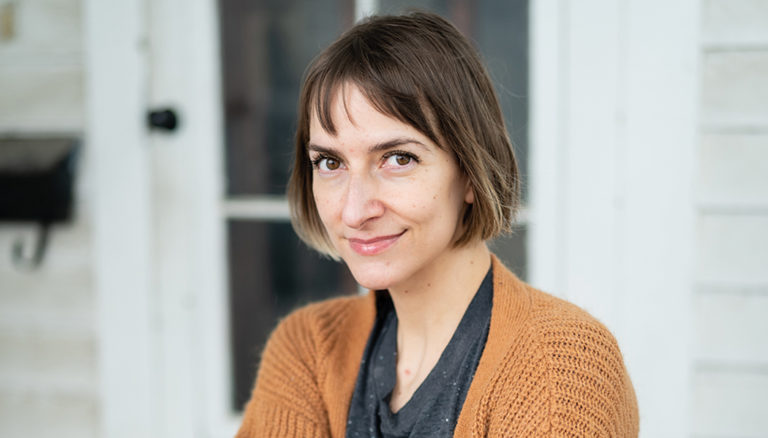 Almost a year after the publication of her widely praised memoir, Sitting Pretty: The View from My Ordinary Resilient Disabled Body, Rebekah Taussig has another reason to celebrate: ABC Signature is developing her book for television. 
Taussig, PhD'17, a disability advocate who has been paralyzed from the waist down since she was 14 months old, will co-write the TV adaptation and work with executive producers from Mandeville Films, as well as director-producer Randall Einhorn, who's known for several hit television shows, including "The Office," "Parks and Recreation" and "Modern Family." 
Sitting Pretty is Taussig's first book ("In Her Words," issue No. 1) and was published in August 2020 by HarperOne. The collection of essays is rooted in the mini-memoirs she began sharing five years ago on her Instagram account, which detail the challenges and complications she faced growing up in a wheelchair. The opportunity to expand her book's reach as a TV show and shine a spotlight on the disabled community is exciting, she says.
"It's about time we had a show with a wheelchair-using woman at the center," Taussig says, "and it means the world to me that I get to participate in making it."