Successful fall lends optimism for spring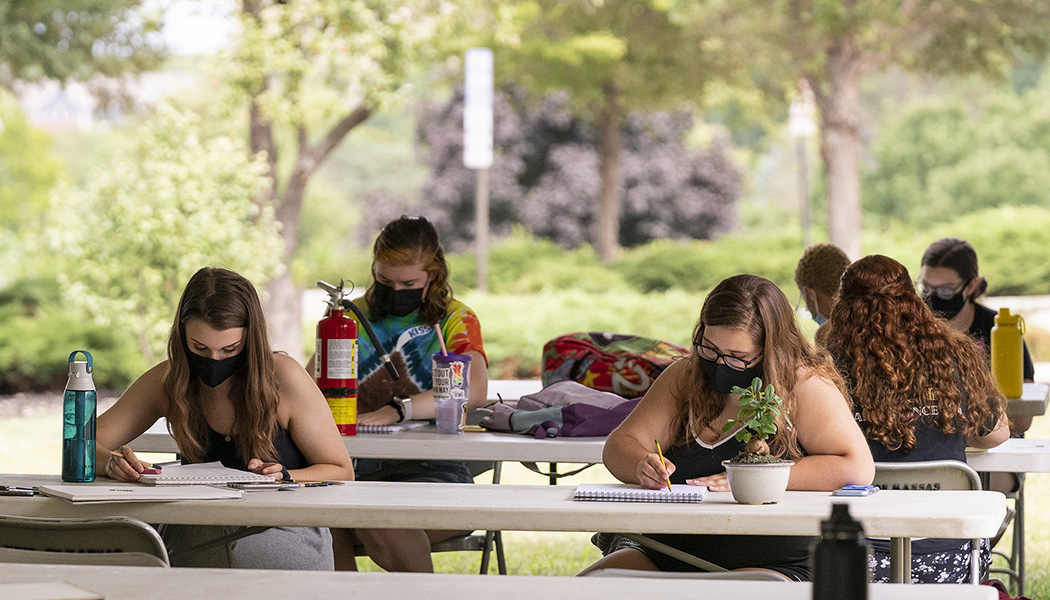 Hikers, hunters and skiers take to heart a basic precept of outdoor survival: layering. Turns out the concept of dressing safely also applies to pandemic mitigation, at least in the view of University officials charged with keeping campus safe.
While no single layer of prevention is enough to keep COVID-19 at bay, multiple layers added together are effective: face coverings, social distancing, a health-check phone app, classroom and laboratory configurations, touchless technology in restrooms, automatic doors—and, new for spring semester, stand-alone air filters in 600 classrooms and 300 lab spaces—all helped create what KU leaders have described as the safest place in Kansas.
"Now that we've been through a semester and we've seen the success, it was a lot more comfortable preparing to have on-campus activity this spring," says Mike Rounds, vice provost for human resources, public safety & operations, "and really with no concern about the safety of being able to do that."
Rounds notes that the University knows of no documented case of COVID-19 transmission in any classroom, lab or office space. KU anticipates working in partnership with the School of Pharmacy to open a vaccination site once vaccines are widely available in Douglas County, and he is confident that "superlayer" will allow campus to return to something resembling normal by fall. Masks will likely be required, but social distancing probably won't, unless recommended by federal health authorities.
KU closed its fall semester at Thanksgiving and did not reopen until Feb. 1; two empty months have finally been swept aside; never has it been sweeter to hear the steam whistle prompt backpack-toting students to stride down Jayhawk Boulevard.
"It feels like it should now," Rounds says. "We're in a university because there's students and there's activity and there's a lot of energy, and we're starting to get it back. And I'm excited to get it fully back as we move into summer and next fall."