Board chooses new officers, directors to begin terms July 1
BY JENNIFER JACKSON SANNER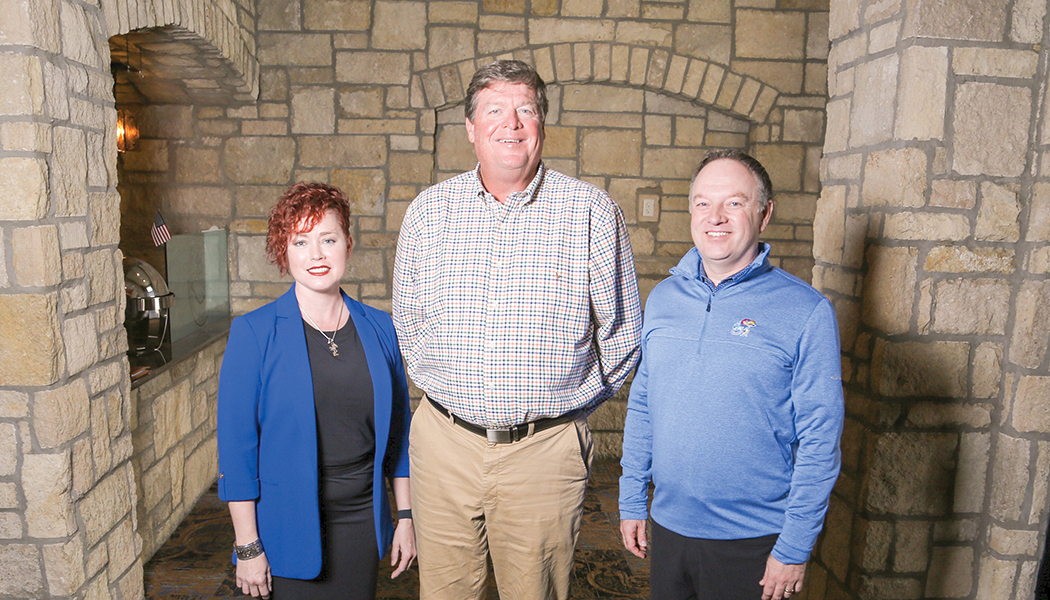 In the Alumni Association's first elections since 2020, the national Board of Directors met April 29-30 in Lawrence and elected officers and two new directors, signaling a return to the normal succession process after the disruption of the pandemic.
In spring 2020, as the pandemic began, the Association canceled its customary two-day,
in-person board meetings in Lawrence and moved all meetings online for half-day sessions. Amid these changes, the board in 2021 chose to offer directors the option to extend their five-year terms by an additional year. In addition, the board elected national chair Jay Kerutis, c'82, and chair-elect Keturah Harding Pohl, f'04, a'08, who had served during the 2020-'21 fiscal year, to serve through June 30, 2022, to provide continuity during a period of financial uncertainty and recovery following the pandemic and during the construction of a major capital project, the Jayhawk Welcome Center.
The changes marked only the second time in the Association's 139-year history that it extended board members' terms; the first instance occurred during the 1918 influenza pandemic.
After serving two years as chair-elect, Harding Pohl on July 1 begins her one-year term as national chair. She chaired the Adams Alumni Center Committee in preparation for the Welcome Center project; construction began in summer 2021 and is expected to be finished in November. She has continued to serve on the building committee along with staff members from the Alumni and Endowment associations and the University.
Harding Pohl co-owns and manages Putnam Family Dental in Findlay, Ohio, with her husband, Brad, c'05. They moved to Ohio from Lawrence, where she was an architect with Treanor Architects after earning her KU degrees in industrial design and architecture. For the Welcome Center and Adams Center renovation, she has continued to meet regularly with project leaders from Helix Architecture + Design and McCownGordon, the general contractor.
She also serves on the Association's Executive Committee. Before joining the board in 2016, she volunteered for the Lawrence Network and served five years as the Association's representative to the KU Memorial Union board. She and Brad are Life Members and Presidents Club donors.
She succeeds Kerutis, of Mesa, Arizona, who remains on the board for an additional year as immediate past chair. He has chaired the Executive and Revenue Development committees. Kerutis retired from his career as a computer software professional after rising through the ranks at Digital River Inc. to become president of the software and digital commerce services division.
On the Hill, he competed on the KU swim team and, as captain, led the Jayhawks to two conference championships. In 2011, he organized a reunion of his teammates. A Life Member and Presidents Club donor, he joined the board in 2016. He is married to Pat Caldwell.
The 2022-'23 national chair-elect is Michael Happe, j'94, of Eden Prairie, Minnesota. He leads Winnebago Industries as president and CEO, a role he began in 2016 after 20 years in senior leadership positions with The Toro Co. He majored in broadcast news at KU and earned his master's in business administration from the University of Minnesota. For the Association, he serves on the Executive Committee and has chaired the Revenue Development Committee. He is married to Shannon Fitzsimmons-Happe, j'94; they are Life Members and Presidents Club donors.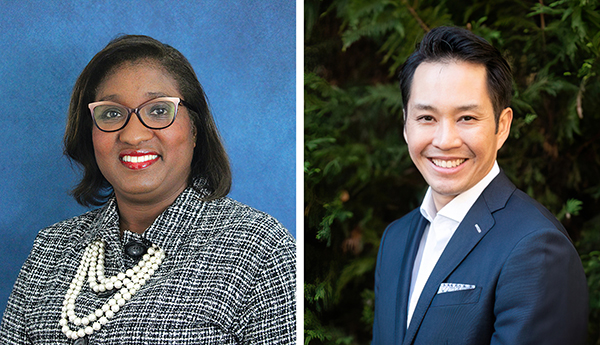 The board elected two new directors, Tamara Huff-Johnson, c'12, and Jonathan Ng, c'03, j'03, who will begin five-year terms July 1.
Huff-Johnson, of Bel Aire, is a public policy expert and technical coordinator for the Kansas Parent Information Resource Center.
She has led the Association's Black Alumni Network (BAN) as president since 2019 and will continue in that role until fall 2023. She has regularly advised Chancellor Doug Girod and his team on vital issues concerning equity and social justice as well as the recruitment and retention of Black students, and she serves on the Provost's Diversity, Equity, Inclusion and Belonging Advisory Council. In addition, she has helped ensure that the legacies of the BAN's early leaders, especially the late Thomas Vaughn, l'78, continue to inspire and guide African American students and alumni. She is a Premium Annual Member of the Association.
Ng currently serves as an attorney advisor for the U.S. Agency for International Development. He also is an adjunct professor at Georgetown Law, where he teaches a course he co-created on social entrepreneurship, impact investing and the law. He previously served as the first global legal director for Ashoka: Innovators for the Public and as a project finance attorney at White & Case LLP in New York.
As KU student body president from 2002 to '03, Ng helped lead the effort to build the Sabatini Multicultural Resource Center. He also worked on The University Daily Kansan and as a New Student Orientation assistant, and he was a founding father of Pi Kappa Phi fraternity. He received the Agnes Wright Strickland Award for his campus leadership. He earned his law degree from the University of Notre Dame.
Board members concluding their terms June 30 are Steve Dillard, c'75, Wichita, and Portia Kibble Smith, c'78, Overland Park. In June 2021, Janet Lusk Murfin, d'75, of Wichita, and Immediate Past Chair Dave Roland, e'83, of Excelsior, Minnesota, completed their terms.
The board now includes 25 members. The Nominating Committee reviewed all nominations submitted by the March 1 deadline and selected the slate for the full board's review and election at the spring meeting. Harding Pohl chaired the Nominating Committee, which also included Brenda Roskens Dicus, b'83, Topeka; Michael Flowers, c'77, Apollo Beach, Florida; Jacqueline Sloan Hall, c'75, Sublette; Kibble Smith; and Kerutis as an ex officio member.
—Photographs by Dan Storey; courtesy Tamara Huff-Johnson and Jonathan Ng