New ballgame for KU men's basketball in 2022-'23
With two experienced returners, young 'Hawks must emerge in title defense.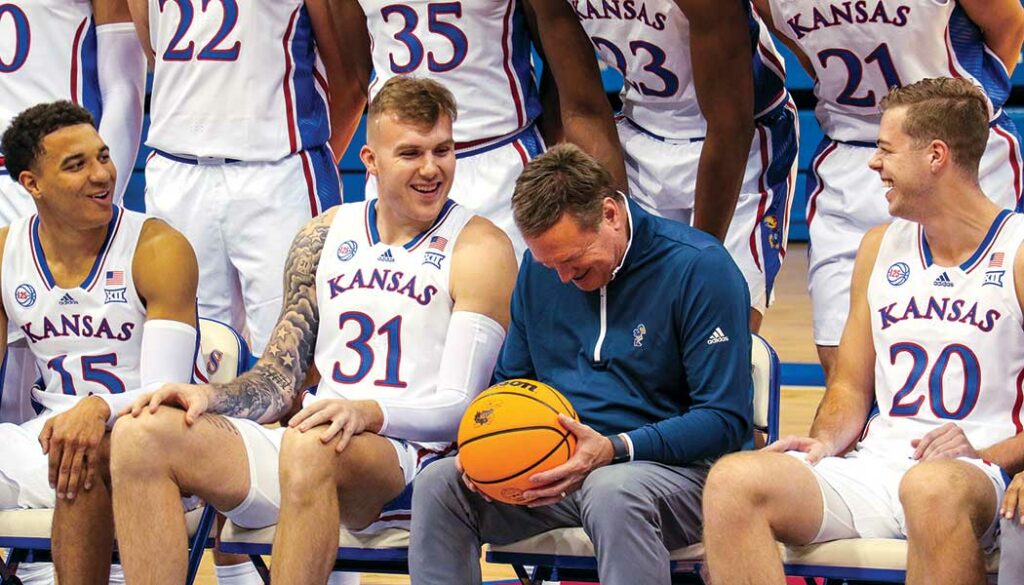 Shortly before the Jayhawks launched their defense of the 2022 NCAA men's basketball championship, coach Bill Self offered a few intriguing insights into his take on their prospects, most of which could be boiled down to experience: This bunch is young.
"I think there's a lot of things that we have to do to put ourselves in position to be good enough to defend [the national title], and I don't think we're quite there yet," Self says. "I'm not being negative. It's just factual. I do like our team, I do think we have talent, I do think we're going to get better as we get older, but we basically return two guys who have played any meaningful minutes off a team that won a championship last year.
"It's a whole new ballgame."
Outside of juniors Jalen Wilson, a forward, and point guard Dajuan Harris Jr., uncertainties abound up and down the KU roster. Most center on returning regulars whose only shortcomings are never having shouldered the burden of being starters and leaders; looming larger in Self's roster puzzle are the newcomers who have yet to prove anything as collegians, including freshmen Ernest Udeh Jr., a 6-11 center, and 6-9 forward Zuby Ejiofor.
Noting that forward David McCormack was "the best player in the Final Four" and veteran backup Mitch Lightfoot was a "great complementary guy" who was "more valuable to us than what his numbers ever showed," Self says he needs to see how forward Zach Clemence, who at times showed a deft shooting touch in his 24 freshman appearances, and super-senior forward Cam Martin, who took a redshirt last season after transferring from Missouri Southern State, can blend with Udeh and Ejiofor.
"There's nobody who has emerged ahead of anybody, in terms of definite playing time," Self says of the bigs. "We'd like for Zach to be that guy, in a perfect world. He's a perimeter post man, but he's still got to score the ball in tight, and he's got to be able to defend the paint and the rim. I think he has the potential to do that."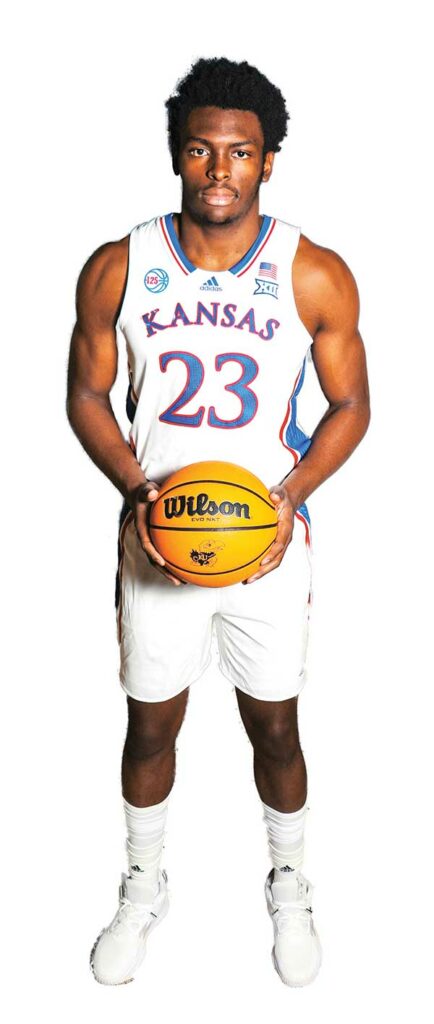 Self says that while the team awaits the emergence of its low-post stalwart, the 'Hawks will rely on speed and outside shooting—which is what made freshman sensation Gradey Dick's exhibition performance Nov. 3 against Pittsburg State so exhilarating. With a quick release and confident swagger, Dick, last year's Gatorade Player of the Year from Wichita's Sunrise Christian Academy, made 7 of 9 field goal attempts, including 3 of 5 beyond the arc, in a 20-point performance topped only by Wilson's 23.
"Everyone who comes to Kansas hopes to win the national championship, and seeing what they did last year raises those motivations that much more," Dick says. "I wouldn't call it pressure; I change that to 'excitement,' because you see all the excitement around the campus and all the buzz about back-to-back. Coach does a great job of keeping our heads on our shoulders, not worrying about all that buzz, but at the same time using it to our advantage."
While Self and assistant coach Kurtis Townsend start the season with four-game suspensions as part of sanctions imposed Nov. 2 by the University in response to the NCAA's ongoing case from 2017, veteran assistant Norm Roberts will lead the team on game days. Self will be allowed to coach the team during practices, but must exclude himself from the program for the full 24 hours of each game day, until Nov. 23 against North Carolina State.
Along with the game day suspensions, Self and Roberts were also barred from off-campus recruiting from April through July. The program lost four official recruiting visits during this academic year and next, along with three total scholarships, to be distributed over the next three years. Restrictions were also placed on recruiting communications, unofficial visits and total recruiting days, and recruits were not allowed to make official visits to Late Night in the Phog. (See University of Kansas Takes Steps to Move NCAA Process Forward for details.)
"Throughout this process, we have had ongoing conversations with all the involved parties," said Chancellor Doug Girod. "We believe the actions we are announcing today move us closer to resolving this matter. We look forward to commenting further when this process is fully resolved. Until then, I want to reiterate our unwavering support of coach Self and our men's basketball program."
Said Athletics Director Travis Goff, c'03, j'03, "We are hopeful these difficult self-imposed sanctions will assist in bringing the case to a conclusion."
After coaching the Jayhawks in the Pittsburg State exhibition game, Self confirmed that he had participated in "some hard conversations that took place that needed to happen," and that he and Townsend support Girod and Goff's plan for guiding the case toward closure.
"We think it was the appropriate thing to do, to show the responsibility that we need to," Self said. "It's certainly something that's been weighing on us, so we're looking forward to the time that it's over."
Chris Lazzarino, j'86, is associate editor of Kansas Alumni magazine.