New leaders bring renewed hope
Tumultuous year salved with hiring of new athletics director, football coach
The stated purpose of the May 3 press conference inside KU football's indoor practice facility was to introduce Lance Leipold as the Jayhawks' new football coach. As the event got underway, however, the realization could hardly have been missed that KU was doing far more than introducing a coach.
When Leipold, a rising star with successful runs at Wisconsin-Whitewater and Buffalo, took his place at the dais with Travis Goff, the newly minted director of athletics, the moment seemed to finally right the ship after one of the most frenzied years in the history of Kansas Athletics.
Rocked hard by COVID, which gutted attendance revenue and thrust unrelenting health-and-safety burdens across every aspect of every sport—training, competition, travel, academics, housing, meals—the department furloughed employees, accepted voluntary pay cuts from its top earners and put out a rare call for its supporters to step up in a time of great financial need. Football failed to win a game and men's basketball exited the NCAA Tournament's first weekend.
Bad became worse with unseemly allegations that cost Les Miles the football job, shortly followed by Chancellor Doug Girod accepting Jeff Long's resignation as athletics director.
"I know the past week has been challenging for those of us who love Kansas Athletics," Girod wrote in a campus email announcing Long's departure, "but I am heartened by the passion of our university community."
With KU stalwart Kurt Watson, d'75, called upon to assume interim command of the department—and with the assistance of an alumni search team of Linda Ellis Sims, e'79; Ray Evans, b'82, g'84; John Ballard, b'73; and Wayne Simien, c'05—Girod on April 5 announced that Dodge City native Travis Goff, c'03, j'03, had agreed to leave his post as Northwestern University's deputy director of athletics to take over at KU, where he began his career as a part-time student employee in the Williams Education Fund.
"Travis stood out," Girod wrote in his campus newsletter, "due to his experience, his reputation as a man of integrity, and his demonstrated ability to connect with faculty, staff, alumni and donors."
Goff's first task would also be his most crucial: hiring the next football coach. But first Goff allowed himself a few moments to bask in his return, pausing to snap a photo when he saw Allen Field House's scoreboard announcing his arrival.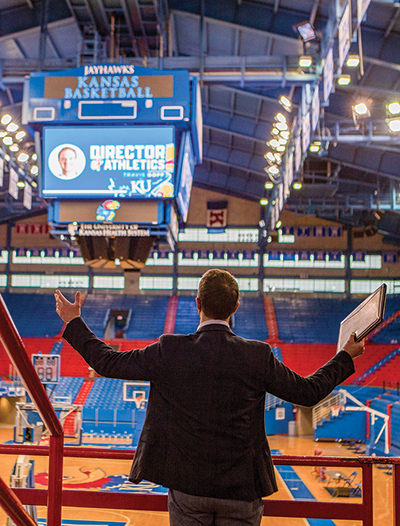 "This is my destination job," Goff said. "This is where I received an incredible education, where I started my career, and where I fell in love with college athletics."
Before the month was out, Goff announced he'd hired the well-respected Leipold, a six-time national champion and five-time conference coach of the year. After three rebuilding years at Buffalo, Leipold's teams won 24 games over the next three seasons; in his eight years at Wisconsin-Whitewater, Leipold's teams went an astounding 109-6.
"He is a man of integrity, a developer of young men, a program builder and a winner," Goff said of Leipold. "His track record of sustained excellence is exactly what we were looking for in our next leader, and is what the University of Kansas and our fans deserve."
Two weeks after accepting a six-year contract at KU, Leipold announced that he would retain Emmett Jones as wide receivers coach, after Jones proved to be a popular leader as interim head coach during spring practice. Among the assistants Leipold will import from Buffalo are offensive coordinator Andy Kotelnicki and defensive coordinator Brian Borland.
"Every single coach is ready to dig in," Leipold said, "and get this team ready to compete at the highest level."
Also of significant note: Retired NFL star and former team captain Darrell Stuckey II, c'09, a member of KU football's Ring of Honor, returned to Mount Oread as director of football relations.
"If we're all on the same page," Stuckey wrote in an open letter to Jayhawks everywhere, "this team is going to grow fast—very, very fast."