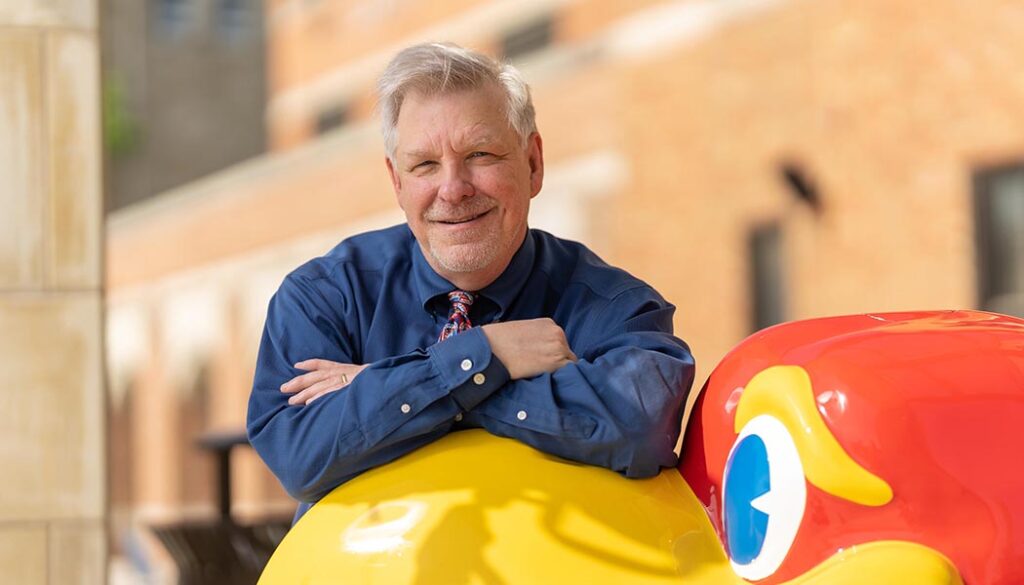 Union director concludes long tenure
When Allen Field House video cameras found Big Jay striding toward David Mucci during halftime of the March 3 men's basketball game, Mucci quickly grasped that his friends' offer of primo tickets had been a ruse: He was there to be honored for his 23 years as director of KU Memorial Union, a distinguished tenure that closes with his June 30 retirement.
As applause began to gather, a little boy rushed forward and embraced Big Jay in a hug for the ages; cheers swelled at the sweet scene, and, in a flash, Mucci's moment in the spotlight faded in favor of a happy young Jayhawk—which mirrored his career: Young people come first.
"The sheer joy of that moment," Mucci says with a laugh, "was just spectacular."
Mucci began his career in student unions while an undergraduate at the University of Kentucky. After stints at Texas A&M and Ohio State, Mucci jumped at an opportunity to build a new union at the University of Idaho. Six years into that tenure, a colleague whose daughter was studying at KU urged him to apply for the job that came open with the retirement of Jim Long, who in 1983 had succeeded the legendary Frank Burge.
KU Memorial Union was then, and remains, admired nationally for a rare portfolio, including food service and bookstores, that pays enough bills to keep union fees about $30 less than the next-closest Board of Regents university—and yet its primary role remains as a campus crossroad.
"Our focus," Mucci says, "is to bring the Jayhawk nation together."
Vice Provost for Student Affairs Tammara Durham, who supervises the Union director's position, says she appreciated Mucci's unwavering response of "let's see what we can do" when presented with any idea or suggestion.
"That's one of the things I learned from him, and I wish we had more of that," says Durham, EdD'09. "It's not a no. It's not a yes. It's, 'Let's meet somewhere in the middle.'"
Durham expects to name an interim director soon, before launching a national search in the fall.
—Chris Lazzarino
Photograph by Steve Puppe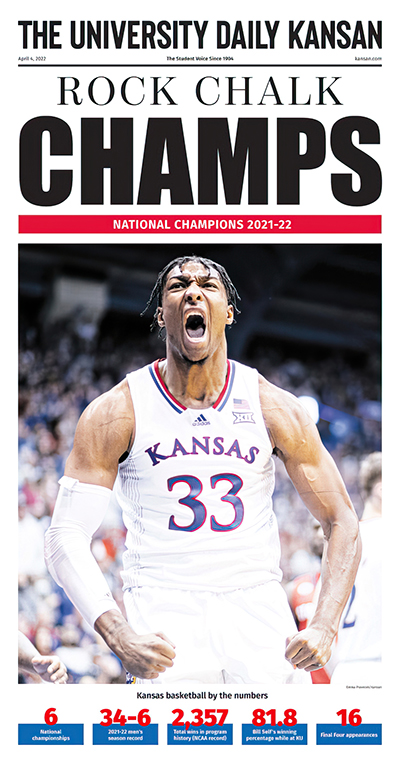 Fresh prints:
A hopeful hunch—that the men's basketball team would win it all—led to a crowning achievement for another KU institution, The University Daily Kansan. The newspaper's victory-proclaiming front page was in fans' hands in the immediate, euphoric aftermath of the NCAA title game April 4, thanks to student journalists' roll-of-the-dice decision to print 3,000 copies ahead of the Final Four—1,000 to go to New Orleans, the rest to downtown Lawrence. "It was a very calculated gamble that ended up working out great in the end," says Nathan Swaffar, Kansan sports editor for the spring semester.
The full 12-page edition commemorating the men's and women's basketball seasons went to press shortly after the 'Hawks triumphed and was available free to students. The cover photo of forward David McCormack was shot by Kansan photographer Emma Pravecek at last November's game against Stony Brook. "It was a really rewarding moment," Pravecek says of the post-championship revelry, "to see a community come together and celebrate and also have the UDK in the mix."
Donors give $3 million
If there's anything that One Day. One KU. has taught us in five years, it's that Jayhawks rise to a challenge.
The annual 24-hour giving event that raises
money for schools, units and programs on all five KU campuses brought in more than $3 million through 4,790 gifts Feb. 17, and challenge and matching gifts were a major reason.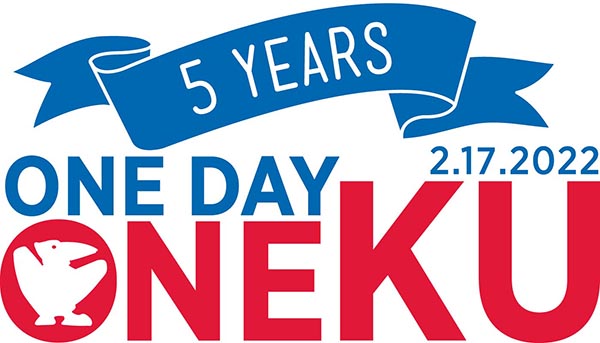 Donors set up 134 challenges that inspired others to give and increased the impact of their gifts. Among the most notable was a team effort by the KU Endowment Board of Trustees and Chancellor Doug Girod and his wife, Susan. Together the trustees and the Girods matched all gifts to the Greater KU Fund up to $50,000. The unrestricted endowment supports the areas of greatest need at the University.

Provost Barbara Bichelmeyer, j'82, c'86, g'88, PhD'92, and Director of Athletics Travis Goff, c'03, j'03, established the Provost and Director of Athletics Global Challenge for Jayhawk Student Support, which attracted 2,500 gifts and raised $10,000. In a separate challenge, Goff also contributed $50 for each of the first 150 gifts made to support mental health, wellness, diversity and inclusion efforts for student-athletes.

Started in 2018 to encourage gifts of all sizes, One Day. One KU. is held on or near the anniver-sary of the Legislature's decision to locate the University in Lawrence. Signed into law on Feb. 20, 1863, that bill passed by just one vote, demonstrating the power of one person to make a difference.

KC Hearts project
Lifelong friends and Jayhawk artists (l-r) Mike Savage, f'80, and Charlie Podrebarac, '81, are among the artists who took part in Kansas City's Parade of Hearts.
The outdoor art exhibition benefited The University of Kansas Health System and other local organizations that have assisted the community during the pandemic. Visit theparadeofhearts.com to view all 156 hearts, which will be auctioned off this summer.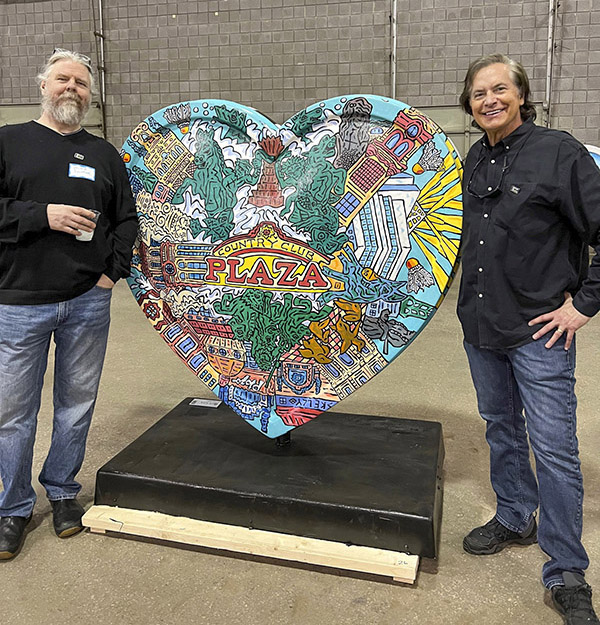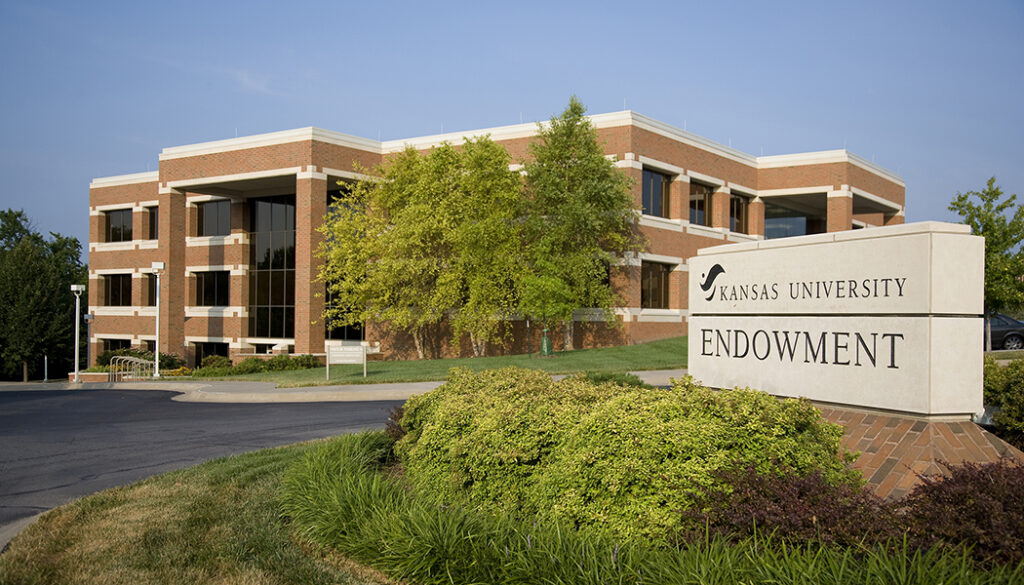 Endowment trustees
Four alumni recently elected to join KU Endowment's Board of Trustees are Kannon Shanmugam, of Great Falls, Virginia; Petra "Tedde" Tasheff, of New York City; Elizabeth Boldridge Tovar, of Iowa City, Iowa; and Frank Tsuru, of Houston.
Shanmugam, '90, chair of Supreme Court litigation for a Washington, D.C., firm, established a neurosurgery research fund in honor of his late father, Sam,
a distinguished professor of electrical engineering.
Tasheff, c'78, former chair of the Alumni Association's Board of Directors and a Life Member, is retired from the National Center for Law and Economic Justice.
Tovar, c'02, g'09, PhD'11, senior associate athletics director at the University of Iowa, in 2005 was honored as a KU Woman of Distinction and is a member of the Women Philanthropists for KU advisory board.
Tsuru, e'83, is CEO of both Momentum Midstream, which he co-founded in 2004, and Indigo Natural Resources, a Louisiana exploration and production company. He is president of the National Eagle Scout Association and is a member of the Boy Scouts of America national board.
In other Endowment news, Chancellors Club teaching professorships were recently awarded to Mikhail Barybin, professor of chemistry; Scott Moser, associate dean of curriculum at the School of Medicine-Wichita; Cynthia Teel, associate dean for academic affairs at the School of Nursing; and George Tsoflias, professor of applied geophysics.
—Photograph by Steve Puppe
Creative gallery
The department of visual arts and KU Endowment recently opened the Edgar Heap of Birds Family Gallery, a reimagining of the gallery space long stationed at the entrance to Chalmers Hall. Funded by an anonymous private gift, the gallery honors Heap of Birds, f'76, whose installation on the Spencer Museum of Art lawn, "Native Hosts," was vandalized last year. The new gallery space opened with an exhibition of artworks by Heap of Birds, Cheyenne and Arapaho nations, and Associate Professor Norman Akers, Osage Nation, and will regularly feature Native American artists, including KU students. "This exhibit establishes a permanent space for Indigenous artists here at KU, and that's what makes it remarkable," Tweesna Rose Mills, g'21, '22, co-chair of the First Nations Student Association, told the Lawrence Times. "It's about having Indigenous representation here on campus."