Olivier Latry: Maestro-in-residence
Notre Dame organist, displaced by 2019 fire, resumes KU appointment interrupted by pandemic.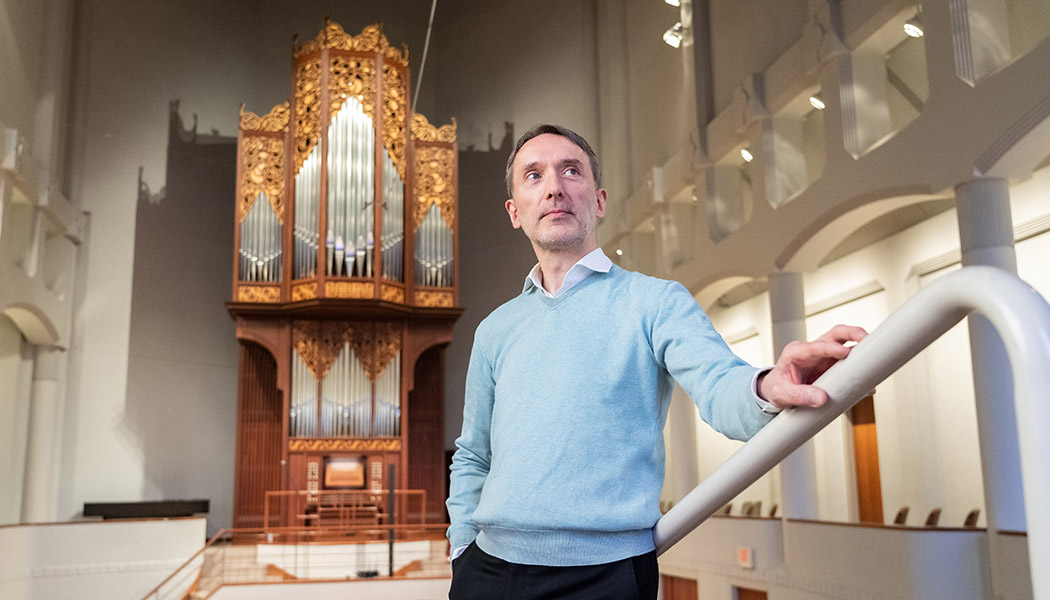 Olivier Latry, one of three organists at Notre Dame de Paris cathedral and professor of organ at the Paris Conservatory of Music, on April 15, 2019, watched in horror and heartbreak as the early Gothic sanctuary was consumed by flames burning long into the night. He went to bed certain he would never again play Notre Dame's grand organ, with its 8,000 pipes pushing out music that for centuries had stirred humanity's very soul.
"So I was very surprised the next day when the manager of Notre Dame called me," Latry told Kansas Alumni shortly before his April 22 concert in the Bales Organ Recital Hall as the William T. Kemper Artist-in-Residence at the KU School of Music. "He was at the organ loft and he said, 'Well, I do not see anything. Everything seems normal.' And he went to the organ and he said, 'Well, there's a bit of water on the organ, but that's it. Nothing else.'
"So, yes, it was quite a surprise. I think it is that the spire just fell down in the church and made this big opening, you know? And that allowed the heat to go out, to escape. Otherwise all the pipes would have melted."
Latry's playful eyes sparkle at the memory, and he confirms with a happy nod that renovation plans are currently on schedule for Notre Dame to reopen in 2024.
"That is what is planned for the moment. We still hope. We cross fingers."
Following the tragic fire, Latry—described by KU's James Higdon, Dane and Polly Bales Professor of Organ, as "the greatest organist in the world and a fabulous teacher"—accepted an invitation from his old friend to return to Mount Oread, which Latry had visited many times since his first trip here, in 1986, following his 1985 appointment at Notre Dame.
Made possible with the enthusiastic support of Kansas City philanthropists Jonathan and Nancy Lee Kemper, the residency—with visits scheduled each semester for three years—would allow Latry an opportunity to work with KU students and perform on the 45-stop mechanical action organ, built in 1996 by the famous Canadian firm Hellmuth Wolff & Associés for a custom-designed hall adjacent to the Lied Center.
"It's a gorgeous instrument. I don't know of such installations like this anywhere around the world. Of course the people in Kansas should be very proud of this," Latry says. "Nothing is really devoted to the organ. It is always something that we have to share with the other instruments, with other occupations. But here, students can come and practice day or night, and it's really their place.
"It's incredible in America to hear this, the hall sounding like it is for the organ. Usually in America, the places are very dry. There is no reverberation, and this reverberation is part of the organ."
Shortly after completing his first of six scheduled visits as Kemper Artist-in-
Residence, in fall 2019, Latry returned to Paris; locked down by pandemic restrictions, he did not travel again until this spring, and his April return to KU was his first U.S. trip in two years.
Here, Latry says, he helps promising students—some of whom he predicts are destined for the "top level" of organ-performance renown—understand not only technique, but also symbolism embedded within music that has historically been written for performance in churches and cathedrals.
"For example, this morning we spoke about the chorales by Johann Sebastian Bach, and the symbolism of the pieces. Each word is really symbolized by something special in the music, so we have to make people aware of a lot of little things that are really important. You know, everything which is hidden behind the notes."
With planning underway for the Bales recital hall's 25th anniversary celebration next fall, Higdon notes with pride that KU's spectacular instrument, open day and night for student practice, is played more than any other organ in the world; Latry disagrees, but says the only others played more are at the Paris Conservatory. They do agree, in a fanciful flourish of French shared between friends of more than 30 years, that all three keyboards are "worn out" and in desperate need of donor sponsorship for replacement.
"This is great, that you can have this kind of instrument, which is so reactive and so musical, because the instrument is really the first teacher," Latry says. "We can say that we are not there to teach the students; we are there just to connect them to the instrument and to connect their ears to the fingers."