KU Cancer Center seeks NCI's coveted 'comprehensive' designation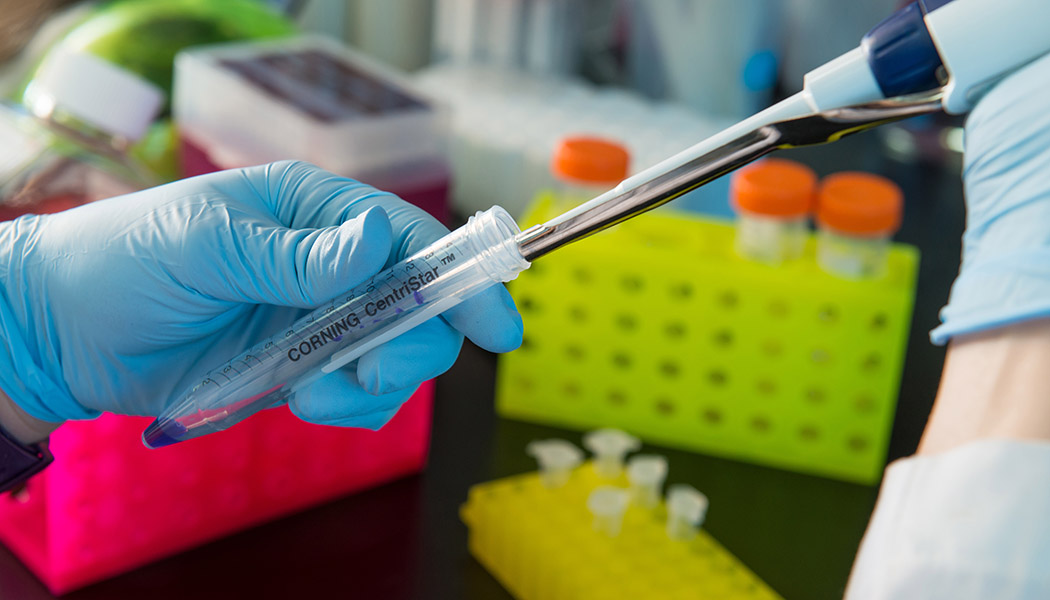 When breast cancer researcher Roy Jensen in 2004 left Vanderbilt University to return to his home state as director of the University of Kansas Cancer Center, what he found at KU Medical Center was, in a word, underwhelming.
The entire center and its six employees were easily accommodated then in one wing of a single floor at 39th and Rainbow and annually attracted about 1,700 new patients and a relatively modest $14 million in cancer-related funding. Even more troubling, about 15% of all Kansas cancer patients statewide were forced to leave Kansas for treatment, and Kansas City was the country's largest metro area without a National Cancer Institute-designated cancer center.
Jensen's job was to change that, and he saw that the University was serious about the daunting task when then-Chancellor Robert E. Hemenway in 2006 declared NCI designation as KU's top priority.
"That was absolutely key," Jensen says, also noting the leadership of KU Medical Center's executive vice chancellor at the time, Barbara Atkinson, as well as all top KU leaders who followed, including chancellors Bernadette Gray-Little and Doug Girod.
The KU Cancer Center in 2012 achieved NCI designation, followed five years later by a successful renewal of the federal grant. The news, however, was not all good in 2017: The NCI denied KU's application for its coveted "comprehensive cancer center" status, which Jensen, '80, at the time spun into a positive by assuring that work would begin immediately on yet another application for comprehensive designation.
That 1,700-page application was filed last September, and in February Jensen and his KU Cancer Center leadership team met with NCI administrators in a COVID-mandated virtual site visit—a task made less cumbersome by The University of Kansas Health System's state-of-the-art TV production studio—in support of their applications for renewal and upgrade.
Jensen says he has few worries about the renewal application; far trickier is the comprehensive designation. KU expects to hear a final answer in mid-June, at the conclusion of the National Cancer Advisory Board's meeting, and it is hoped a public announcement can be made when the congressional delegation returns to Kansas for the Fourth of July holiday.
Using critiques from 2017 as its guide, KU Cancer Center created a strategic plan based on eight primary needs, including faculty training, community outreach and engagement, boosting its clinical research portfolio, and geographic consolidation. (Researchers currently work out of KU Medical Center, the Lawrence campus, and Kansas City's Stowers Institute for Medical Research and Children's Mercy Hospital.)
The glittering centerpiece of that plan is a proposed 670,000-square-foot home for the KU Cancer Center—a collaborative effort among the University, The University of Kansas Health System and community partners—to be built on the KU Medical Center campus with an estimated price tag of at least $450 million.
"Regardless of what the NCI has to say about our application, that is going to be my focus moving forward," Jensen says, "because that building addresses a lot of the issues that were brought up at the last site visit. If we're still found wanting in terms of comprehensive status, the answer is the building. If they decide that we have met comprehensive status, and we want to continue to grow and build out our vision for the Cancer Center, the answer is the building. And so I've got my marching orders."
The vastness of that undertaking stirs in Jensen a reflective consideration of where this journey began. Along with Hemenway's unflinching endorsement, he also cites the Kansas Legislature's approval of $5 million in annual funding to help build the center's basic infrastructure—last year upped to $10 million—as a "major, major turning point." The $5 million Johnson County Education and Research Triangle (JCERT) sales tax, which voters approved in 2008, has since grown to $50 million.
"Those were three huge events," Jensen says, "from which everything else traces its origin."
Also critical: The Hall Family Foundation donated the building that currently houses KU Cancer Center's headquarters, the Kansas Masonic Foundation has provided more than $30 million, and KU through 2020 had contributed $84 million to help fund its top research priority. Notable, too, are support from local governments and the health, business and philanthropic communities across the metro.
Regardless of the outcome of its application for comprehensive status, Jensen says, the effort will ultimately benefit Kansans and their families who face frightening diagnoses. Now harnessing about $57 million in direct cancer-related annual funding—and more than $1 billion of funding from all sources since the pursuit of NCI designation began—the KU Cancer Center and its 250 employees treat more than 7,000 cancer cases each year.
Jensen anticipates that 7.5% of Kansans diagnosed with cancer will leave the state for treatment this year, half as many as when he launched KU's pursuit of NCI designation, and by the time of KU's next application for renewal he hopes it will be less than 5%.
"There are things academic medical centers can do that simply can't be done anywhere else. Taking care of the toughest patients, training the next generation of health professionals across many different disciplines and driving economic growth," Jensen says. "I think that's something that resonated with a lot of constituencies through this area and has been key to our support, not only in the philanthropic community but also in the state Legislature."