Prizes encourage student vaccinations to thwart dastardly Delta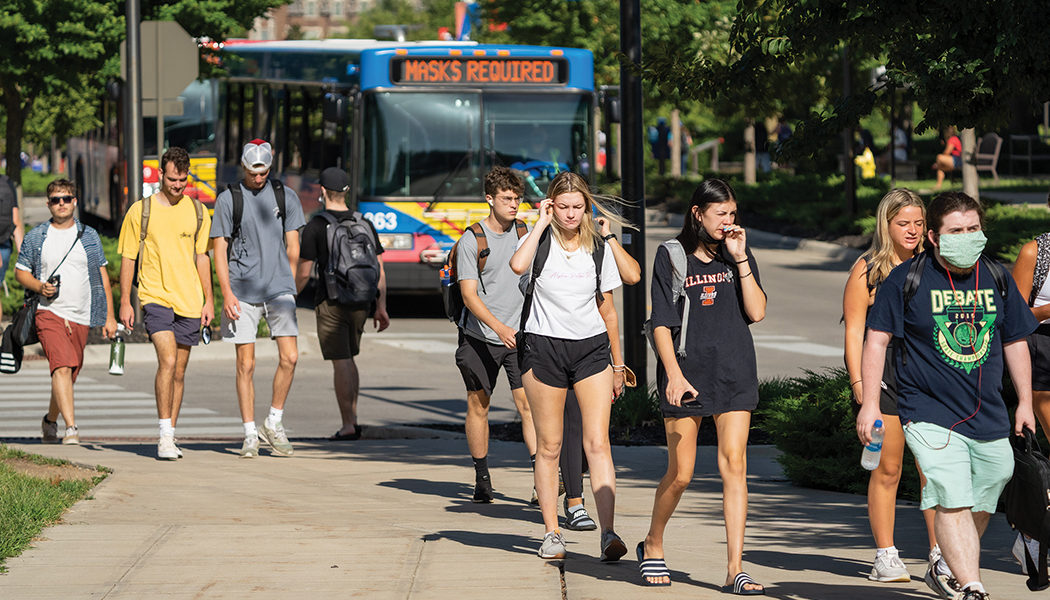 Sorority women serenaded potential new members arriving by the busload. The football team practiced at the stadium. Little girls danced gleefully in Chi Omega fountain. Weary grad students trudged down Jayhawk Boulevard under the burden of weary backpacks. Dog walkers and bicyclists relished the end of a humbling heat wave, and residence halls opened in a hot rush of cars and kids and parents.
Never was the late-summer return of the delicacies of Mount Oread life more welcome than it was in August, as Jayhawks young and old, new and not so new, flocked back to the campus home denied them one year ago.
And yet whatever "normal" once was, or might one day be again, it was not yet in the picture for the opening of fall classes. The dreaded "Delta variant"—which Chancellor Doug Girod, a physician and surgeon, described in a campus message as being 10 times more contagious than early versions of the SARS-CoV-2 virus—reignited COVID-19 fears, here as everywhere else on Planet Earth. The joys of loosened restrictions brought by spring vaccinations gave way, grudgingly, to a unique outlook for semester's onset, including the surprise announcement of a lucrative incentive program to encourage students to get vaccinated.
"The key word for the coming academic year," Mike Rounds, vice provost for Human Resources, Public Safety & Operations, and Chris Brown, vice provost for faculty development, wrote in an Aug. 6 campus letter, "is 'adapt.'"
Ten days after the University lifted its outdoor mask mandate, Girod on May 24 signed off on the pandemic year of 2020-'21 by noting, "Thanks to your work, we concluded this academic year with no known cases of COVID-19 transmission in our classrooms and research facilities and no outbreaks stemming from University events. … It was never a given that we would be where we are today, and we shouldn't take that for granted."
"The safest environment is created by a vaccination. And while I know that doesn't guarantee you won't get sick with the Delta variant, it does fairly well guarantee you won't get very sick with Delta variant."
—Chancellor Doug Girod
The sunny outlook brightened further when, on May 27, the University announced that masks would be optional indoors on Mount Oread and at the Edwards Campus in Overland Park—the exceptions being public transportation and health care facilities. Across Lawrence, too, the grueling pandemic experience eased. The downtown swimming pool was once again filled to the brim. Lawrence Public Library allowed patrons to browse and study without masks or time limits. Much-missed salad bars returned, nightspots hopped and the summer slate of outdoor events resumed.
The good times soon dimmed. On July 16, Dr. Steve Stites, chief medical officer at The University of Kansas Health System, announced, "We're in trouble, Kansas City." Less than a week later, his tone grew even more dire: "We are past the tipping point. We are in trouble."
Men's basketball coach Bill Self on July 23 revealed that, despite being fully vaccinated, he had entered isolation after testing positive for COVID-19, and on July 28 the University "strongly urged" that masks be worn indoors; a mask mandate for indoor public spaces, which all had hoped was behind us for good, returned Aug. 9.
"This mask mandate," Girod said Aug. 6, "is an important and hopefully short-lived step that will enable us to prioritize health and safety while maintaining our commitment to a full on-campus experience for students this fall."
Girod emphasized his expectation that in-person classes would resume, and remain, along with other activities that were put on hold after the arrival of COVID-19. On Aug. 13 he announced that students who uploaded their COVID-19 vaccine records to the Watkins Health Services student portal would be eligible for a slew of prizes—funded with more than $200,000 in federal money designated for vaccines, testing and incentives, along with donations from campus entities and affiliated partners—including free tuition, upgraded parking passes and $5,000 cash awards.
KU also began offering $40 gift cards to KU Bookstores for the first 4,000 students who received their first "completely voluntary" dose of a vaccine sequence at an on-campus clinic, which would also make them eligible for $10 KU Dining gift cards after scheduling a second appointment.
"The most important thing in the world that we can do right now is to get people vaccinated," Emergency Management Coordinator Andrew Foster, c'12, said in an August appearance on Girod's video message to campus. "It feels like we yell this at the top of our lungs every day. I know there's still a lot of people hesitant on getting the vaccine, but at this point we have to get everyone vaccinated in order to end this thing."
Foster and Girod noted that free vaccines will be offered throughout campus, including the Kansas Union, academic departments and campus events, and health care professionals will be available to consult with those who are "still on the fence" about whether or not to vaccinate.
Weekly prize raffles will continue through October. Three students will receive cash prizes of $5,091, equivalent to one semester of in-state tuition, and another three will win a flat $5,000. Two students will win coveted gold parking permits; four will win $1,000 in KU Dining Dollars; one will win an iPad, AirPods and an Apple Watch, courtesy of campus soft-drink partner Pepsi; and others will receive football and basketball tickets, courtesy of the Chancellor's Office, and gift cards provided by adidas, Rally House and other local retailers and restaurants, courtesy of Truity Credit Union and the Alumni Association.
While campus instructional and research spaces have edged back toward pre-COVID layouts, increased personal space has been retained, compared with traditional interior designs, and other important upgrades, including air filtration systems, will aid in thwarting all airborne illness.
None of which, Girod notes, will ultimately win the battle against COVID-19. It's still about getting the Fauci Ouchie, and if cash prizes make that happen, then bring on the goodies.
"The safest environment," Girod said Aug. 17, "is created by a vaccination. And while I know that doesn't guarantee you won't get sick with the Delta variant, it does fairly well guarantee you won't get very sick with Delta variant.
"It's a great myriad of prizes out there, so students, please, take advantage—take full advantage—of this opportunity. … Go out, get vaccinated, and Rock Chalk."