Best is yet to come, Self reminds 'Hawks after early Big 12 losses
Off-court inspiration has been in short supply during the strange season of COVID, with players spending the majority of their time sequestered in their rooms, emerging only for practice or to play in front of sparse crowds both in Allen Field House and on the road, so coach Bill Self on Feb. 1 noted a happy turn of events.
"I think one thing that's happened that's a very big positive is classes started on KU's campus today," Self said. "I'm excited. I drove to work and actually saw about 15 kids walking to class, which is pretty remarkable, considering the windchill. I do think that having students back, even though it will be a reduced amount, any type of energy level like that is a positive."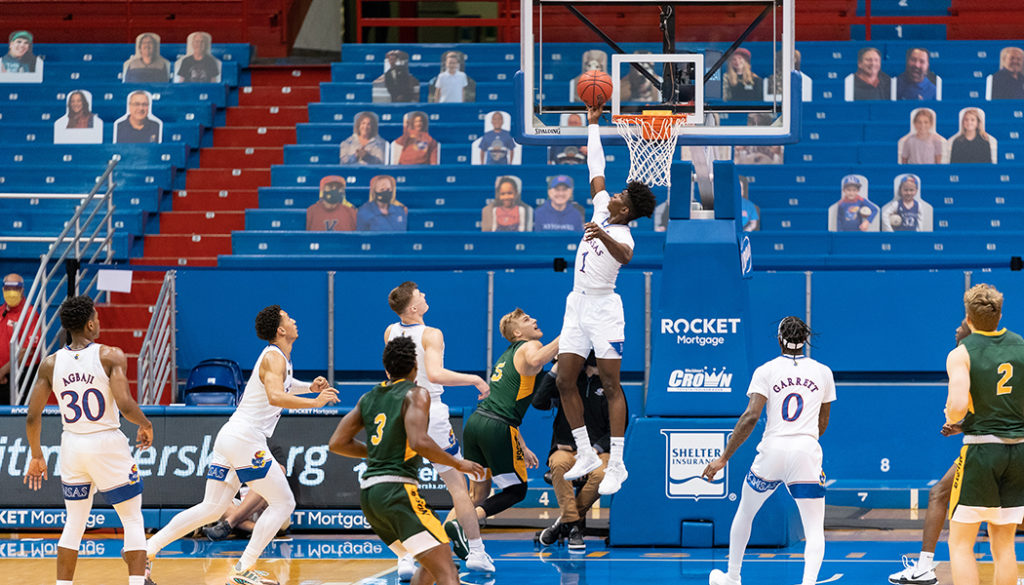 Indeed, the buoyed 'Hawks beat Kansas State, 74-51, the following day, renewing their quest for a prestigious season.
Once ranked as high as No. 5, the Jayhawks won all eight of their December games. January began with 25-point home loss to Texas. Victories at TCU and at home over Oklahoma—a top-10 team, as of early February—were followed by losses at Oklahoma State, Baylor and OU.
"We're trying to gear ourselves up to have a storybook end to our season, and you can't do that unless you play well in the postseason. We're gearing up to do that. That has not changed," Self said Jan. 27, the day before a much-needed eight-point win over TCU in KU's first home game in 21 days.
"The only thing that has changed is the disappointment of being in a situation that midway through your league play you're already significantly behind the league leader [Baylor]."
The Jayhawks followed up their victory over TCU with a 19-point loss at Tennessee in the made-for-TV Big 12/SEC challenge. KU shot 37.7% from the field, including 25% of 3-pointers, while Tennessee drilled 52.8% from the field, including an astounding 61.5% beyond the arc.
"I'm not sure there's two or three teams in America that could have beat Tennessee that night," Self said two days later. "Let's not look at outcomes as reasons why things need to be changed. I think it's different than that. The bottom line is, we haven't played up to our own abilities, in large part because I don't think our intangibles have been good as they were
in December."
Few intangibles are more important to Self than playing with a bounce, with energy, joy and a smile, all of which seemed to evaporate while the Jayhawks were gripped by dreary January.
"Enjoy playing with and for each other. This is something that we have consistently done really well over the years, and it doesn't seem to be that good right now, especially not as good as what it was in December. We've shown that we can do it, but it hasn't been consistent at all this
past month."
Senior forward Mitch Lightfoot identified defense as the team's most-urgent priority, along with yet another crucial intangible: pride.
"We know that it's up to us to change it. We need to do this for each other, we need to do this for our coaches, and we need to do this for our fans, too," Lightfoot said before the K-State victory. "That was unacceptable, how the past month went."
Said sophomore guard Christian Braun, "We're just trying to get back to what we know we are and what we know we can be. We're trying to play for what's across our chest—you know, get our pride back, show that we're competing."
After KU suffered its third-consecutive conference loss, Self admitted that the unique season had perhaps proven to be a bigger challenge than expected. Players eat in their rooms and maintain social distancing even with teammates; they live inside a bubble limited to 30 people, so they can't let off steam by visiting with family, going to a movie, or pounding back "a thousand wings" with friends.
"And then you get it all started again on Groundhog Day the next day," Self said. "It stinks, it's no fun. But I also see opportunity."
With February yet to play out as Kansas Alumni went to press, and the unknowns of possibly living in a bubble during the Big 12 and NCAA tournaments still facing every college basketball team with postseason dreams, Self chose to focus on what is in the team's control: how they play and coach basketball.
"I still think our best is good enough to beat a lot of folks. Like life, anybody can do it if it's going good. It doesn't take courage to be great when everything else is really good in your life.
"Now that we've got some obstacles—within our control and out of our control—we can find out just how competitive and how good we are. It see it as a good opportunity."