Fall and winter sports update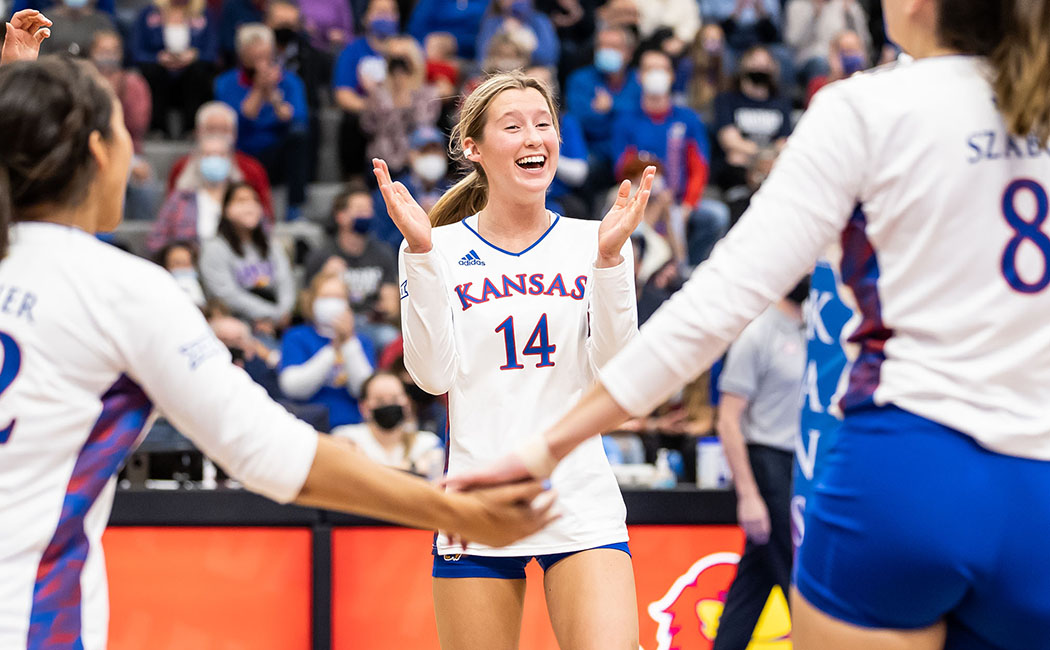 Volleyball returned to its first NCAA Tournament since 2017 and advanced to the Sweet 16 for the first time since 2015. Big 12 Freshman of the Year Caroline Bien led the 'Hawks with 336 kills, including 41 in three postseason games, and her 385.5 points trailed only the 388 posted by super-senior Jenny Mosser.
Senior right-hander Jonah Ulane, named second-team preseason All-America, enters the season six saves from passing Paul Smyth, b'09, for third on KU's career list. … Paul Pierce, '99, a 10-time NBA All-Star and NBA Finals MVP, in November was inducted into Kansas City's National Collegiate Basketball Hall of Fame. That honor followed Pierce's September enshrinement in the Naismith Memorial Basketball Hall of Fame.
Citing "ongoing challenges created by the COVID-19 pandemic," Kansas Athletics called off the Kansas Relays for the third-consecutive spring. "We are committed to making the 2023 version the best yet," said Athletics Director Travis Goff, c'03, j'03. … Super-senior defensive end Kyron Johnson and junior safety Kenny Logan Jr. were both named second-team All-Big 12.
Varsity athletes in December set a school record with a combined 90% graduation success rate (GSR). No team posted a GSR under 83%—itself near the previous overall record of 85%—and tennis, volleyball, women's basketball and men's golf all posted perfect scores. GSR quantifies six-year graduation success rates, taking into account transfers and those who leave in good academic standing.