Kersgieter leads 'Hawks to Big 12 road wins
After running its nonconference record to 9-1, then waiting through back-to-back COVID-related delays, women's basketball opened its Big 12 season with a 2-1 conference record following a 70-66 overtime victory at No. 13 Texas.
The Jayhawks were led in Austin by junior guard Holly Kersgieter's team-high 19 points. The 'Hawks on Jan. 29 scored a second Big 12 road win, defeating Oklahoma State, 68-54, for their first victory in Gallagher-Iba Arena since 2012.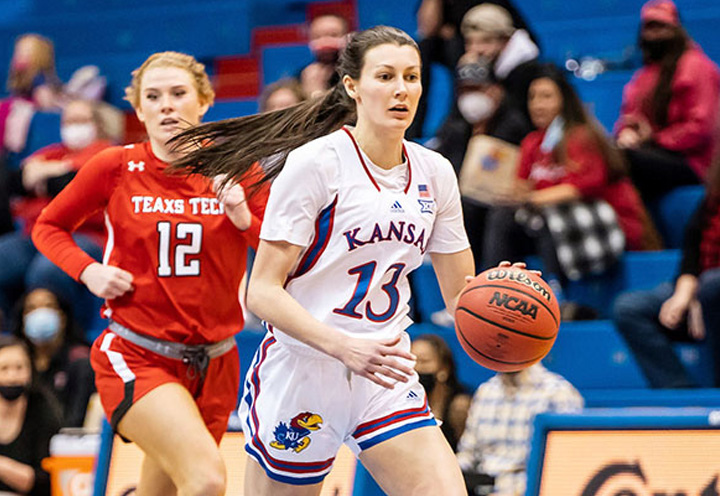 Kersgieter's 17 points again led KU at OSU, along with 14 rebounds; through the first 18 games, Kersgieter paced the 'Hawks at 14.29 points per game despite averaging only 25 minutes while nursing an injury during nonconference play.
"Holly is a complete player," says coach Brandon Schneider. "She can score it at all three levels, she can defend, but yet we don't always have to use her on the opponent's best guard, and that's new for us." 
Hoping to build on his team's success through the first half of league play, Schneider called on fans to help KU
women's basketball enjoy the same home-court advantage enjoyed by the men's program.
"Home-court advantage, winning games at home, means a lot if you're trying to be part of the conversation about a league race," Schneider says. "Anything we can do to build on any advantage that we might gain would be greatly appreciated."