Student big band is latest entrant in KU's Downbeat hit parade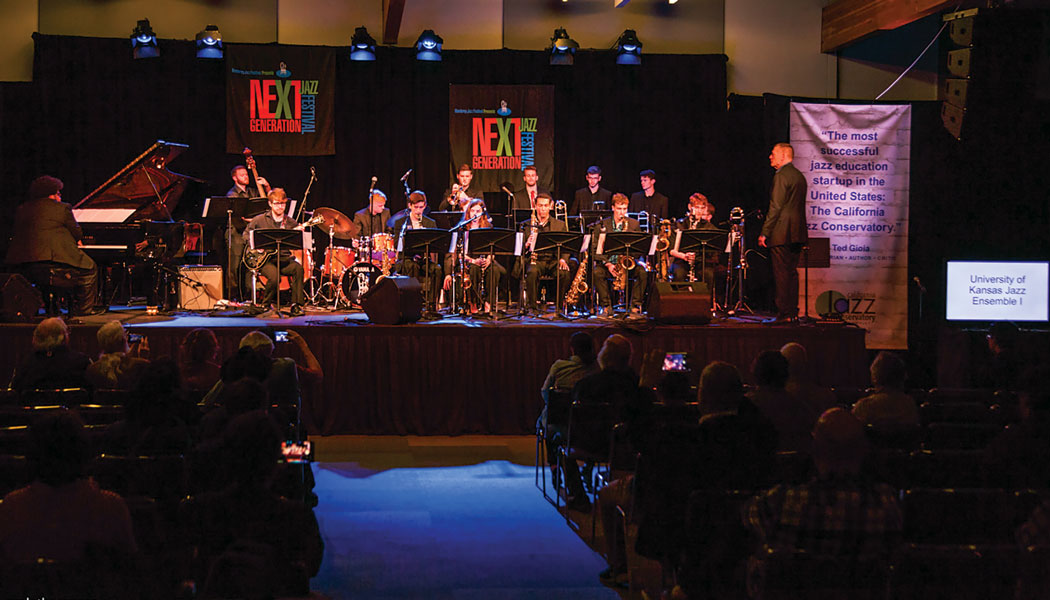 In addition to winning a Downbeat Student Music Award, Jazz Ensemble I was among six big bands invited to perform at the 2019 Next Generation Jazz Festival. Photograph by R. Cole Thompson Jazz studies students won two honors in the 42nd annual Downbeat Student Music Awards, which were highlighted in the June issue of Downbeat magazine.
KU Jazz Ensemble I was one of two big bands named a top large ensemble in the graduate college division, and Alex Annan, a master's student in jazz composition from Omaha, Nebraska, received the outstanding arrangement award in the graduate college division for his big-band arrangement of "Ima."
It has practically become a rite of spring on Mount Oread that, when the prestigious honors are announced in April, KU students are in the mix. In the past 28 years, the jazz studies program has won 27 Downbeat awards.
"It's been a good run," says Dan Gailey, a Chancellors Club professor of music and, since 1990, director of jazz studies in the KU School of Music. "We've been trying to keep it going on a high level for quite a while, and I think that kind of feeds on itself."
The 18-member band recorded and submitted three tunes for the contest: "All Blues" by trumpeter and jazz legend Miles Davis, "Zhivago" by guitarist Kurt Rosenwinkel and "Extra Credit" by Grammy-winning pianist Jim McNeely.
The graduate division is the most competitive in the Downbeat contest, which recognizes student musicians from junior high to graduate school.
"A funny thing about the Downbeat awards is that if you even have one grad student in your band, you have to enter the graduate division," Gailey explains. "A lot of the bands we were competing against are almost all grad students. So we were competing with three grad students in our band against bands with 15 to 17 grad students."
In its coverage of the large ensemble graduate competition, Downbeat noted that the other big band singled out for honors—from the University of Southern California—includes a large number of professional musicians already playing for pay in the Los Angeles music scene. "That's the kind of competition we're up against," Gailey says.
Gailey uses a sports analogy to illustrate how students are both drawn by the KU jazz program's culture and driven to perpetuate it.
"You build something of excellence and then the pressure is on for next year," Gailey says, pointing to Allen Field House across the street from his office in Murphy Hall. "You guys have to step up and play."
And much like a basketball coach who has to adapt to the skills, maturity, work ethic and talent of a new lineup each season, Gailey's role changes from year to year. A group that's "musically young" might require a firmer hand from the director. "I might need to do more leading," Gailey explains, "kind of pulling them by their teeth on some stuff."
This year's ensemble took charge on its own, he says. "We had a funny rehearsal where my drummer, Vaughn Craddock, just took over musically. You could feel it. I said, 'Guys, this is the hurdle we needed to get through. Now it's no longer my band; it's Vaughn's band.' After that, they ran with it.
"What I always talk to them about is that they want to get to the level where they are individually and collectively taking ownership of the music, that they're heavily involved. And that happened with this year's band."
In addition to the Downbeat honors, Jazz Ensemble I was selected to perform at the 2019 Next Generation Jazz Festival presented by the Monterey Jazz Festival. Student groups compete for a slot at the highly regarded event through recorded auditions; the KU group was one of six college big band finalists invited to play at the April competition in Monterey, California, which Gailey describes as "a huge honor" regardless of the outcome.
"I've told them for years that the Downbeat awards shouldn't define our program, but they are a recognition of a job really well done," Gailey says. "It's somebody other than me telling them, 'Hey, good job, folks.' It's some of the most important people in the jazz world saying, 'You're on the right track and you're doing great things.' So that's huge."