The day Taylor Swift came to class
On April 27, 2009, the budding megastar made a stop—and quite a splash—at KU.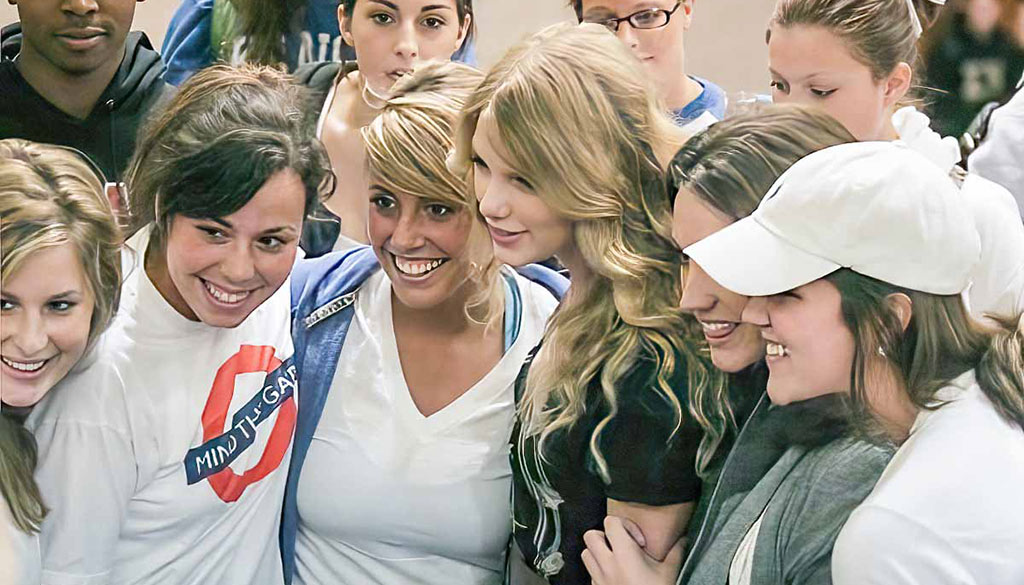 Professor Chuck Marsh could tell that something was a bit jittery about his Journalism 101 class.
Marsh was instructing the spring 2009 installment of Media & Society. During the April 27 class, he walked around the Budig Hall auditorium while his graduate students presented about an issue from current events. The student chatter seemed a bit amplified compared to normal, but nothing disruptive.
It was probably about then that he noticed one of his students sitting apart from most of the class with two other people in the second tier of student seats.
His student, Abigail Anderson, gave him an embarrassed smile.
But was that her father sitting with her? The man looked too old to be a student.
And was that another student rounding out the group of three? Marsh wondered.
As he began lecturing, Marsh didn't know this would be the most extraordinary class period of the 20 semesters that he taught J101. That it would be a story he would tell his children. That it would be a story reported in the campus and community newspapers. That it would be a story I would interview him about 14 years later.
"As soon as class was over, it was like somebody had turned on a vacuum," said Marsh, c'77, g'80, PhD'85. "Everybody ran in that direction. And I turned to my graduate students, and I said, 'What's going on?' They said, 'That's Taylor Swift.'
"So, I was the only one in the classroom who didn't know who was sitting there."
Anderson, '12, had brought her best friend Taylor to Lawrence for a visit. As The University Daily Kansan reported, the celebrity sighting spread through text messages, attracting a crowd to the back of the auditorium and the hallways outside.
Students huddled around Swift, posing for photos. One student even worked to slip the pop star his number.
Anderson competed on KU's swim and dive team. She set two school records in the backstroke and now works in mergers and acquisitions for a Nashville company.
Some benefits of being Swift's best friend? Nearly 429,000 Instagram followers. A write-up on your 2022 marriage in E! News. And being the "redhead" best friend referenced in Swift's hit song "Fifteen."
I loved hearing this anecdote about one of the most famous people in the world visiting Marsh's class. First of all, because Swift went on to give KU a shoutout during an interview recorded by the Oprah Winfrey Show.
"My perfect day off would be going to visit my best friend Abigail in Lawrence, Kansas," Swift said. "She goes to Kansas University, so basically that's my best friend since I was 15. I love going to visit her."
Second, because my wife was charming enough to land tickets to Swift's July 8 Kansas City concert for the two of us.
But mostly because I am teaching the same course in the same lecture hall this fall. What a mind scramble it would be to have a celebrity—or a "starlet," as the Kansan put it—in class.
To be clear, Swift's 2009 visit was only two albums into a discography that has now ballooned to 10 studio albums. She is doubtlessly the most successful recording artist of the past few decades—and there she was on Jayhawk Boulevard.
Marsh and I struggled to compare her to other musicians in terms of fame. I offered the closest comparison for my generation: Michael Jackson. His worldwide fame and tours created a spectacle that was only rivaled by his bizarre public controversies and accusations of child assault. Regardless of your musical tastes, you have to admire Swift's composure and juggernaut success in the spotlight.
Marsh suggested the Beatles. However, he pointed out, they could escape from fame in a way that seems impossible for Swift.
"They were in their comparatively relentless spotlight," Marsh said. "But they could escape to Greece or India, and no one would know they were there. I'll bet Taylor Swift can't do that.
"She's having to invent a way to do this with dignity and class. I can't imagine. Just from the sidelines, I'd say she's succeeding."
The Taylor Swift empire has become so much more than those KU students could have imagined back in 2009. A single bodyguard couldn't control the crowd that Swift would attract today. Just imagine the viral tweets. The crush of students. The cellphone cameras held up for a glimpse.
Swift is now subject to academic inquiry (Swiftology: Taylor Swift inspires KU professor's teaching, research), has accomplished a career so extensive that it has eras, cultivated a pop star supernova capable of crashing an online ticketing service, and triggered controversies profound enough to trigger Congressional hearings.
Indeed, to be as famous as Swift means that you leave a wake behind you wherever you have been.
After Swift's two-night stand at Arrowhead Stadium, the wake of her fame remains in Kansas City in the shape of teenage girls flaunting their branded T-shirts and middle-aged dads posting photos from the concerts on social media.
Even 14 years later, when the visit of any normal person would be forgotten, Swift's presence still has people talking at KU.
"That was honestly one of the funniest things I've seen in all my years of teaching," Marsh said. "That was how quickly students got out of their seats and up to the level where she was sitting. They were thrilled. They certainly knew who she was."
Eric Thomas directs the Kansas Scholastic Press Association, teaches visual journalism and photojournalism, and contributes to Kansas Reflector, where this essay first appeared.
Photo courtesy of The University Daily Kansan