Baseball writer Rob Neyer takes on intriguing side gig: commissioner of the West Coast League
Like many of the good things in his life, the opportunity to write his seventh book, Power Ball: Anatomy of a Modern Baseball Game, arrived unexpectedly for Rob Neyer—as did his new role as commissioner of the game's West Coast League. By the time HarperCollins published Power Ball last October, the author had landed a gig leading a top summer league for collegiate players.
Neyer—statistical wizard, former online columnist and perhaps the most prominent protégé of Bill James, creator of "sabermetrics"—admits to drifting through rudderless years at KU, although he did make the most of a momentous discovery mere weeks into his KU career: the Bill James Baseball Abstract.
Neyer, '90, was 9 when his family moved to Kansas City, in 1976, and the ascendant Royals were a few months from winning their first division title.
"We moved there in March or April," Neyer says, "and I had fallen completely head-over-heels in love with the Royals by Memorial Day."
Always an avid reader of sports books, Neyer had somehow missed the analytical abstracts invented by James, c'73, d'75. When Neyer stumbled onto a copy in the KU Bookstore, he gave himself over, powerless, to another baseball love affair.
"I bought it, brought it back to my apartment, and within a few pages, certainly by the time I finished that book, Bill James, his work, was everything to me," Neyer says. "It redefined how I thought about baseball, and how I thought about the world, to some degree. In a sense, it changed my brain."
After struggling through eight semesters on the Hill, Neyer finally faced facts: He was better suited to roofing houses than faking his way through school. At least he knew where he had to be at 6 a.m. A few months into his new life, a friend who knew James mentioned that James was hiring a research assistant. The one possibility that had never once occurred to Neyer—getting paid to do sabermetrics research with the field's guru—was suddenly in his viewfinder.
When James requested a writing sample, Neyer sent him a paper he'd written for Professor Jim Carothers' "Literature of Baseball" course. When James asked for a transcript, Neyer fibbed that overdue library fines prevented him from obtaining a copy. (He confesses that the lie still haunts him.)
"In late November or early December of 1988, Bill called me and said, 'Rob, I'd like you to come work for me.' Aside from the birth of my daughter, I would say it's the greatest moment of my life," Neyer says. "All the good things that have happened to me since then, and there have been a lot of them, it all started with Bill giving me a chance—one that I didn't really deserve."
After working with James for four years, Neyer sensed their run was done and it was time to "get out of the way so somebody else could have an opportunity." He tried freelance writing, then left Lawrence for a job in Chicago with STATS Inc. Three years later, he got in on the ground floor of the internet explosion by taking a job with Microsoft co-founder Paul Allen's Starwave, in Seattle.
Starwave created and operated the new ESPN.com, for which Neyer eventually settled in as a popular baseball columnist and blogger. He also found time to write books, creating a trilogy in his Rob Neyer's Big Book of Baseball series.
Neyer was hired by Starwave/ESPN.com to edit freelance columns about the then-new trend of fantasy sports. Working on copy submitted by others didn't suit him, so Neyer began tapping out his own daily fantasy baseball column.
"It was, 'This guy's hot, I'd play this guy, there's this kid in the minors to keep an eye on.' It was nothing. In retrospect, I don't even know why I was doing it, what the point of it was."
Regardless, the small daily columns proved the onset of a new, fast-paced chapter in Neyer's career. Once he got in the groove of daily writing, Neyer "gravitated toward the columns that I wanted to read," such as sabermetrics-based analysis of historically bad franchises, the best shortstops since Cal Ripken Jr., and a two-week-long series on the game's greatest players.
Online-only sportswriting was still new then, in the late 1990s, and Neyer and his ESPN.com colleagues were forging the genre's identity, including such novelties as interacting with readers by answering their emailed questions.
"Nobody ever said, 'Why are you doing this? We didn't hire you to do this. You're not a columnist. You don't know how to do this job.' I just kept doing it, and within a few months everybody just left me alone. You talk about freedom? I could do anything.
"Everything was pretty much fully formed, columnwise, within a couple of years. We created these cool tools that nobody ever used before."
In 2011, with his national reputation secured, Neyer left ESPN.com to become national baseball editor with SB Nation; he then joined Fox Sports and eventually returned to freelance writing. When Neyer's agent in 2017 failed to find a taker for his two best book ideas, Neyer wrote him a thank-you note—he's big on handwritten cards—and bid adieu to writing baseball books.
Within a week, Neyer heard from a HarperCollins editor who was searching for someone to write a baseball book in a specific framework. The first writer he approached declined, but suggested Neyer for the gig: "It's another one of those things that just dropped in my lap."
In the spirit of Daniel Okrent's Nine Innings and John McPhee's Levels of the Game, about an Arthur Ashe match at the 1968 U.S. Open, Power Ball would use the details of one game—Neyer and his editor eventually chose Houston at Oakland, Sept. 8, 2017—around which Neyer would delve into preselected topics.
"So then it becomes a puzzle," Neyer says. "I filled up notebook after notebook, longhand, just writing about these 24, 25 things that I wanted to write about."
The format allowed an expert like Neyer to examine baseball trends, history, players, coaches, scouts and executives, presented in a lively, readable format. It was such a hit that Neyer won the Society for American Baseball Research's Henry Chadwick Award for "invaluable contributions to making baseball the game that links America's present with its past." The book also won the 2018 CASEY Award as the year's best baseball book.
As he neared the end of writing Power Ball, Neyer accepted an invitation to speak to a civic club in Portland, Oregon, where he has lived since 2002. In the audience was Dan Segel, CEO of the Corvallis Knights of the West Coast League.
Turns out, the WCL needed a commissioner. Neyer needed work. By May 2018, he was traveling to ballparks, throwing out first pitches, even donning mascot outfits.
"It sounded like it might be fun, just doing the things a commissioner does. I didn't know what those things might be, but I've spent my whole life reading about commissioners, and now I can be one," he says. "So what's the worst that can happen?"
Neyer soon realized the role involves more than hot dogs and home runs, but even headaches such as late-night phone calls when players got into trouble didn't diminish the fun. He signed on again this year, which meant he finally got to see the biggest perk of all: official league baseballs printed with his signature.
"There is a renewal," Neyer says, explaining that it's not so much about being around eager young ballplayers—he interacts primarily with team executives—but instead it's about another unexpected path into the game. Two decades of doing the same work, talking to the same people, became "less and less fun."
But, being a commissioner?
"Completely different," he says with a chuckle. "It can be really difficult, but I enjoy the challenge. That's where the renewal part comes in."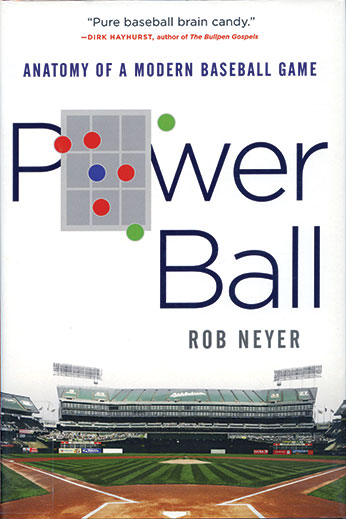 Power Ball: Anatomy
of a Modern Baseball Game
by Rob Neyer
HarperCollins, $27.99