Bryce Hoppel wins matched set of NCAA 800-meter titles and 19 consecutive races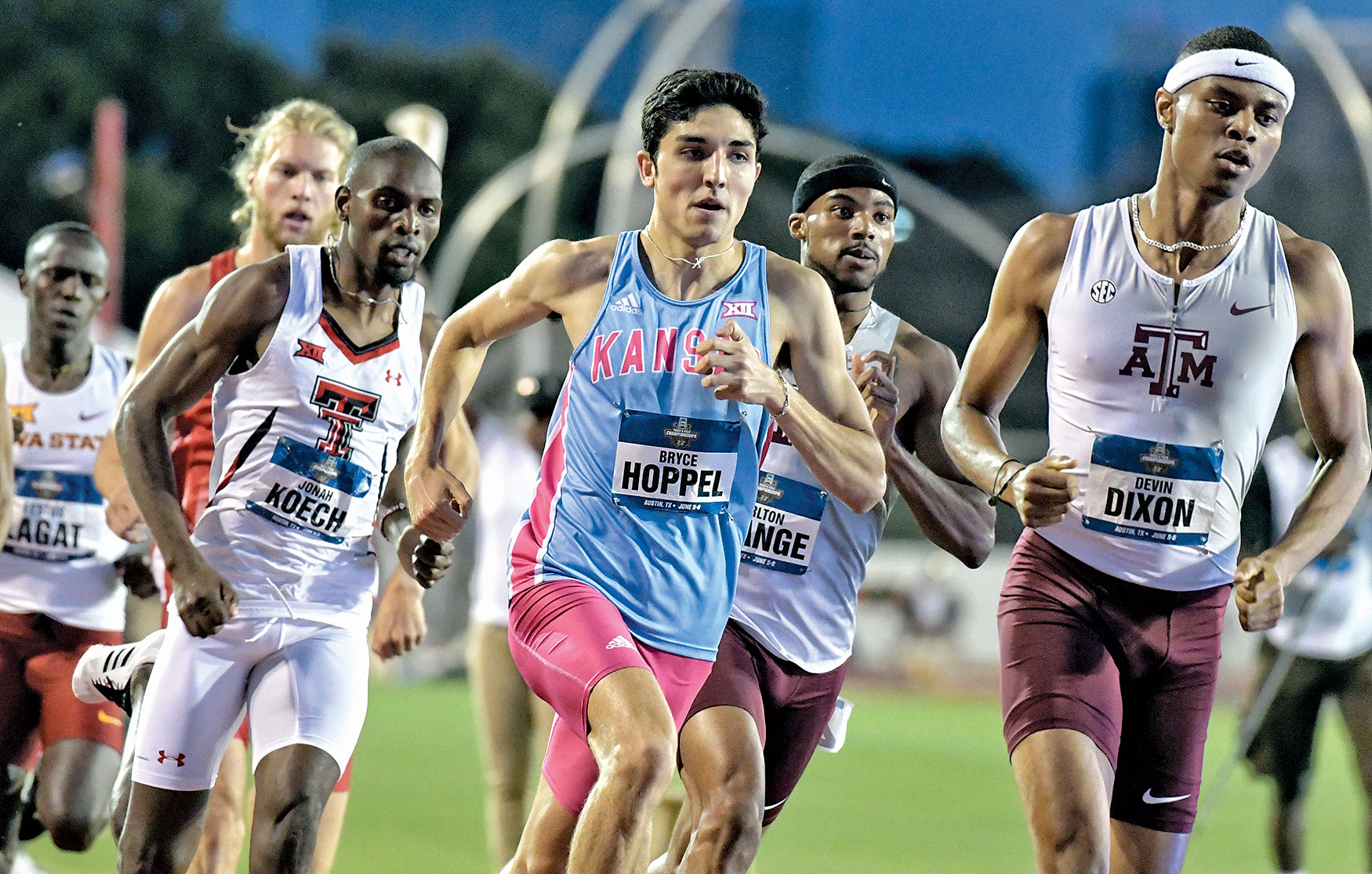 When he sat down for an interview with Kansas Alumni in April, junior Bryce Hoppel, NCAA Indoor 800-meter champion, shared memories of a motivating moment from the end of his freshman season: As Hoppel and Texas A&M rival Devin Dixon—with whom he'd clipped heels in a national invitational meet after his undefeated senior season in Midland, Texas—surged toward the line in an NCAA qualifier race in Austin, Dixon clocked in narrowly better, securing the final spot in the NCAA's 800 meters.
"Training over that whole summer, I couldn't get it out of my mind," Hoppel said. "I kept replaying that final stretch in my mind, over and over."
Consider it avenged.
Hoppel on June 7 capped his remarkable year with his second NCAA 800-meter title by passing Dixon on the inside as the two front runners entered the final stretch. The victory was Hoppel's 19th in a row, indoor and outdoor. His winning time of 1 minute, 44.41 seconds was a personal best, set a facility record at the University of Texas track stadium, and was the fifth-fastest ever by a collegian.
"I knew it was going to be fast with this guy over here," Hoppel said afterward, nodding toward Dixon. "He's an incredible runner and we do incredible things when we're together in a race."
When asked four days later whether that freshman-year disappointment had flashed through his mind as he passed Dixon turning for home, Hoppel first replied, "Yeah, a little bit," then walked it back: "Time had passed, and I kind of avenged it earlier, in earlier races with him. In that moment, my head was on great things. Not really revenge, just, 'Here's the line, and the ultimate national championship,' rather than specifically with Devin."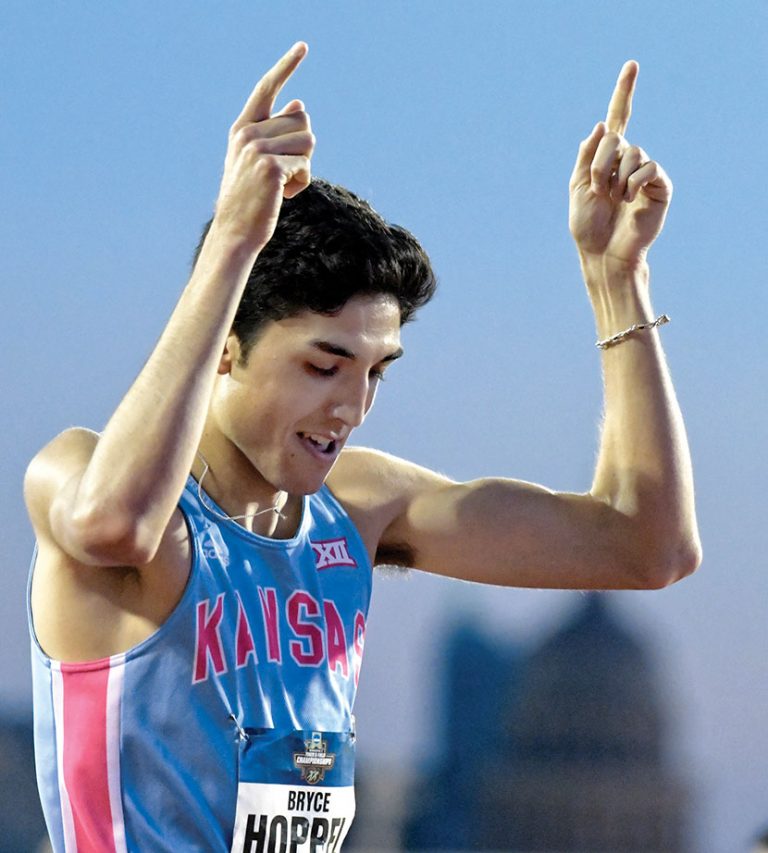 Dixon, who finished less than half a second behind Hoppel, admitted afterward to a "rookie mistake" in losing track of Hoppel. Expecting to see his rival in the pink and blues on his outside shoulder, Dixon left room for Hoppel to charge up the rail.
"It was a pleasant surprise," Hoppel said. "The spot opened up and I saw the opportunity."
After winning both NCAA 800-meter titles without losing an individual race, Hoppel suddenly became a darling of the national track and field scene.
One prominent track blog noted that the past three men's 800-meter champions left their schools to run professionally. Considering Hoppel's "magical 2019 collegiate track campaign for Kansas," he could make it four in a row: "Given what he accomplished in 2019, this might have been the last collegiate race for Hoppel."
Not so fast, Hoppel told Kansas Alumni: "KU has been nothing but amazing to me, so I'd like to give everything I can for them since they've given everything to me."
Not surprisingly, USA Track and Field picked Hoppel for the Aug. 6-10 Pan American Games in Peru. His primary summer goal, though, is the USA Outdoor Track and Field Championships July 25-28 in Des Moines, Iowa. There Hoppel will take a big leap beyond NCAA competition, and he concedes that his unbeaten streak is unlikely to survive intact.
"I always run to win," he says, "but right now, realistically, I'm running to place."
The top three finishers in each event qualify for the U.S. team that will travel to the World Championships, Sept. 27-Oct. 6 in Doha, Qatar. To help his chances of landing a spot on the podium—and the USA Track and Field's world championships team—Hoppel has already begun watching race video of his competition, "just to get a feel for how other guys like to run." No matter what he sees, Hoppel adds, he'll stick to his usual plan of pacing close behind the front-runner, setting up his move on the final turn.
"It's kind of more of a comfort thing, having [the leader] right there. I can feel how much I have left throughout the race, and if I'm coming up on him, I feel how much I can give at that last point. It might play a little bit in their head, but for me, it's just to find a place of comfort and going off of that.
"The tactical side of it is definitely a big factor. If you're not going to run smart, you're definitely going to suffer in your results."
As for running smart, Hoppel does admit to one youthful indiscretion: Mere days after winning NCAA gold, Hoppel hit the Rock Chalk Park track and couldn't hold himself back.
"My legs are feeling great, and I actually had a blazing fast run."
 Also at the NCAA meet, junior Gleb Dudarev won silver in the hammer throw, freshman Zach Bradford took sixth in the pole vault, and freshman Treyvon Ferguson placed 10th in the triple jump with a personal-best mark of 53 feet, 1 inch, the fifth-best in KU history. For the women's team, sophomore Alexandra Emilianov, who later won Moldova's national discus title, placed fourth at the NCAA meet with a toss of 193 feet, 3 inches, the fourth-best throw in KU history.
Freshman Cordell Tinch was named Big 12 track and field's Outstanding Freshman of the Year after scoring in three events at the conference meet in Norman, Oklahoma, including victory in the 100-meter hurdles. Hoppel won his third overall Big 12 800 title, and Emilianov successfully defended her discus title.
Senior Alexis Romero tied for second in women's pole vault and senior Joel Long took fourth in the men's high jump. KU's men's and women's teams both placed fifth in overall standings at the Big 12 meet.
Photos by Jeff Jacobsen