Goldwater Scholar trio vaults KU to nation's top rank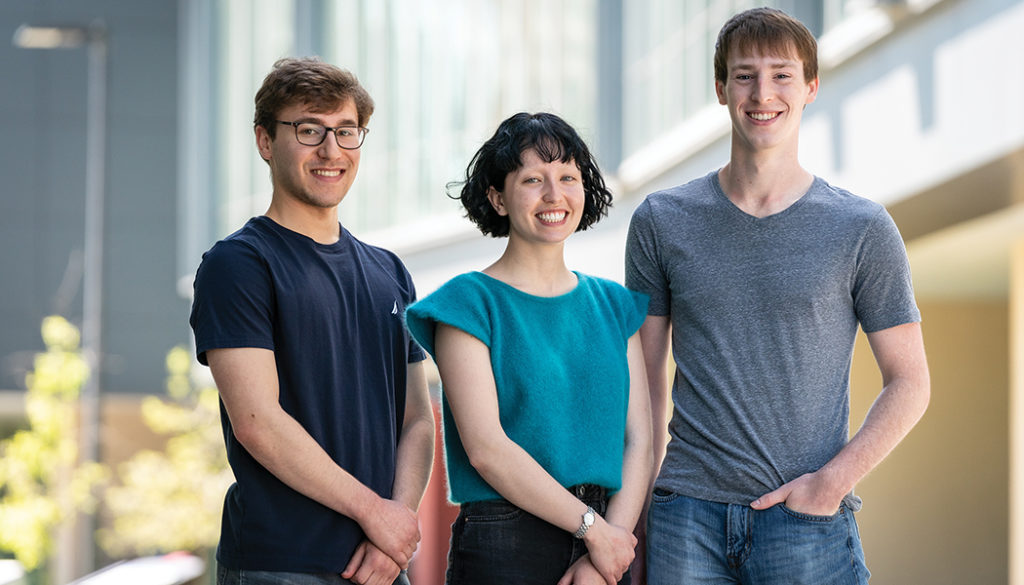 "Not to brag," Cosner says, "but we have a great department. The professors are great and there's a lot of research going on. It's not surprising to me."
Along with Anton Barybin, this year's honorees, who bring KU's Goldwater total to 71 since the scholarships—worth up to $7,500 annually for school and housing expenses—were first awarded in 1989, are Emma Cosner, of Overland Park, and Jonah Stiel, of Topeka.
Anton Barybin became fascinated with brain research while attending the Duke Talent Identification Program camp in middle school, and he began conducting research in the lab of Susan Lunte, Ralph N. Adams Distinguished Professor of Chemistry and Pharmaceutical Chemistry, the summer after his graduation from Lawrence's Free State High School. His research is in neurodegenerative and neurotransmitter diseases, including multiple sclerosis, Alzheimer's and Parkinson's.
"Of course we need to broaden and deepen our understanding of fundamental mechanisms of disease," he says, "but I think the questions we want to ask as researchers should be driven by the patient, so that all of our research can eventually be actualized and make a difference in people's lives, which is ultimately what every researcher wants."
Cosner, a chemistry major with a minor in physics, hopes her research in Associate Professor James Blakemore's lab, on harnessing renewable energy using electrocatalysis, will help her one day realize her dream of becoming an astronaut. Also promoting her cause is research she's conducting with Christopher Rogan, assistant professor of physics and astronomy, on the strength of sensors that one day will be subjected to extreme conditions in the CERN Large Hadron Collider.
"My key thing is, always set the bar really high, as you can see from my goal of being an astronaut," Cosner says. "Even if you don't make it, you'll still be proud of yourself for trying, and you'll still have made it to a spot that's good."
Stiel, like Cosner, conducts research in Blakemore's lab, focused on environmentally beneficial catalysis. Professor Barybin notes that one KU research group had as many Goldwater chemistry honorees as did Cal-Tech, and more than Harvard, MIT, Stanford and Berkeley.
"I think this is unheard of nationally," Barybin says. "It tells you the quality of our students is on par, and obviously might be better, than many of those institutions."
Says Chancellor Doug Girod, "I never won a Goldwater, but as a chemistry major myself, I'm certainly proud. These folks are going to go out and change the world."