Alumni Association campaign brings scholarships to students in need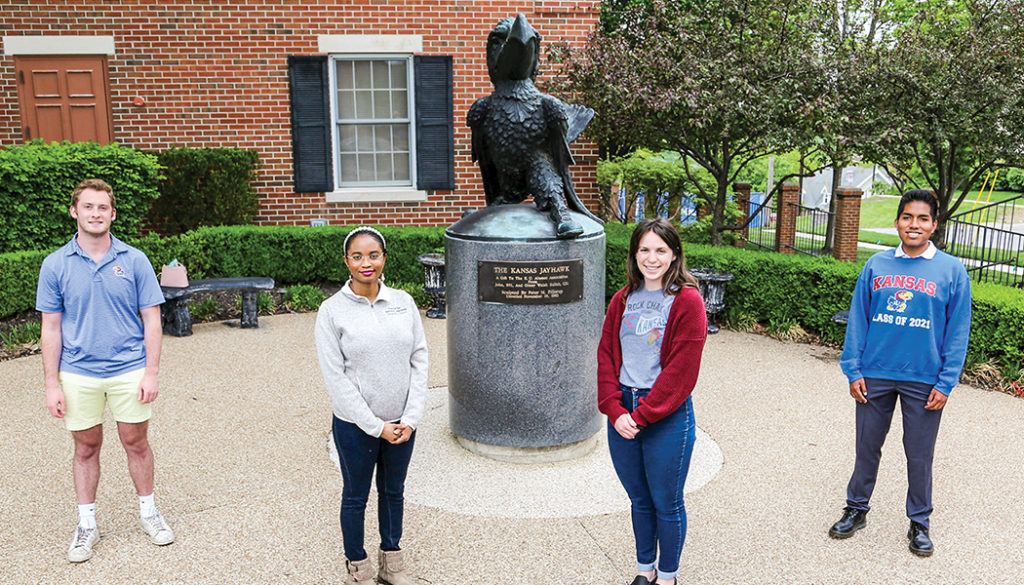 Four undergraduate students received $1,000 scholarships as part of the KU Alumni Association's "Member Madness" campaign in March. They are:
Emily Burt, an Abilene sophomore majoring in biology
Cynthia Esiaka, a junior from Asaba, Delta State, Nigeria, majoring in educational psychology and research,
and community health
Roy Ricaldi, a Lima, Peru, senior majoring in management and business analytics
Paul Samberg, a Sandy Hook, Connecticut, senior majoring in journalism, Jewish studies and political science
The program aimed to capitalize on the excitement of the basketball season and the NCAA Tournament by bringing in new and returning members with a specific premise: help win a scholarship for a student in your school of choice.
Each membership purchase, renewal or donation to the Association meant a point for one of KU's 13 schools; the four that amassed the largest point totals earned a scholarship for a student applicant. The four recipients are from the schools of Business, Education and Human Sciences, and Journalism and Mass Communications, and the College of Liberal Arts and Sciences. Winners were selected based on their career aspirations and the impact of the pandemic on their college experiences.
"This scholarship will help me continue my education to exploit my potential and take my career to the next level," Ricaldi says. "I think education is the greatest investment one could make. I come from a family of educators that I look up to. The financial barriers that come with continuing to higher education stop many bright minds from taking that path. I am thankful for my family's support as well as the KU Alumni Association for making this award possible."
"With the Member Madness campaign, we were able to engage our alumni as well as help support student success, two key goals of the Alumni Association," says Megan McGinnis, assistant director of student programs. "Alumni were eager to engage and contribute to this campaign because they could see the direct benefit they were providing to students. Additionally, being able to help aid students in a year that has been fiscally challenging has proven to be rewarding for our organization."