Saving the flora and fauna of his native Liberia is focus for biologist Ben Freeman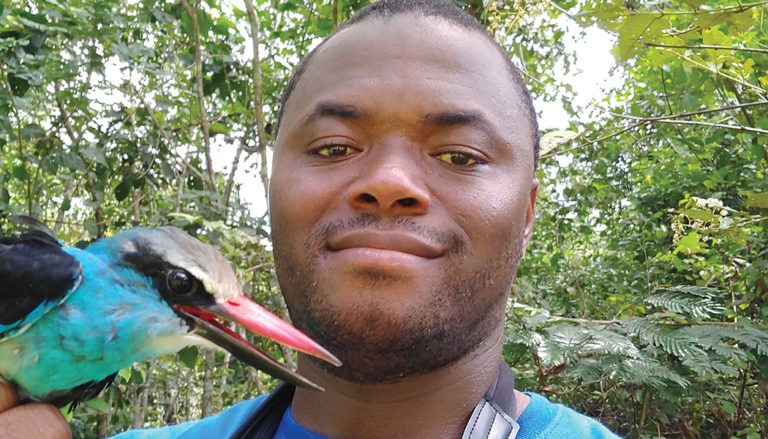 After finishing his graduate work this spring, Ben Freeman, PhD'21, left Lawrence for his native Liberia with a doctorate in ecology and evolutionary biology and a goal: to study and protect some of the world's most diverse rainforests and their wildlife.
He remembers when his family ran into those same forests, literally for their lives.
"I was only 5 or 6 years old, but I remember we ran into the forest to escape the rebels," Freeman says of his youth amid the Liberian Civil War. "The forest was our source of refuge and sustenance. It was not a good time."
Freeman was 6 when his father, Victor, died during their time in the rainforest. The war prevented him from finding proper medical attention for his treatable malaria. Freeman's mother, Lucy, was left to fend for her seven children.
The horrific conflict killed more than 250,000 of Liberia's 5 million people. Many were children, younger than 10,
conscripted into battle. Freeman's family were among the 1 million Liberian refugees. Eventually his family left the towering woodlands and have since thrived.
Now it's Liberia's forests that are in grave danger. As is the case across most of western Africa, Liberia's once vast forests are being gnawed away by an expanding human population and their need for croplands and grazing pastures for food. Palm oil plantations have claimed massive areas as have legal and illegal mining.
As happens when there's such habitat destruction, some of Liberia's populations of brilliantly colored birds are in serious decline.
Freeman's educational process has always included those woodlands and the wildlife within. He earned his
undergraduate degree in forestry from the University of Liberia. His master's, from the University of Jos, in Nigeria, is in conservation biology and ornithology.
While researching places to continue his education, Freeman contacted Town Peterson, University Distinguished Professor of Ecology and Evolutionary Biology and senior curator at KU's Biodiversity Institute. Peterson is well known for his work in Africa. He quickly saw Freeman's potential.
"It was just so very clear Ben was a motivated young scientist," Peterson says. "He's a very engaging guy, very intelligent and so very motivated."
Freeman has had to be very patient throughout an education that should help him help the forest and its wildlife.
Peterson and Freeman were repeatedly told he couldn't be admitted to KU because of a language technicality. (English is Liberia's official language and Freeman speaks it perfectly, but due to a glitch in its system, the University didn't recognize Liberia as an English-speaking country and insisted Freeman pass a standardized test not offered there.) Peterson persisted and eventually convinced admissions staff of Freeman's mastery of English. Then Freeman endured lockdowns in Liberia from Ebola and COVID during his doctoral studies.
Though his studies were in Lawrence, Freeman's focus remained 5,000 miles away in Africa, where he twice led Biodiversity Institute research expeditions. He also authored or co-authored a dozen articles pertaining to African wildlife or habitats published in scientific publications. His dissertation used a variety of high-tech methods to chart how populations of birds in Liberia will respond to climate change through 2050.
Now a professional working in Liberia, Freeman is helping the U.S. Forest Service as it assists in building better forestry and biodiversity conservation in his nation. He's also an adviser for a forestry training institute.
He'll use what he learned at KU, along with his many professional contacts such as Peterson, to find ways for a burgeoning, and often impoverished, human population to co-exist with wildlife.
Freeman knows educating his fellow Liberians will be important. He'll need their support to preserve the native woodlands and so many species of threatened wildlife.
"Here, for so long, people thought everything in the wild was meant to be eaten," he says. "If you saw a bird, you killed it and ate it. We have to work to change attitudes."
Freeman sees more interest in wildlife and habitat in his country. Educating the nation's youth, through schools, is in its early stages but shows promise.
"I'm very happy people in Liberia are beginning to take an interest in nature but I know it takes time to teach people," Freeman says. "We have a long way to go, compared to the U.S., but I think over time things will be changing. It's a good start, so far."
—Pearce, '81, is a Lawrence freelance writer and former outdoor columnist for the Wichita Eagle.
Photograph courtesy Ben Freeman