More than all the right notes
Busy band teacher Jennifer Antonetti touts benefits far beyond beautiful music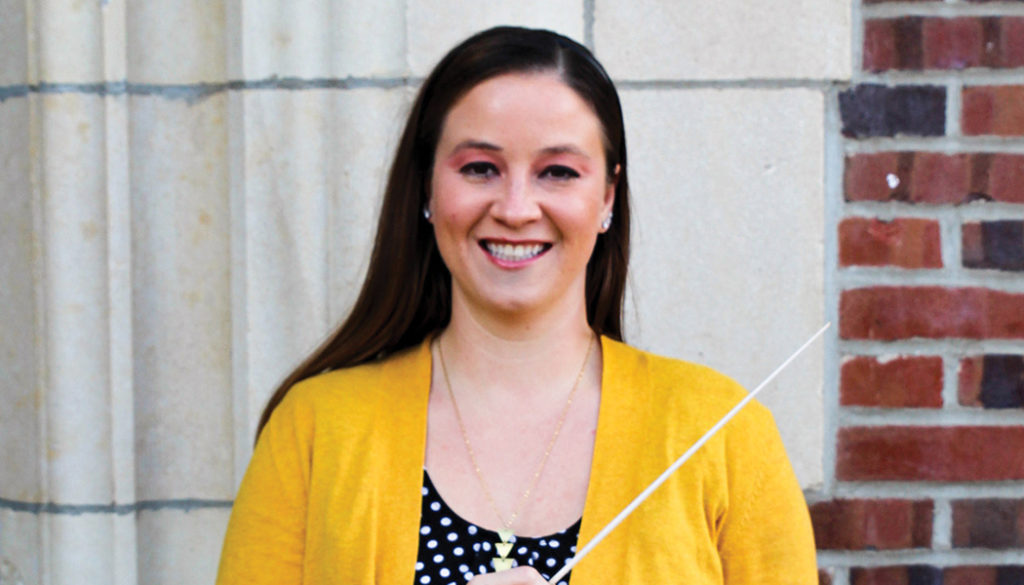 Jennifer Richard Antonetti, recently honored by Yamaha's "40 Under 40" music education advocacy program, teaches music every school day to about 300 students in eight grade levels at three Topeka schools, and she continues to refine an organizational app now used by colleagues in 12 states.
Her daily schedule is full, as is her spirit, especially the recent morning when her top-level band students finally returned for in-person instruction at Topeka High.
"Literally that first note, even though it wasn't beautiful, it was beautiful. A B-flat scale never sounded so good," says Antonetti, f'07, g'14. "Just to hear actual music and instruments and to be around kids again, that was brightening, and a sense of relief, and a feeling that everything was coming back to normal again."
Exposing young people to the joys and possibilities of music is Antonetti's professional passion, yet for a brief moment years ago she considered an entirely different direction: Energized by attending one of KU's Women in Engineering days while a student at Topeka's Seaman High School, Antonetti initially envisioned herself studying mechanical engineering.
Instead she began her undergraduate career on Mount Oread as a music therapy major, then switched to music education as a sophomore and went on to earn undergraduate and master's degrees in the field.
Within band rooms at Meadows Elementary and Robinson Middle School, and at Topeka High, where she is assistant band director, music education is about more than reading notes on a page and mastering an instrument. Antonetti uses music as a passport to exploring the wider worlds of history, geography, culture and, perhaps in a nod to the varied interests she embraced when she was her students' age, mathematics and science, including human physiology, which enables musicians to summon intricate sounds from their instruments.
"We try to bring in a little bit of everything," she says. "It's all encompassed in music."
If a daily workload of teaching hundreds of students was not daunting enough, Antonetti added still more to her playlist when, after plowing through an inventory in her middle-school band room one hot summer day—with the assistance of her husband, Kris, '11, himself a KU Band alumnus—the Antonettis were horrified to discover the next day that the school's computer technicians had come through and wiped all the computers clean. Their work was lost.
The frustration lit their entreprenurial spirit—There must be a better way!—and together they created a cloud-based asset-management app, called BatonSync, that helps band teachers track instruments, uniforms, sheet music and more, and even documents repairs and instrument depreciation, valuable data when band directors are asked to justify their budget requests. The Antonettis are currently rewriting the app to include a music library and recording functions.
Despite her hopes for success for the family side gig, Antonetti does not foresee a future for herself that does not include teaching band, which allows her to encourage her students' creative, intellectual and social development.
"The whole social aspect of being in band is, in some ways, just as important as the musicality. It's a massive part of the process," she says. "I always tell students, 'If you don't turn in your homework in your math class, it only affects you; but if you don't play your part in band, it affects everyone around you.' We also spend a lot of time teaching and helping kids how to get along with each other, manage disputes and coach each other, so we're working on all of those social aspects while we're working on music, too."
As Antonetti explained in her application for the Yamaha award, the beautiful music of a band room, even a seemingly mundane B-flat scale, is to be treasured.
"We still keep coming up with evidence that music is one of the ways that can really help students be successful—notonly in school, but ultimately in life as well, through higher test scores or meeting friends or being coachable or being resilient, all those buzzwords in education right now.
"The most important thing is that any child has the capacity to learn."
Photograph courtesy Jennifer Antonetti