In exceptional year, advising award-winner helped Jayhawks find their place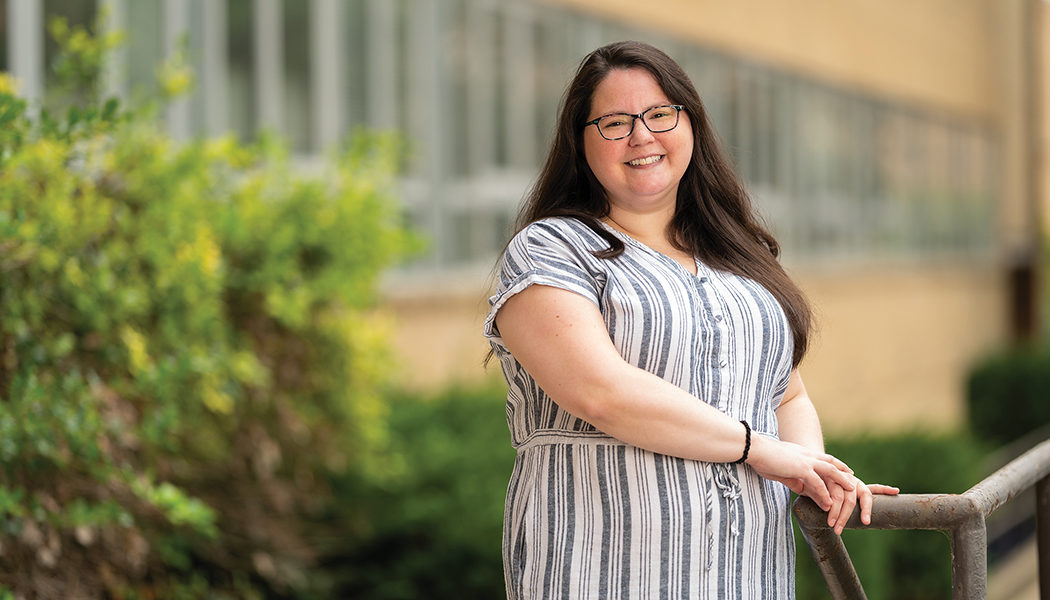 Attending a university where an estimated 35 to 40% of the student body was Hispanic proved pivotal for Rosana Godinez, both academically  and professionally.
"That was the first time I had ever been in a space where I felt like I belonged," says Godinez, who grew up biracial in Johnson County. Her admissions counselor, she recalls, "automatically knew how to say my name without even asking. It's such a simple thing, but because my name is so tied to my cultural background it meant the world to me."
The environment at Dominican University, near Chicago, not only supported her personal growth, but also inspired her to pursue a career in higher education. That led her back home to Kansas and a job as an academic adviser in KU's Undergraduate Advising Center, where since 2016 she has drawn on her college experience to help new Jayhawks—predominantly freshmen and sophomores who have not yet declared a major or who are working toward admittance to one of the professional schools—feel like Mount Oread is a place where they belong.
"I try to give the same respect to students here," Godinez says. "I am very aware that college is never as simple as enrolling in classes, taking classes, finishing the semester. There are always other things that happen. Sometimes it's a job, sometimes it's personal life situations, sometimes it's family. I strive to be the person that students feel safe with, because I had people who did that for me when I was in college, and those are the people who actually made me want to work in higher education."
In May Godinez was named the 2021 KU Academic Advisor of the Year. Established in 2017 by the KU Advising Network with support from Academic Success, the award honors outstanding academic advisers for their service to undergraduate students, recognizing occupational knowledge, advocacy for students, cultural competency, inclusiveness, campus and community engagement, leadership and more. Godinez was one of 13 advisers from the Lawrence and Edwards campuses nominated in a year that required them "to go above and beyond," according to provost and executive vice chancellor Barbara Bichelmeyer, j'82, c'86, g'88, PhD'92.
"Rosana set herself apart as described by her nominators who highlighted her passion for helping students, team-oriented leadership style and commitment to social justice," says Susan Klusmeier, g'03, vice provost for academic success. "Her commitment to advising excellence is exemplified through her nomination letters, all of which describe the impact she has had during an exceptionally challenging year."
During 2020-'21 those "other things" that can challenge students' ability to make progress on their academic goals were indeed legion.
The COVID-19 pandemic and recession, widespread social-justice demonstrations and a contentious national election taxed University support systems right when students needed them more than ever.
"We went home in March 2020 and came back in March 2021, so it was a lot of figuring out how to provide that same level of support and guidance we were providing in person," Godinez says. "The systems that we had in place stopped in their tracks, and we had to figure out how to get them moving again." While Zoom meetings gave advisers a way to stay in touch with students, the additional screen time added another burden to advisees already burned out by the constant videoconferencing demands of online classes. "We really spent the last year trying to figure out new ways to engage students so that advising didn't feel like more of the same," she says.
Godinez believes her role as an adviser is to help a student move one step forward. And then another step and another. It's up to the student to define precisely what each step is.
"We're not here to make decisions for students; I'm not going to tell a student, 'You need to take this history class,'" Godinez says. Rather her role is to ask questions that can help undeclared students explore what makes them feel happy or engaged and start to connect them with classes that can build on those interests.
For many students facing job losses, family hardships and elevated stress this past year, the step they needed was to hit pause on their education.
"With all the things going on in the world, in the United States, in Kansas, in Lawrence, I would totally understand if a student came to me and they're like, 'I just can't do it anymore. I need a break. I quit,'" Godinez says. "I would hopefully have helped them before they got to that point, but with everything going on, there were so many things to talk about with students, beyond how is this class going, that it led to certainly some really robust and vitally important conversations."
Talking with—and, importantly, listening to—students is key to Godinez's approach.
"I want every student who comes through my door to leave feeling like they were heard. Coming from the experience, though, of having had moments that either I felt like I hadn't been heard or I knew I hadn't been heard, it's even more important to me to make sure that our marginalized students, whatever that identity might be, feel that they've got a person who is just listening to them. I may not be able to fix the problem, I may not be able to answer the questions, but I can certainly listen to you and ask questions."
Sometimes those conversations are far from academic: Godinez recently spoke with a student who was caring for three siblings while attending school because their mother was busy working. Another student she connected with because a former advisee who works now for KU Student Housing asked Godinez to reach out because he remembered how much Godinez had helped him as an undergrad.
"Seeing that impact years later," she says, "it just makes you feel good."