Studio 804's latest project provides critical support for homeless families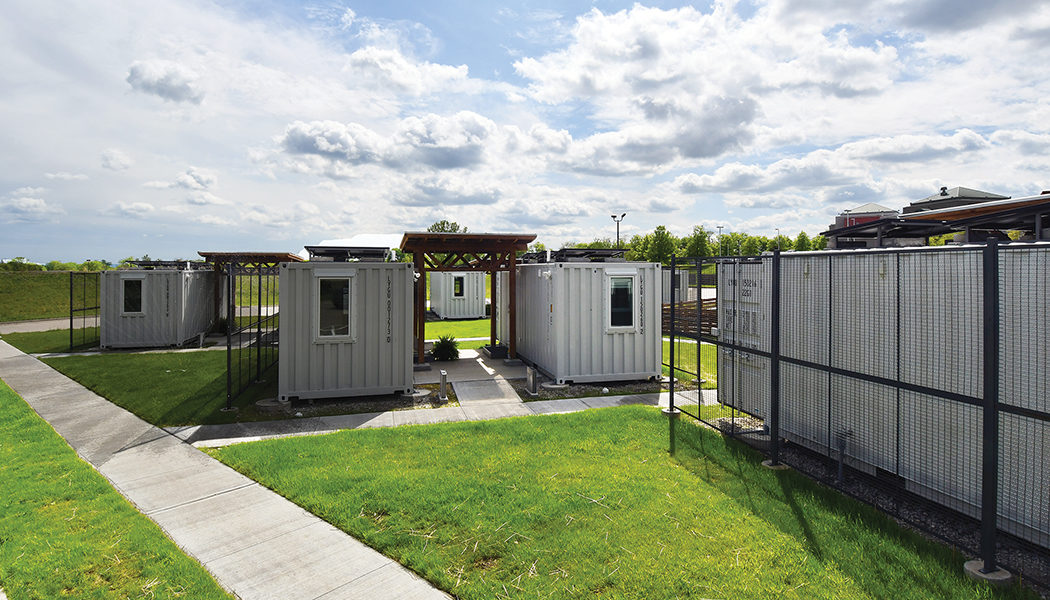 Since founding KU's Studio 804 architecture program more than 25 years ago, Dan Rockhill has hoped that one day he and his students could work with the Lawrence Community Shelter. With the onset of the pandemic, Rockhill saw an opportunity to support the shelter's homeless clients in a meaningful way.
"Their living conditions, even before COVID, were a problem," says Rockhill, J.L. Constant Distinguished Professor of Architecture, describing the shelter's open, dormitory-style environment, packed with rows of bunk beds. "When the virus came, they realized that being able to isolate people was a whole other issue, and that resulted in their having to turn many potential guests away."
Rockhill approached the shelter about constructing and donating 12 tiny homes, which could not only help separate residents to prevent illness but also provide private, temporary housing for families for years to come. Thanks to the sale of houses from previous Studio 804 projects, Rockhill had the funds to donate design services, materials and labor for the completed containers, while the shelter provided the infrastructure, such as water, sewer and electricity.
Once news of Studio 804's tiny home project leaked, Rockhill says offers to donate construction materials, including the steel shipping containers; electrical, HVAC and plumbing services; and other building necessities quickly rolled in. "I think it was an interesting comment on the community, because we're all in this together," he says. "To see the local industries do what they could to help was gratifying."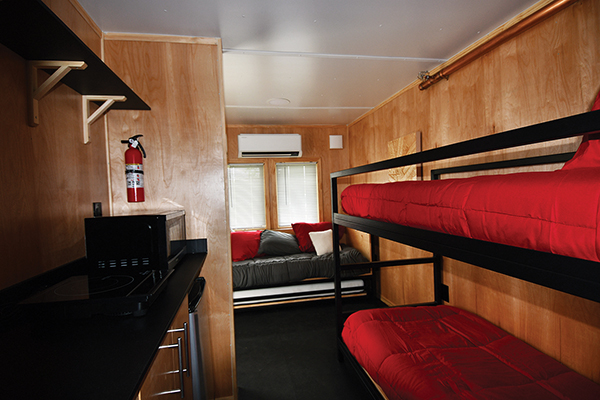 As with other Studio 804 projects, KU students in their fifth year of the master of architecture program worked in all aspects of the construction process, from developing preliminary sketches to landscaping the finished product. The 2020-'21 class included 18 graduate students, who transformed a dozen 160-square-foot shipping containers into single-family units, most of which include a bunk bed, a pull-out sleeper couch, a small kitchenette and a full bathroom. One home is fully ADA-accessible and has been configured to support two people. 
All of the homes feature solar panels that generate electricity for dual-purpose air conditioning/heating units and LED lighting, and each home is equipped with Energy Star-rated windows, doors and appliances. Screens on the sides of the six pairs of units support vines that will provide shade and passive cooling during hot weather. "We do a tremendous amount of sustainable practice, meaning that we want these buildings to reflect our interest in sustainability. If all goes according to plan, this will be our 16th LEED platinum-certified project," says Rockhill, referencing the Leadership in Energy and Environmental Design rating system established by the U.S. Green Building Council.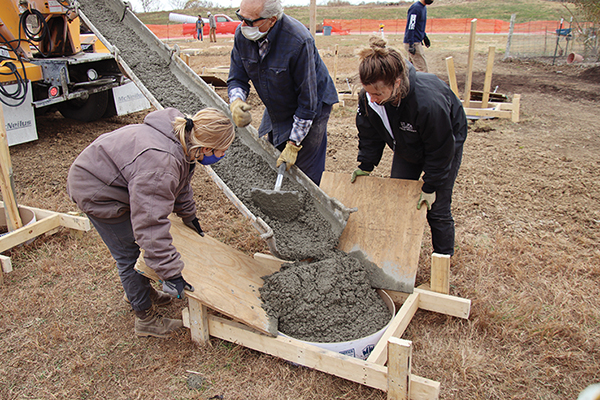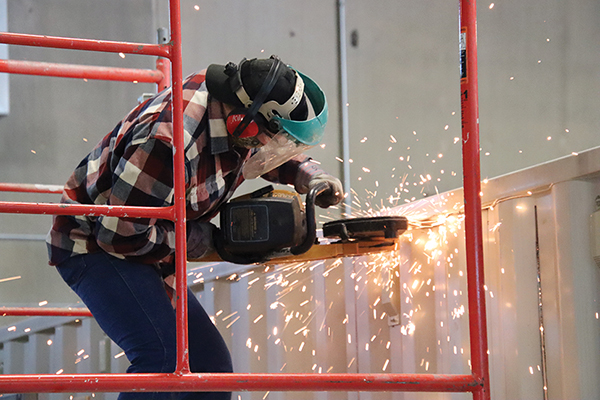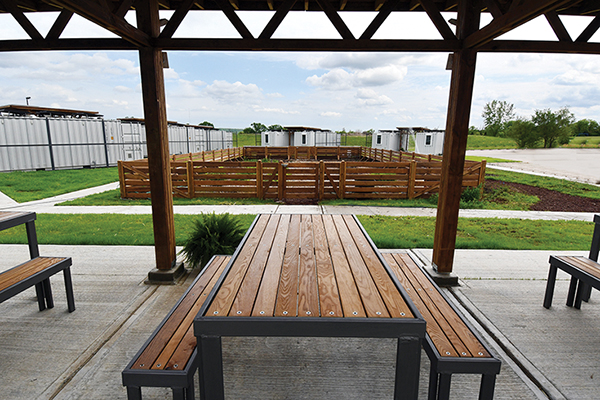 All of the furniture and cabinetry was designed and built by the students, who worked off-site throughout the year in the Studio 804 warehouse, located just a few blocks away from the shelter in East Lawrence. The students also constructed picnic tables and a new, 900-square-foot commons area, as well as updated fencing for the community garden. 
The shelter has dubbed its new tiny-home community Monarch Village, aptly named for the surrounding butterfly trails and pollinator garden that the shelter planted a few years ago. "The fact that butterflies stop off, get nutrients and continue on their journey, it's a great metaphor," says Meghan Bahn, the shelter's director of community engagement. 
Bahn, g'06, explains that Monarch Village was built specifically with families in mind, a vast improvement over shared living space the shelter previously provided for homeless parents and children. Families who move into the tiny homes also benefit from separate storage and laundry areas in the main building, as well as a dedicated staff to help them transition to permanent housing. By midsummer, three families had moved into the units and applications are currently being accepted for more. 
The shelter will once again partner with Studio 804 during the upcoming academic year to construct another 10 tiny homes, this time for single women. As with the first 12 tiny homes, they will provide private, temporary shelter for those most in need in our community. 
"I really feel that with Monarch Village privacy is going to be a game-changer," Bahn says.