Alumni help Lawrence cope with COVID-19
Lawrence businesses adapt during pandemic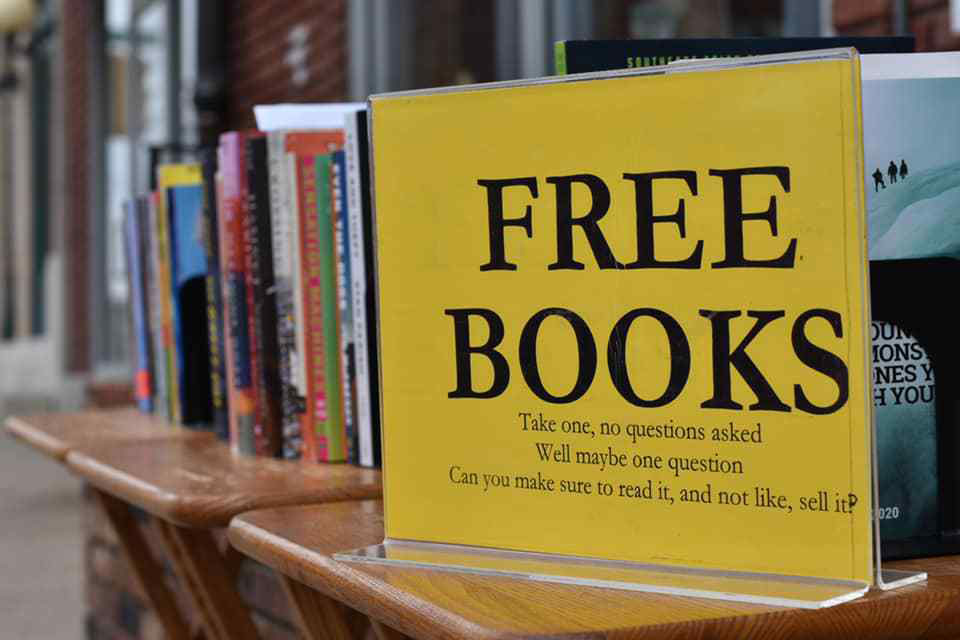 Danny Caine knows what it's like to receive a bit of unseasonal holiday spirit. Last year his Raven Book Store benefitedwhen bestselling author Shea Serrano enlisted 300,000 Twitter followers to forgo Amazon Prime Day and instead order books from the small Lawrence shop as a way of supporting striking Amazon warehouse workers. The Raven enjoyed its best day ever for online sales and Caine called the slow-season boost "a bit of Christmas in July."
So when a wave of closings ordered by state and local authorities began shutting schools, businesses and community organizations across Lawrence in mid-March, it was only natural that Caine, g'17, would be among the KU alumni finding creative ways to bring a bit of normalcy to the city during an unprecedented public health crisis by offering curbside pickup and delivery services.
"It's kind of fun to drive around town every afternoon like a book Santa Claus," Caine says. "We love it because it's the lowest-contact way to get books to people. People need stuff to read. I don't know if books are essential, but they certainly help when you're stuck at home and bored. Stuck at home with nothing to read is a special kind of nightmare."
Raven booksellers also set up a table outside their 7th Street shop to give free books to passersby. (The Raven decided to suspend that initiative after the Douglas County Health Department issued a 30-day "Stay at Home" order effective March 24.) Lawrence Public Library director Brad Allen, c'97, saw an opportunity to encourage the giveaway, and soon the store received two large donations of books from the Lawrence Public Library Friends and Foundation. 
"We thought it would be a good way to support the good thing that Danny and The Raven were doing to get books to people during a very difficult time," Allen says. "The Friends were able to donate some of the books they've been gathering for their book sale." The Spring Book Sale, a popular fundraiser for the library that was scheduled for April 25-26, has also been postponed. 
Meanwhile, the library is exploring creative ways to continue fulfilling its mission of being a place to learn, connect, create and grow.
"We are a community gathering space, a hub, where our building itself is so important to what we do," Allen says. "But that's off the table for now, so we're trying to figure out ways to help people get access to the best information, checkout materials and online content, and do things like online story times and online book clubs."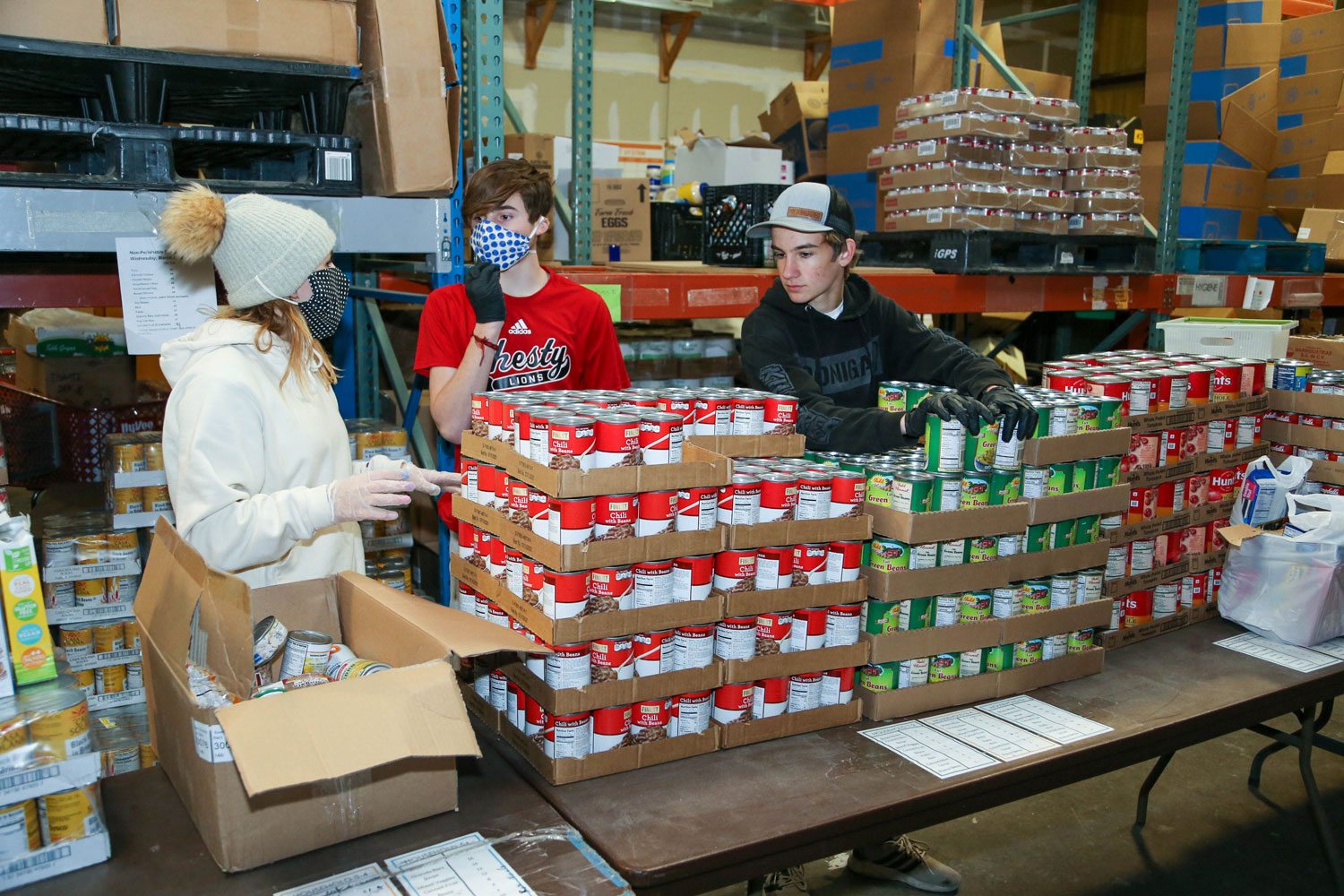 Lawrence Public Library has also teamed with Just Food, the community food bank headed by Elizabeth Keever, c'10, to serve as a distribution site for the organization's mobile food pantry. Social distancing measures have forced Just Food to change how it makes food available to those who need it.
"We've basically turned our facility into a drive through," Keever says. "People pull up, we open trunks and fill them with two weeks of groceries, everything from pantry staples like rice and beans to fresh produce, fresh bread and milk." The new system served 2,423 people in its first week, more than 60% of them first-time visitors to Just Food; donations from shuttered restaurants and from KU Dining have been key to meeting increased demand. "We are busier now than we've ever been as an organization," says Keever, who foresees the demand continuing after the countywide shelter-in-place order ends. "This is going to be financially devastating for thousands and thousands of Douglas County residents, and it's not going to end in 30 days."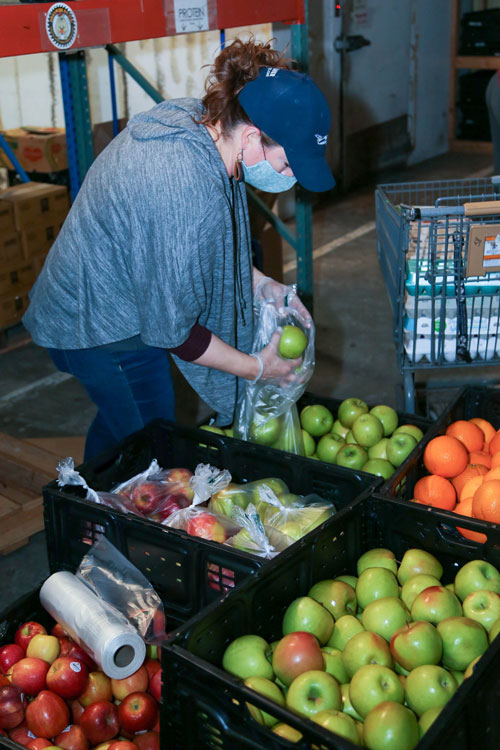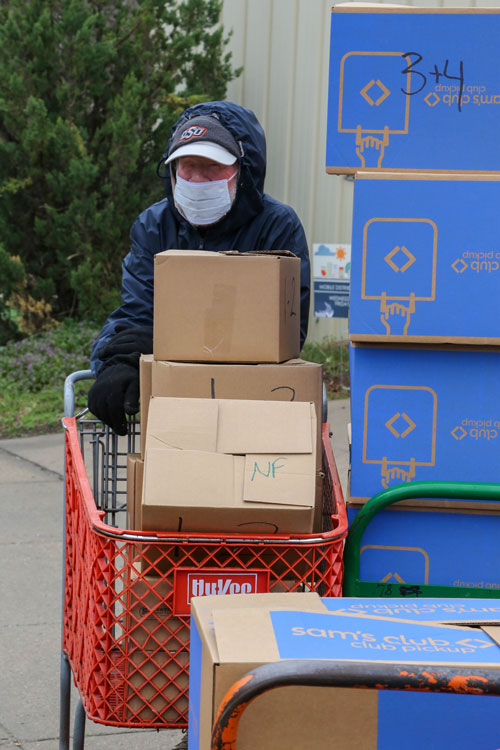 Crises that spawn fear and division can also create opportunities for creativity and collaboration. 
"It's really a testament to this community's willingness to be able to really understand that this is a moving target, and that every day we're going to have to think about new and innovative ways to serve the folks that we're serving," Keever says. "It's just been really, really incredible to see how many people are pitching in together and making sure it's happening."
"We've seen that in times of less crisis too," notes Danny Caine. A good example is the Paper Plains Literary Festival that he organized to bring Colson Whitehead and other national and Kansas writers to Lawrence in late April. "The Raven talks to the library about working together and Explore Lawrence gets on board and then Watkins Museum, The Spencer, The Commons, and then you just build these coalitions," Caine says. "One of the things that makes Lawrence really special is how easy it is for smaller entities to team up to accomplish something bigger. You're just seeing that in action now."
The festival, like much of life during the coronavirus pandemic, has been put on hold for now, though Caine, the Lawrence Public Library's Brad Allen and other organizers hope to arrange a sort of online festival involving some of the same writers during the originally scheduled April 23-26 timeframe. 
"We're getting better and better and better at seeing each other as partners and allies," Allen says. "We've got some pretty amazing people in this town, and we're all going to get through it together."