Cyclist pushes pedals, and limits, as miles pile up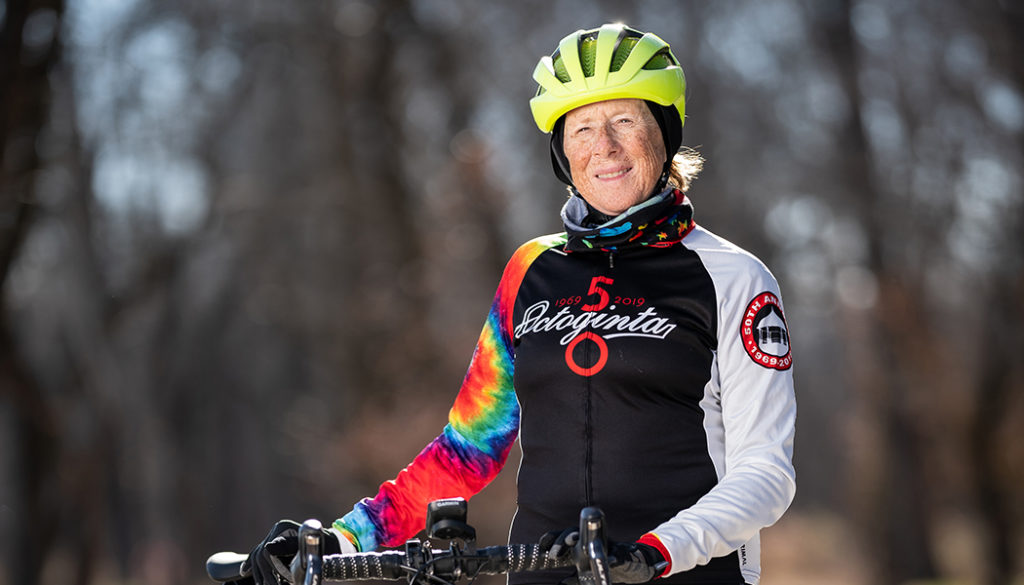 As the days wound down on a year filled with grim milestones and dire pandemic warnings, Kathryn Naethe Schartz was wrapping up a personal milestone grounded in determination and good health.
A Lawrence recreational cyclist, Schartz, c'79, g'93, logged 15,000 miles on her bike in 2020, the equivalent of crossing the United States coast-to-coast five times. In the process, the 65-year-old nurse practitioner completed a century ride (a one-day ride of at least 100 miles that is a badge of honor for serious cyclists) 14 times.
"I do like to push it and see, if I've set a goal, that I can finish it," Schartz says. "It's just a sense of accomplishment. There's something about seeing what your limits are and trying to push them."
Pushing limits in 2020 meant, among other challenges, attempting her first solo century. She had previously completed 100-mile routes on organized century rides, which typically provide ample rest stops and refreshments along with the added support of traveling in a pack. Never had she done one on her own.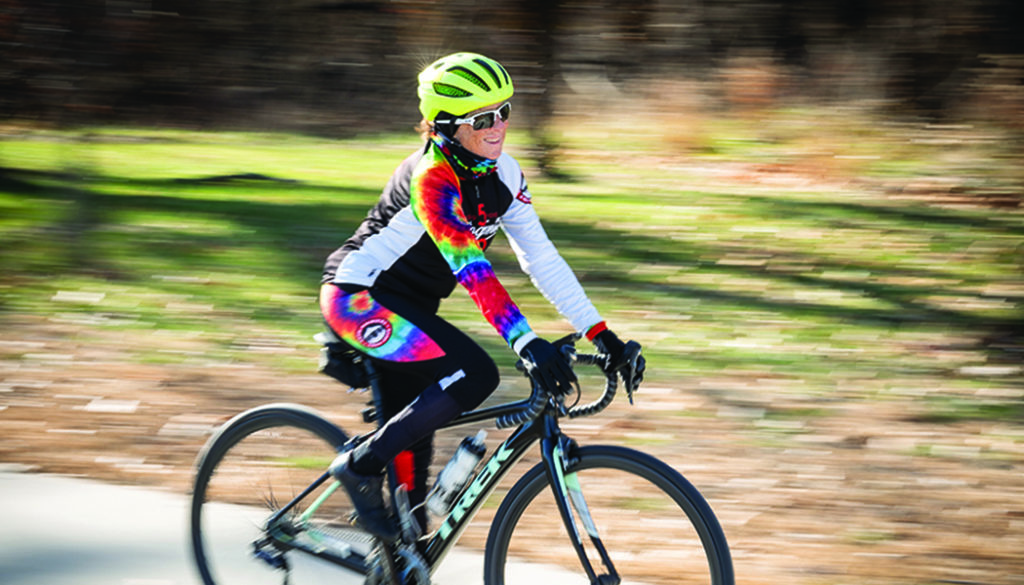 By year's end she'd gone from none to a dozen—a good indicator of her drive, Schartz admits, laughing. "I'm a little obsessed, I guess."
Friend and training partner Maribeth Orr, a physician, Ironman triathlete and women's cycling advocate for Trek Bicycles, says Schartz is in a league of her own. Both she and Schartz are members of a Facebook group, Social Distance Cycling Club, that draws recreational riders from around the world.
"Not many people in that group worldwide put up those kind of numbers," Orr says of Schartz's total, which exceeds the average mileage U.S. motorists drive in a year. "There's always comments, from men and women alike, about, 'Wow, that's impressive.' And if you factor it by age, certainly she's a standout. She's probably in the top one to fifth percentile in the world with that type of distance for someone in their seventh decade of life."
After graduating from KU in 1979 with an English degree, Schartz was in nursing school when she discovered aerobics and began what would become a decades-long commitment to fitness. In the 1990s she began mountain biking.
"Exercising as much as possible, daily if possible, is something I decided long ago was important for physical health, but also for mental health—it's a good way to de-stress," Schartz says. "Combining exercise with fresh air and countryside was even better."
Curious about annual rides like Lizard Under the Skillet and Octoginta hosted by the Lawrence Bicycle Club (LBC), she bought a road bike in 2016 and started attending the club's weekly group rides. A 2017 tour of Tuscany with Trek Travel "completely hooked" her on cycling, and riding with LBC's Retro group, a cadre of older cyclists, helped build her enthusiasm for the sport.
"A lot of them are in their 70s, and they are some of the strongest riders I've ever seen," Schartz says. "That helps give me the confidence to keep pushing it. I don't feel like I'm overachieving by wanting to do long distances or wanting to ride every day, because I see them doing it."
Schartz rode every month of 2020, occasionally logging miles on an indoor trainer when snow, ice or lightning made outdoor cycling dicey. Because LBC suspended group rides in response to the COVID pandemic, cycling became mostly a solo activity. At the same time, her potential riding time expanded after COVID temporarily closed the Children's Mercy Hospital clinic where she worked as a nurse practitioner. She transitioned to doing telehealth appointments at home before retiring in October.
"As much as I like group rides and the social aspects of riding, I also like solo rides because there's a kind of meditation when I'm out alone and it's just me and the bike and nature," Schartz says. "I'm not someone who can sit still and meditate on purpose, but there's a kind of inadvertent meditation when I'm on a bike. The answers to some problems just kind of present themselves without my effort."
In 2018 she summited Mont Ventoux, a storied Tour de France climb that features a 10% grade for 11 miles, and in 2019 completed the Dirty Kanza 100, a grueling gravel century in the Kansas Flint Hills. But most of her daily riding—like her love of cycling—centers on the countryside around Lawrence.
"One thing I really liked this year about being able to ride so much is just watching the seasons change, and how even the countryside that's so familiar to me has its own beauty as the seasons change. And I get to see it on a bike, close up, in a way I never could from a car. That's what I love about it."
—Photographs by Steve Puppe