Alumna caps career with book
Photojournalist Barb Kinney's images detail life on Hillary Clinton's 2016 presidential campaign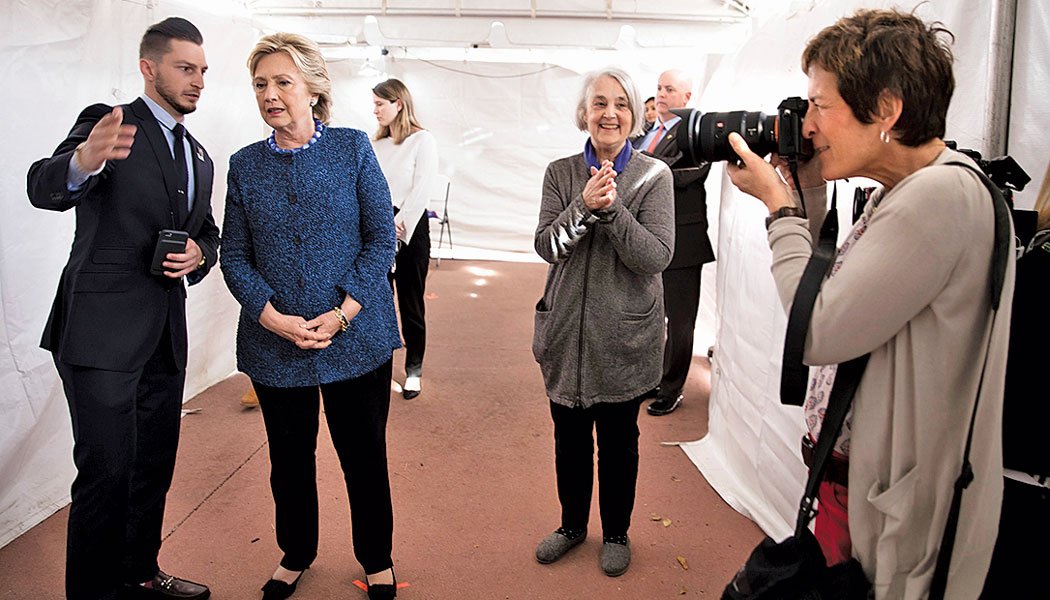 "I made the decision that this thing landed in my lap for a reason, so I've got to do it and thank God I did," Barb Kinney says of her job as a White House photographer. "This made me who I am as a professional photographer." 
A fortuitous opportunity that ultimately "changed the trajectory" of Barb Kinney's life and career nearly 30 years ago almost didn't come to fruition. The photojournalist, who had been freelancing in Washington, D.C., after a six-year stint as photo editor at USA Today, was hired in 1993 to photograph the first lady during President Bill Clinton's inauguration festivities. Not long after sharing the good news with her mother, Kinney received a phone call from Lisa Caputo, Hillary Clinton's press secretary, that immediately quashed her excitement: Another photographer had been hired and Kinney's services were no longer needed.
"I said [to Caputo], 'That sucks. I canceled my week to do this. I even just told my mom,'" Kinney, j'80, recalls with a laugh. "She said, 'This does suck. Hold on; I'll call you back.'"
Moments later, Kinney was back on board, paving the way for a 30-day trial as a White House photographer, a position that eventually lasted for more than six years of Clinton's presidency. During that time, Kinney documented countless events, meetings and presidential trips—both in the United States and abroad— and developed a close relationship with the Clintons.
Kinney reconnected with the family more than a decade later to photograph the last few months of Clinton's 2008 presidential campaign. "They trust me," Kinney says. "They know me, and they're comfortable with me. At that point, people in primaries didn't have their own photographer, but I had my connection and I pushed it."
Kinney's persistence paid off, and in 2015 she was offered a full-time position to photograph Clinton's second presidential run. For 18 months, Kinney accompanied Clinton and her staff on the campaign trail, often working 18-hour days to document hundreds of events and rallies across the country. Though the schedule was grueling, Kinney eagerly accepted the challenge. "That last event of the day, when you walk into that stadium or gym and she comes out and the place erupts, it just energizes you," Kinney says. "That kept me going."
In 2018, Kinney released a book of photography, #StillWithHer: Hillary Rodham Clinton and the Moments That Sparked a Movement, to celebrate our nation's first female presidential nominee and her historic campaign. The 268-page book features an assortment of vibrant images—carefully curated from more than 430,000 shots—that span Clinton's announcement to run in spring 2015 to the fateful hours following election night in 2016. Also included are several essays, written by celebrities and others who supported Clinton and joined her campaign.
Though Kinney admits that it was heartbreaking to relive those 18 months during the book's creation, she knew she had a story to share. "I wanted to be able to produce something that would show what she did and how hard she worked," Kinney says. "And it wasn't for naught. She means a lot to a lot of people, and I think it shows in this book."
For more information about Kinney's book, visit thehillarybook.com.