Coach lives baseball dream
Hall-of-famer Kent Shelley found his home at JCCC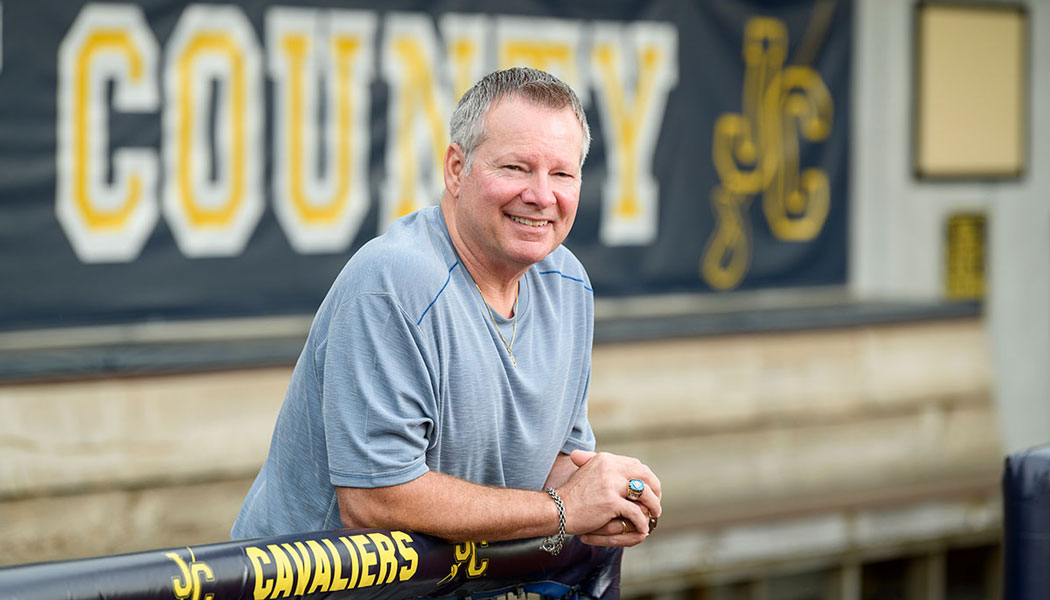 Kent Shelley calls it a defining moment in his life, when he was age 7 and playing shortstop in Lawrence.
"I remember diving, the ball sticking, coming to my knees and making a play," he recalls. "I think that play sold me on the game of baseball."
Shelley, c'83, eventually starred for two years at Pratt Community College and then at KU, where he played for Floyd Temple, d'50, and Marty Pattin, becoming a standout catcher and co-captain his senior year.
"I got to realize my dream of being a Jayhawk," Shelley says.
After serving as graduate assistant at KU in 1982-'83, Shelley earned a master's at Emporia State before becoming the first paid assistant coach at Johnson County Community College under legendary head coach Sonny Maynard in 1986.
He was promoted to head coach the next year. Now, after 32 years at JCCC, Shelley has a record of 1,055-600-1, one of only 10 active coaches in the National Junior College Athletic Association to win 1,000 games. He's among the all-time leaders in the Kansas Jayhawk Conference and NJCAA.
Shelley led the Cavaliers to two World Series appearances (2008, 2014) and three East Jayhawk Conference titles; he's in the JCCC Athletics Hall of Fame, NJCAA Baseball Coaches Association Hall of Fame, Ban Johnson League Hall of Fame and American Baseball Coaches Association (ABCA) Hall of Fame, college baseball's highest coaching honor.
Past president of the ABCA and associate scout for the Kansas City Royals, Shelley says his greatest highlight is coaching former players' sons.
"When you have a former player who looks at his son and says, 'Go play for Coach. I know what he did he for me. I know what he'll do for you. He's going to help you grow into a young man, he's not going to hold your hand, but he's going to be there when you fall.' That's the coolest reward any coach at any level could ever have."
Shelley, who won a school-record 22 consecutive games this season, tells his players he loves them and lives for their lifelong relationships and watching them become great fathers, husbands and community leaders.
"Just seeing the kids have success on the diamond, but more importantly … making a difference in the world," Shelley says. "That's my greatest gratification. Ultimately, that's why we coach is to impact young people's lives."
While he's had NCAA Division I offers, he can't leave Johnson County. His wife, MargE Barr Shelley, '80, assistant dean of enrollment management, has worked at JCCC for 29 years, and his daughter Mandi attended two years.
"It's just been family; it's home," Shelley says. "I've been living my dream every day."
—Garfield, c'88, is a Lawrence freelance writer.
Correction: An earlier version of this story misstated the number of wins the Cavaliers recorded last season. The team won a school-record 22 consecutive games; the overall record was 46 wins and 12 losses.