A World War II pilot, legendary Chiefs and a pathfinder for collegiate women athletes
Jayhawk: Love, Loss, Liberation and Terror Over the Pacific
By Jay A. Stout
with George L. Cooper
Casemate Publishers, $34.95
Jayhawk tells the remarkable tale of George Cooper, e'49, a World War II pilot who flew 55 harrowing Pacific missions in a B-25 named for KU's mascot. Born in the Philippines to an American father and Filipina mother, Cooper came to America to follow the family tradition of attending KU. War preempted that dream, but he made it to Lawrence in 1946, earning his degree, serving nearly 30 years in the Air Force Reserve and building a distinguished career in industry, which won him the School of Engineering's Distinguished Alumni Award in 2018. Informed by author Jay Stout's own history as a fighter pilot and interviews with Cooper, who, at 100, still lives near Lawrence, Jayhawk is about more than air combat; it's the story of Cooper's love for family—his own and Jayhawk Nation.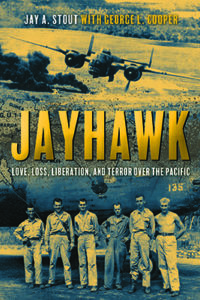 Kansas City Chiefs Legends
By Jeff Deters
Deters Publications, $19.99
In the wake of the Chiefs' thrilling postseason run and Super Bowl victory, it is worthwhile for sports fans to remember—and young football fans to learn—that, even as Patrick Mahomes writes glamorous new chapters of his own, the Chiefs have a history that predates their MVP quarterback. Cue the welcome arrival of Kansas City Chiefs Legends: The Greatest Coaches, Players and Front Office Execs in Chiefs History, by Lawrence sportswriter Jeff Deters, j'09.
Named a 2020 Kansas Notable Book by the Kansas Center for the Book, Kansas City Chiefs Legends is a particularly readable local-franchise sports chronicle, a category littered with breathless rehashes of championship seasons and outlandish personalities. Instead, Deters created a thoughtful structure, organized around roles (owners, executives, coaches) and on-field positions, with snappy passages highlighting notables in each category. Of particular value are remembrances of Chiefs who died tragically young: linebacker Derrick Thomas and running backs Joe Delaney, Mack Lee Hill and, within Hill's entry, 1960 Olympian Stone Johnson, who died days after breaking his neck in a 1963 exhibition game in Wichita.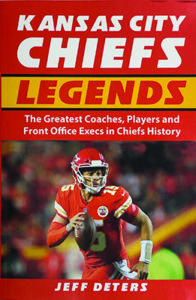 Mawson's Mission: Launching Women's Intercollegiate Athletics at The University of Kansas
By Lora Marlene Mawson
University Press of Kansas, $29.95
Memoirs by society's pioneers serve as both personal histories and eyewitness accounts of landmark events. Such is the case with Mawson's Mission: Launching Women's Intercollegiate Athletics at The University of Kansas. Mawson, then a new hire in physical education, in 1968 was charged with creating KU's women's athletics program. "I was on my own," recalls Mawson, a 2009 inductee in the Kansas Athletics Hall of Fame. The story of her career also includes insider perspective on Title IX, the NCAA and U.S. Olympic efforts, providing crucial background at a time when equality of opportunity is again under scrutiny.