Cashco exec all in for Kansas
Cashco president values growth for statewide economic development and success for students and young alumni
Clint Rogers realized his boyhood dream by joining his father's company, Cashco, soon after graduating from the KU School of Business. As a rising sales and management executive, and now in his fifth year as president, he helped solidify and expand the Ellsworth-based company as a worldwide market leader in industrial controls—self-contained regulators and control valves relied upon by industries as diverse as food and beverage, pharmaceuticals, petrochemicals, and semiconductor and electronic component manufacturing.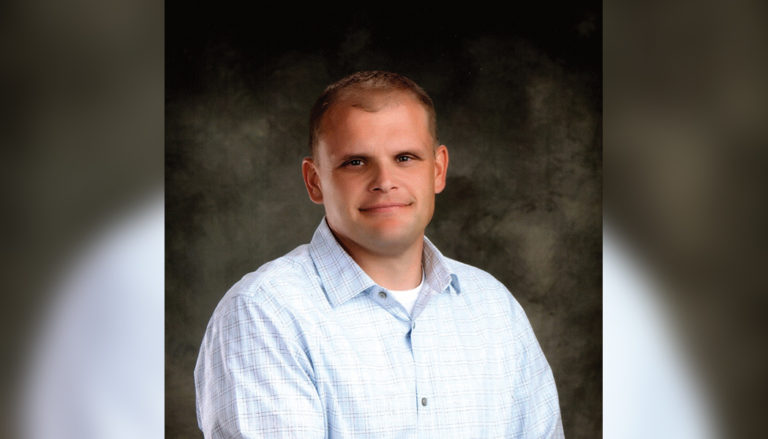 The company's importance to central Kansas, where it currently employs a workforce of about 140, is so great that, when its then-parent company in 1984 agreed to an outside sale that would close the Ellsworth plant, Sen. Bob Dole, '45, and other members of the congressional delegation pleaded with ownership to instead sell to a Kansas group led by company president Phillip Rogers, Clint's father.
Cashco is a big deal locally, and an annual highlight for Rogers is hosting plant tours for area second-graders, most of whom are appropriately awestruck by a state-of-the-art design and manufacturing plant that turns out highly engineered, exceedingly precise control devices that help turn the wheels of industry.
Most, but not all: Hey, where do you make the bowling balls at?, bellowed one befuddled kid during his class tour.
"And I'm like, 'We don't make bowling balls,'" Rogers, b'98, g'20, recalls with a laugh. "He automatically lost all interest, because for some reason he thought we were making bowling balls here." Cashco, which in recent years also opened a design branch near Berlin to diversify into a line of flame and detonation arresters, hardly relies on drive-up business, so a certain lack of familiarity with its product line and global reach might not hurt business. But, Rogers points out, the relatively anonymous presence of many Kansas firms can contribute to a statewide workforce exodus; that's why he joined Jayhawks for Higher Education—a group of statewide volunteers, organized by the Alumni Association—to assist the University and Kansas Board of Regents in encouraging legislators to renew the University Engineering Initiative Act.
Originally passed in 2011, the legislation aimed to increase engineering graduates to bolster the state's workforce and spur economic development. The 10-year plan delivered annual appropriations of $10.5 million, split equally among KU, Kansas State and Wichita State, with the requirement that each school match its $3.5million annual funding with non-state revenue sources.
The three engineering schools in 2019 reached their ambitious annual goal of graduating a combined 1,365 new engineers with bachelor's degrees by 2021, but the act expires next year and much work remains, leading Chancellor Doug Girod and others to call for its renewal during the upcoming legislative session.
"I'm excited about how we may be able to grow this, not only as a state, but also at the university level and an employer level," Rogers says. "Unless you know what Cashco or another manufacturer does, you just drive by it every day and you don't get to see what that opportunity is, on a localized level."
A member of the Association's national Board of Directors since September 2019, Rogers last spring completed his online KU MBA and serves as a business mentor to students and young alumni with the Association's Jayhawk Career Network. After visiting KU engineering's Jayhawk Motorsports Formula SAE team during his first trip back to campus as an Association board member, Rogers offered Cashco's design and manufacturing assistance, a partnership that delivered high-quality racing hubs to the students and renewed energy to the company.
"It got our manufacturing group out of the comfort zone. It pushed our machining capabilities, it pushed our manufacturing capabilities, and improved us as a company, just by helping at JMS."
Asked what about his job allows him to relish a sense of pride as he's grilling steaks when the work day is done, Rogers cited the joy in "putting the puzzle pieces together." Whether an entry-level sales associate or executive-suite supervisor, employees should pull together to make the company "flow and function as clearly as possible" in a "dynamic and ever-evolving workplace and economy."
"The fortunate thing is," Rogers continues, "every day you wake up and that puzzle looks a little bit different. So how are you going to rise to the challenge and adapt to what today is bringing? Looking back and saying we were able to improve our daily operation, improve the community, trying to leave the day better than you found it, I think those are the most fulfilling things.
"Plus, you're going to eat a steak at the end of the day, so it can't be that bad."