Sustainability advocate looks 'upstream' to help Lawrence shape future
Jasmin Moore puts sustainability front and center in planning efforts
Like lots of kids, Jasmin Moore was fascinated by animals. Her childhood interest was so enduring that, when she began exploring potential careers in college, she looked for one that would let her interact with animals.
She decided to become a zookeeper, a field that led—paradoxically, it might seem at first glance—to KU's department of human development and family life. The idea, an adviser told her, is that classes devoted to the study of human behavior (the unit changed its name to the department of applied behavioral science in 2004) are good preparation for studying animal behavior.
"I didn't think I wanted to be a vet, and I knew that wanting to be outside was a value for me," says Moore, c'05. "I wanted to be connected with nature in some way, and I liked animals."
"Along the way I realized that animal behavior was really interesting, but I found that human behavior is even more interesting," Moore says, "especially when we got beyond individual choices and looked at wide-scale behavior change and how you can really make a large impact on a community if you look upstream and look at the systems in play as opposed to doing one-on-one interactions with people."
Moore's realization led to a focus on community development, specifically behavior change in communities; a master's degree in community and regional planning from the University of Texas; planning jobs with the cities of San Antonio and Little Rock, Arkansas; and, eventually, a job as Douglas County and City of Lawrence sustainability director.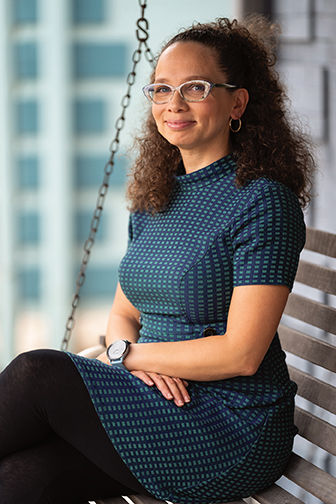 In that role she consults with county and city governments and the public to develop policies and projects that keep sustainability front and center in planning efforts.
The term, Moore knows, can mean different things to different people.
"For this work, we like to talk about sustainability as living today like you really think there's going to be tomorrow," she says. "How we make decisions today related to our finances, related to the environment and our natural resources, related to how we treat people" all fall under the sustainability umbrella. 
"That's a large scope, but it gives a sense that sustainability is less about solving technical problems and more about developing a culture where we consider those three elements—the economics, the environment and the human consequences of every decision—and that our actions today have consequences and impacts beyond our boundaries and far into the future."
Career enlightenment dawned when a Centers for Disease Control scientist visited her KU class. He shared data that showed a 25% decrease in traffic during the 1996 Olympic games in Atlanta correlated with a 40% drop in asthma hospitalizations, suggesting how dramatically air quality improvements can affect community health. "I said, 'What is that job?' Because that has the ability to be so powerful in terms of making positive change. That's where I started to explore the field of public health, specifically urban planning and community planning, as a way to look at how you can make changes to make the healthier choices the easier choices."
Moore has developed partnerships with more than a dozen KU programs, including the KU Biodiesel Initiative, a student-run School of Engineering project that converts used cooking oil from campus kitchens to biodiesel fuel. Talks are underway to use that fuel in City of Lawrence vehicles. 
Her office also supports Lawrence's Sustainability Advisory Board, which conceived the city's new policy to strive for 100% clean, renewable energy use citywide by 2035. Moore helped broker a deal with electric utility Evergy to power all city facilities with clean energy starting in 2021, four years ahead of the 2025 goal for municipal operations.
Moore's office also guided development of the Douglas County Food System Plan, a strategy for developing a local food system, and is working with a local elementary school on a project that led to a school garden, changes in cafeteria waste handling and a study of energy use at the school. In both cases, her office helped facilitate the process, but community involvement and ownership sustain the efforts. "Community organizations are leading the work in partnership with us, not because of us," Moore says. "That's a huge measure of success, when we see the community driving the sustainability progress in our community."
While sustainability can be a complex issue, her reasons for pursuing the work are pretty simple.
"One thing that motivates me is the concept of leaving this place better than I found it," Moore says. "I have kids, so I'm invested in the future for that reason, but also I want to make sure there are opportunities for people to enjoy, appreciate and connect with nature in ways I did growing up, to make sure our ecosystem is healthy enough for enjoyment and connection in the future. 
"That's my main motivator: How can we improve this place in a way where it's sustainable and can be sustained for generations beyond mine?"