Hopeful 'Hawks keep working toward Olympic glory
When the NCAA on March 12 shut down collegiate sports, the focus in the moment was on basketball: With the top-ranked Jayhawks favored to win their first title since 2008, the pain was real.
Although largely unnoticed at the time, the timing of a pandemic pause also could not have been worse for track and field. The national championship indoor meet was set to begin the next day in Albuquerque, New Mexico. When coach Stanley Redwine summoned the men's and women's track and field teams to break the news, he urged his dejected runners, jumpers and throwers to "keep your heads up." Associate head coach and vertical jumps coach Tom Hays reminded the student-athletes how much pride they brought their coaches. "I felt, at a time like that, across the country, if we can lean on each other enough and push forward," Hays recalls telling his athletes, "good things are going to come out of it."
As part of the complete shutdown of college sports, coaches were barred from most contact until on-campus activities resumed. As for saying goodbye to sophomore pole vaulter Zach Bradford—freshman hero of the 2019 Kansas Relays and the youngest member of Team USA at World Track and Field Championships in Doha, Qatar, where Bradford placed 22nd—Hays, d'90, found a moment for some parting advice: Go get strong.
"He's kind of a light kid," Hays explains. 
What nobody knew then was that elite athletes would miss out on far more than the Kansas Relays and Big 12 and NCAA championship meets: Less than two weeks later, the International Olympic Committee (IOC) postponed the Tokyo Olympics until summer 2021.
KU's likeliest track and field Olympians include record-setting hammer thrower Gleb Dudarev, a six-time Big 12 champion who placed eighth in the world in Qatar while competing for Belarus, and pole vaulters Hussain Al Hizam, of Saudi Arabia, and Bradford, who hails from Bloomington, Illinois.
Al Hizam, an NCAA and three-time Big 12 champion and three-time Saudi Arabian national record holder, has been fighting back from a dislocated ankle that last year cost him what would have been his senior outdoor season. After extended rest and a successful cleanup surgery this spring, Al Hizam in 2021 should again be a Big 12 and NCAA title contender for his restored outdoor senior season. Hays is also convinced the veteran vaulter this summer could have met the Olympic qualifying height of a hair higher than 19 feet, less than 2 inches above his career best. 
"I've never seen the fire in his eyes like it is now," Hays says of Al Hizam. "He's ready." 
Al Hizam and Bradford make for a fascinating tandem: While both are superior athletes, Al Hizam is heavily muscled in the arms and shoulders; Bradford carries less weight and more speed.
"At the USA championships, he was the fastest one in the meet," Hays says. "Even Sam Kendricks, who just broke the American record, can't run down the runway as fast as Zach did."
Backed with a soundtrack by motivational wizard Dr. Eric Thomas, Bradford recently posted video evidence of how he spent the second half of his spring semester when not completing online studies or helping repair the roof on his family home: adding Al Hizam's raw strength to his toolkit.
You have to eat the dream! You have to sleep the dream! You have to dream the dream! You have to see it when nobodyelse sees it!
Powering through biceps curls, shoulder presses and medicine-ball work, the shirtless Bradford displays a ripped torso that kicks sand on the whippet who last year whisked down the Kansas Relays runway to set the school record at 18 feet, 11 inches.
"Almost every day, he wakes up better," Hays says. "It's exciting. It's just fun, and I hope he enjoys the years we've got him."
Note the "it's just fun." Hays, a KU vaulter in the 1980s, is careful to tap the brakes on expectations and pressure, yet when talking about Bradford's bright future, it's impossible to escape lofty talk.
As for conference and NCAA titles, Hays answers flatly, "Yeah, we expect him to be contending and winning. And I'll take it a step further …"
Ah, yes. The Olympics. Dream the dream, right?
"There's probably five or six guys … there might be seven or eight … who can make the Olympic team," Hays says. "He's one of them."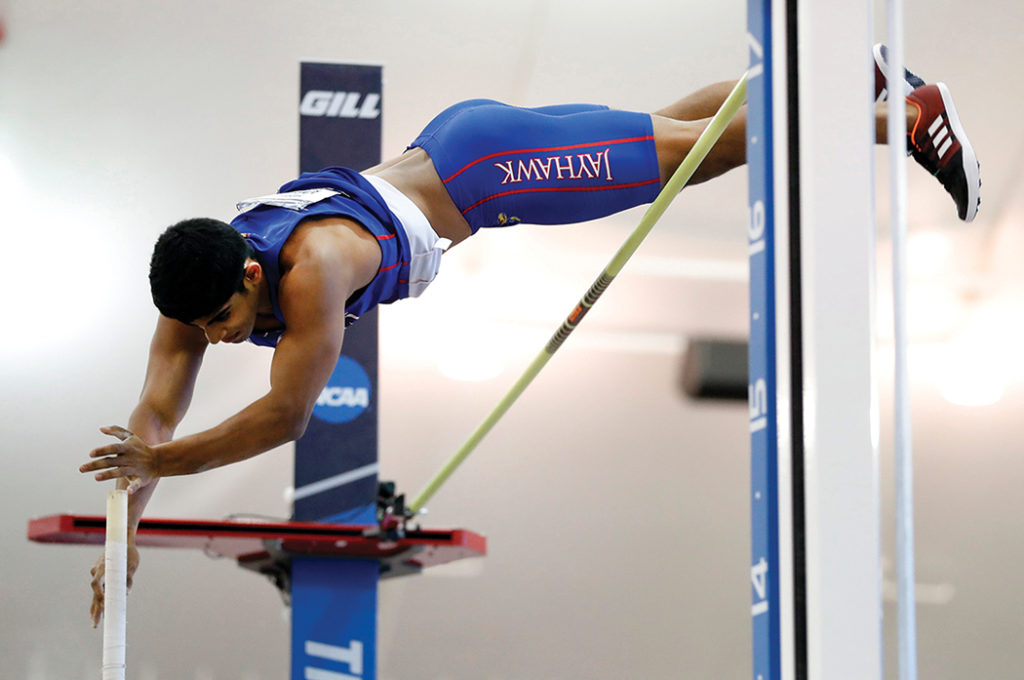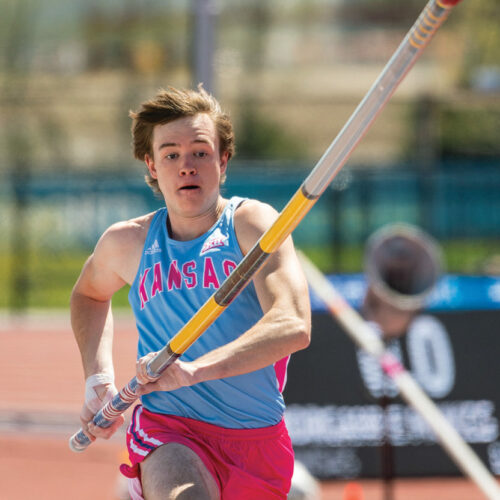 Athletics Director Jeff Long on March 23 told Kansas Alumni he was particularly concerned about top-caliber athletes whose dreams of competing for titles and medals were dashed by the coronavirus pandemic. While stressing that coaches were forbidden from talking shop, Long added that athletes could still consult with KU nutritionists and their strength and conditioning coaches "to make sure they stay fit, or at least as fit as they can be," and that psychological health would also be addressed.
"We let them know that they're not alone," Long says, "We're trying to advise and counsel them throughout this process."
Hays shares Long's concern, but not so much with his elite athletes. It doesn't take a pandemic for an athlete's season to end abruptly, he notes, and any athlete incapable of dealing with injury and other setbacks, physically as well as emotionally, isn't going to go far.
Athletes like Dudarev, Al Hizam and Bradford have already gone far. Now they're training to go even further, with an opportunity to turn unexpected down time into a healthy body/healthy mind bonus.
"Everybody in track and field is go go go," Hays says. "The other day [Al Hizam] called on the phone and said, 'Coach, this is the longest break I've ever taken and I feel unbelievably rested.' We pound them. It's just the nature of track. Now they get a little more time to get away from it. … But, you know what? That stuff's overrated. The mind's a beautiful thing, and if you point it in the right direction, it'll make the body go."
The IOC, Hays stresses, made the only possible decision, so it's pointless for athletes to stew. And, if the Olympics had somehow been left on the calendar, athletes would have faced innumerable stresses: How would national qualifying meets be conducted? Would their families be able to attend? Will they be locked in their rooms, unable to experience the cherished trappings of the athletes' village?
"There's a lot of distraction at an Olympics and those other big competitions," Hays says, "without extra stuff."
Hays sees another benefit to a 2021 Olympics: If he stays healthy, Al Hizam is all but assured a spot on Saudi Arabia's team, and Bradford can use the extra year to grow from Olympic hopeful to legitimate contender. Best of all, the Jayhawk vaulters would be in Tokyo together, which is a huge bonus in pole vault, an event that requires technical advice and spirit boosts from trusted competitors.
"It's always nicer to be in a major competition and see a familiar face and know somebody who is going to help you out in the middle of it. Zach was progressing so well; I can't say he wouldn't have moved up to that upper third of the good guys, but to be realistic …"
Not a medal contender.
Yet.
"If he makes it, that's great. If he doesn't, that's great, too. That's not really who he is. It's just part of his journey, and it's exciting enough to watch him try."
Photo credits:
Hussain Al Hizam by Laura Jacobsen
Zach Bradford by Steve Puppe
Gleb Dudarev by Jeff Jacobsen