Five years after the removal of its crumbling grotesques, Dyche Hall is once again topped with its legendary limestone menagerie.
Preservation architect Julia Mathias Manglitz is not certified to "fly" a bucket lift, in the parlance of the trade, so she was merely along for the ride on a cold, rainy day during Spring Break 2015 as she rose seven stories above Jayhawk Boulevard. Unburdened of control for the ever-dangerous operation, Manglitz was free to focus her attention on the iconic old limestone building before her.
Dyche Hall and its adornments were in desperate need of intensive care, and it was Manglitz's job to complete the most difficult stages of a triage that had begun when chronic issues with environmental stability on the seventh floor—reserved for specimen storage, faculty offices and research projects—could no longer be ignored.
"Initially, we thought, 'Oh, maybe we need a new HVAC unit,'" recalls Lori Schlenker, the KU Biodiversity Institute & Natural History Museum's assistant director of collections and facilities. "But pretty quickly we realized that the windows were leaky, the roof had penetrations, the eaves were rotten, and the clay tiles, which were original to the renovation of the 1930s, had reached—there's a construction term—'end of useful life.'"

Renovation experts were brought in to assess the extent of necessary repairs, and their inspections also confirmed what everyone who worked in the building—especially those with daily access to views from seventh-floor windows—already knew: The eight remaining iconic Cottonwood limestone grotesques, a fantastic menagerie of the mind carved in 1902 by Joseph Roblado Frazee and his son, Vitruvius, were in dreadful shape. Because Dyche Hall is listed on the National Register of Historic Places, the soaring statues first had to be inspected and documented before any work could proceed.
Manglitz, e'92, g'99, associate principal and "resident masonry specialist" at the Lawrence architectural firm TreanorHL, who had spent years working with aging limestone during the Kansas Capitol's extensive renovation and reconstruction, was hired as a subcontractor to assist the project's mechanical engineer.
"I've spent about seven years of my career contemplating how Cottonwood limestone falls apart, how quickly it falls apart, what things aren't good for it," Manglitz says. "Most limestones, if they're treated properly, will last for a very, very long time, but those grotesques are particularly exposed, and they had been treated kind of roughly."
Based on her street-level inspections with binoculars, Manglitz expected to find statues in "a pretty fragile state," but she had to fly high to find out exactly how fragile they had become.
"We certainly weren't the first people to notice that they were deteriorating," Manglitz says. "When I got up there, I saw a lot of silicone and other inappropriate attempts to hold the stone together."
Manglitz explains that building materials typically undergo a predictable, linear degradation over time, "but then they always get to a point where it starts to accelerate. And those particular elements, I could tell, were hitting that acceleration point."
When she reached out to touch one of the grotesques, chunks came off in her hand "and just disintegrated." Manglitz wasn't shocked, because she had seen similar erosion in limestone features at the Statehouse. But this time it was different. This time, the limestone dusting under her touch was sloughing from a campus icon she adored and held dear.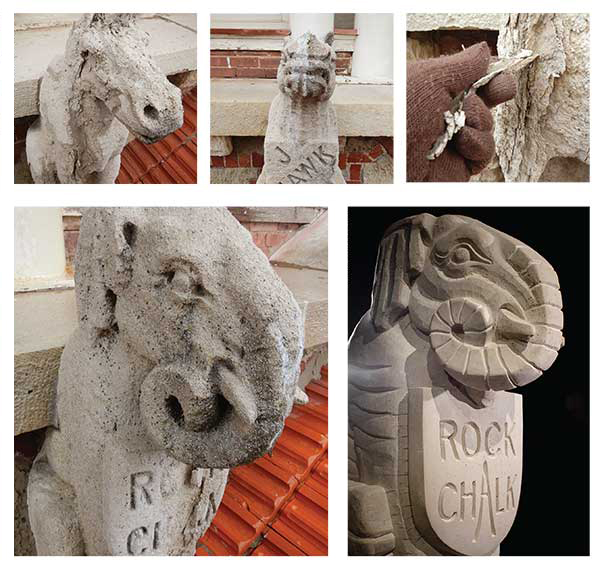 "Dyche Hall has been part of my life for a long time. That's one of the buildings they make you go draw when you're an architecture student. It's heartbreaking. It's an amazing building because it is this great nexus of stone and brick and stucco and metals, and it's so fanciful, the carvings are so unique, each a piece of artwork. It's a building made by hand."
Here is where we must correct our own record. In our cover story for issue No. 6, 2017, Kansas Alumni reported that when the grotesques turned to dust under the preservation architect's slightest touch, "in an instant, their fate was sealed." That was not accurate. Yes, Manglitz understood what her ultimate recommendation would almost certainly entail, but nothing happened in an instant. She and her Treanor colleagues anguished over the findings that they would include in their written report.
"It was a hard recommendation to make, to recommend taking them down, because we knew they weren't necessarily going to have the money right away to put anything back. If we get them down, there was a concern on our part that we might lose this part of the historic building and never get it back."
Similar angst briefly gripped the museum's leadership team: "There were lots of discussions," Schlenker recalls, "and there was a discussion of, 'Do we put them back?' That was a pretty quick yes."
Echoing Manglitz's concern about funding, the lingering issue for longtime director Leonard Krishtalka and his administrative staff was not whether to remove and somehow replace the deteriorated grotesques, but where to find the money. No part of the $4.2 million budget for extensive repairs to the building's structural envelope—roof, windows, walls—and mechanical systems could be used for adornments, even those as cherished as the mythical guardians of the natural world that had become a very real part of Dyche Hall's personality and mission.
In meeting after meeting, museum staff pondered their options. Should they organize a design contest? Would they ask artists to depict statues of their own whimsies, allow for new creative works that pay homage to those that came before, or insist on faithful adaptations of the originals? Would they use Cottonwood limestone or a more durable modern material that might cost less and last longer in harsh weather extremes? And whatever they did, would fundraising succeed?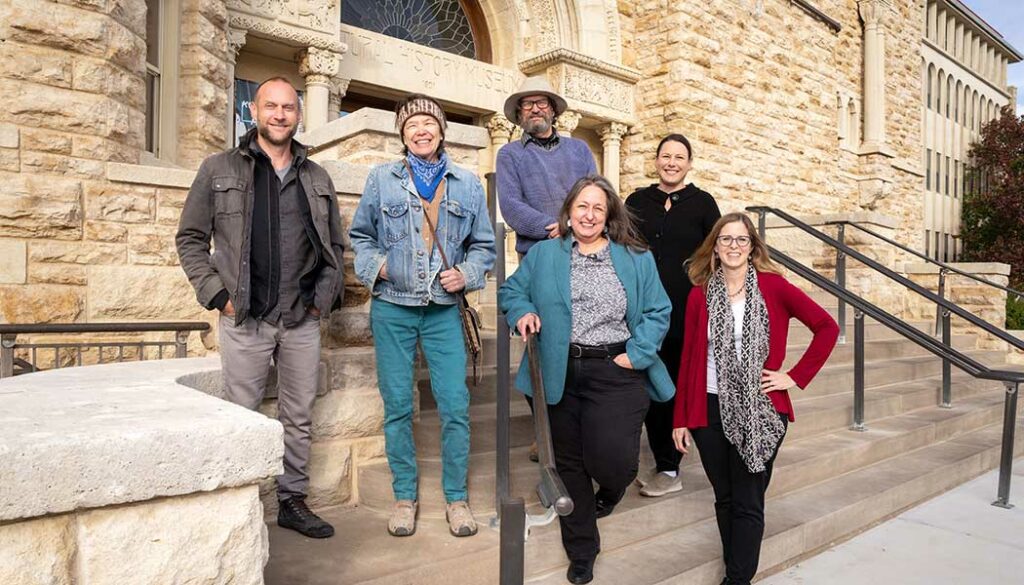 They eventually decided to put out a bid for artisans to recreate the originals, in Kansas limestone, which local sculptors Laura Ramberg, f'81, and her older brother, Karl, '82, won in large part because of their plans to include educational opportunities for students and the public. With each individual grotesque available for sponsorship for $16,500, one family "adopted" all four on the east side, and original sculptor Frazee's extended family of descendants also became active, enthusiastic supporters.
"We've never had a project where we raised the money so quickly," Schlenker says. "This was a project that people were very enthusiastic about wanting to be part of."
When the Rambergs' eight grotesques finally reclaimed their aerie perches in August, everyone involved in the yearslong process assembled to cheer from far below.
From the removal of the grotesques in September 2017 until their return in August 2022, Dyche Hall had been without its iconic overseers for five years. Now they are back, ready to stand guard for yet another century.
"It was just such a feel-good time," Schlenker says. "Everybody who had played a part in it, we were all there when the last grotesque went up, and we gave ourselves a little toast."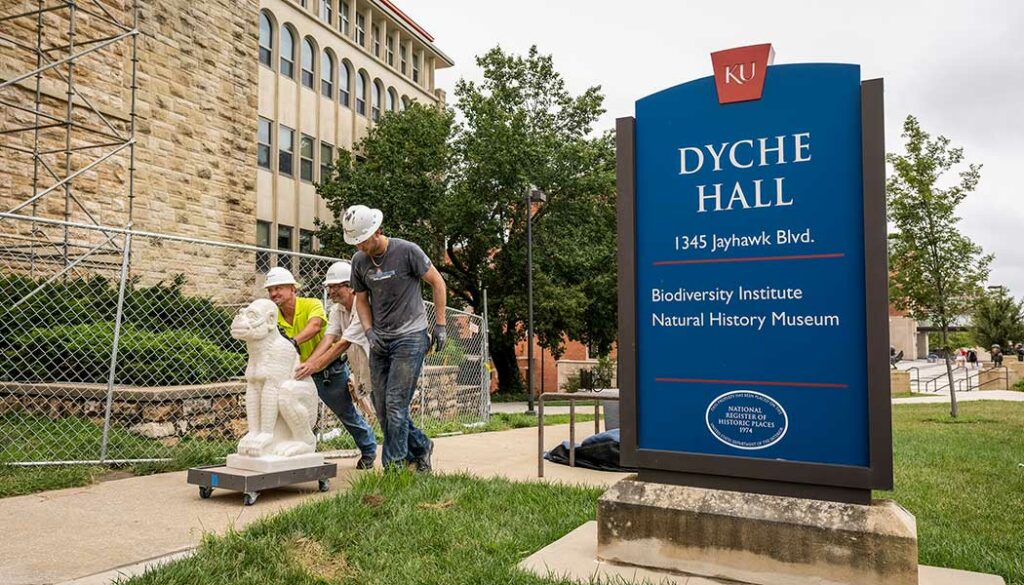 As part of his dedication to involving students and the public, Karl Ramberg set up a small studio outside Dyche Hall, where he began shaping limestone blocks toward the creatures that would emerge under his sister's artistic brilliance.
"When I first start out, what I'm looking at are planes," Ramberg says. "You know, the side of the head is just a flat plane, the front of the face is just a flat plane. It's just blocky as can be, but those planes are easily seen. And then you just keep shaving it down to different planes until, all of a sudden, it gets rounded."
Ramberg happily interacted with passersby, even handing over his chisel for students to get a feel for the process. When queried by curious onlookers unfamiliar with Dyche's original grotesques—an entire class of Jayhawks came and went without knowing a Dyche Hall adorned with its sky-high creatures—Ramberg would patiently explain the project's "marvelous story" while gazing upward and pointing to the empty perches.
"That's day after day after day, and I had become so used to seeing them not there that when they finally got installed, I was like, 'Wow! I'd forgotten what they looked like up there!'," Ramberg says. "And, of course, being freshly carved, without a patina on them, they stand out more than the originals did. It was just such a thrill, and when the last one was up, I was ready to start dancing … except I was 60 feet in the air, and I thought, maybe I'd better not."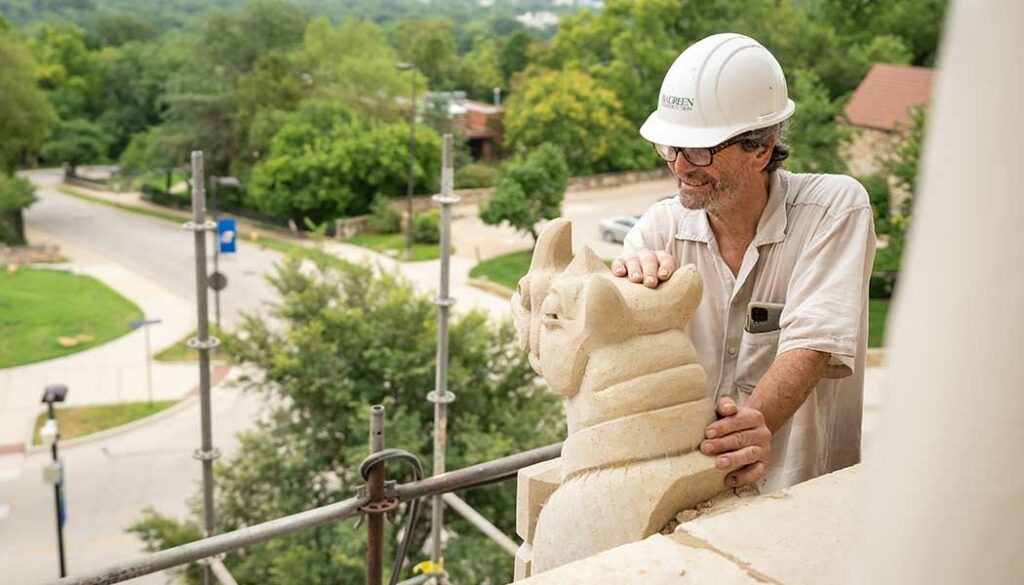 "When they finally got installed, I was like, 'Wow! I'd forgotten what they looked like up there!'… It was just such a thrill, and when the last one was up, I was ready to start dancing … except I was 60 feet in the air, and I thought, maybe I'd better not."
—Karl Ramberg
With a $1,300 budget for Dyche Hall carvings, the Frazees in 1902 swiftly
crafted 12 limestone grotesques—"monstrous creatures," in the estimation of St. Bernard of Clairvaux, who in the 12th century fumed about gargoyles, with spouts diverting water from masonry walls and foundations, and their purely ornamental cousins, grotesques, which had become all the rage in cathedral construction.
The four grotesques on Dyche's north wall were removed during construction of the 1963 expansion; one somehow disappeared, and three were restored and kept safely in the Biodiversity Institute's office suite. With a half-century of less erosion, the three office-bound carvings offered the best available glimpse into details of Frazee's chisel work, and they were often consulted by Laura Ramberg as she carved the intricate details of her zebra, dog, elephant, lion, rhino, ape, dragon and cat.
Thanks to the long labors of architecture faculty Keith, a'04, and Amy Peterson Van de Riet, a'03, guesswork will never again be required when it comes to deciphering mysteries within the grotesques and the artistic styles that brought stone to life. As part of the educational component envisioned by the Rambergs, the husband-and-wife architecture team led eight preservation workshop students through the rigors of digitally analyzing Frazee's statues, learning software that allowed them to manipulate the digital files to replace missing elements, and printing scale models to assist the sculptors.
"Each of those three steps introduced them to tools that are widely used in the profession and research now," Keith Van de Riet says, "both in preservation and new architecture."
The Van de Riets continued the project far beyond student involvement, digitally documenting the Rambergs' final sculptures before they soared skyward, and all of the Van de Riets' documentation for both sets of statues has been given to University Archives to benefit future generations of preservationists.
"The idea that they were guardians of a cathedral of nature, I think, really, really resonated with me about what architecture can say and do," Van de Riet says. "I think that was equally as powerful as getting to know them down on the ground, you know, materially."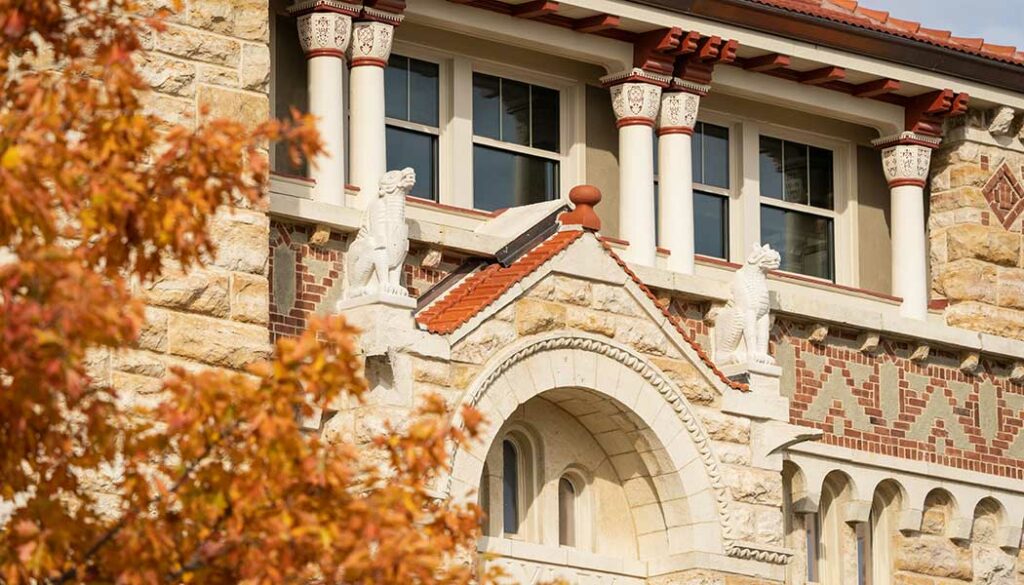 As with architecture, so with art: The gargoyle replacement project resonated not only because it preserved a building's unique history, but also because of the legacy of arts education that made it all possible. Laura Ramberg was inspired to become a sculptor by KU's titan of the artform, Bernard "Poco" Frazier, f1920, and her brother was equally inspired and educated by Frazier's most prominent acolyte, Elden Tefft, f'49, g'50.
"Poco was Elden's teacher, and Lorado Taft up in Chicago was Poco's teacher, so that goes on back to Europe; that lineage of teaching is something that gets handed down," Karl Ramberg says. "Being part of that legacy is something I'm very proud of and try to uphold. I always feel, whenever I'm carving, that I'm carrying on the tradition that those two gave me."
As he first began searching out the planes that would eventually give way to a rhino hidden within limestone millions of years old, Ramberg's wandering mind stumbled onto a startling observation that remained with him throughout the project: When sculptors carrying on KU's artistic lineage a century from now are replacing these grotesques, will there be any rhinos left in the world?
"And the answer," Ramberg says, "is probably not."
What Ramberg describes as his "visceral connection" to the limestone menagerie "is very real," and yet he also insists the emotional bonds his sister formed were far greater.
"She's dreaming about the creatures and totally lives with what those creatures are," he says, "because that's the world she likes best."
Laura Ramberg says that before she settled in for her daily carving sessions during the long project—"This was not a short sprint," she says, "but a series of marathons"—she began gathering her thoughts and nudging toward focus while out on morning walks with her dog. The daily connection with nature would sometimes inspire within her lines of poetry, some of which she might preserve in a notebook upon her return home, always searching for different ideas that could inspire her in her work.
Now that she can see her sculptures perched seven stories above Jayhawk Boulevard, secure in the knowledge that generations of Jayhawks can once again savor Dyche Hall in its original fanciful glory, Ramberg allows herself a rare moment of satisfaction. The long, sustained marathon to replace Joseph Roblado Frazee's monsters of the mind is finally finished.
"If anyone asked me, 'What is your purpose in life?', it was to be of service," Laura Ramberg says softly, in a careful, precise cadence. "So, how can I be of service? I'm not a doctor, or lawyer, politician or priest, but I'm a sculptor. That's my way of being of service to my community, and that's very important to me."

Photographs by Steve Puppe, Meg Kumin and Julia Mathias Manglitz/TreanorHL.