'I'd like to pay for the cat my mother ate'
A retired KU professor prepares to return to the scene of linguistic crimes.
Illustrations by Charlie Podrebarac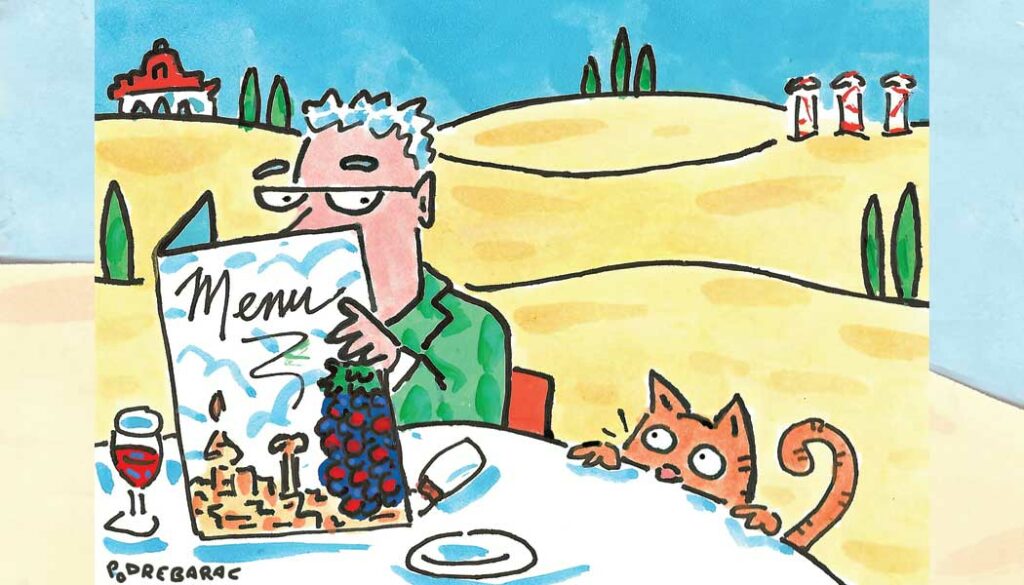 Sometime soon, pandemics willing, my wife and I will base an Italian vacation in Paderno del Grappa, the small town where, 22 years ago, I taught for a semester as part of a KU Study Abroad & Global Engagement program. And Ho un sogno: I have a dream. At least, I think that's what those words mean. Experience has taught me that I am to the Italian language what Missouri Tigers basketball is to NCAA championships. However, I dream of once again, without exception, speaking Italian to Italians, this time without reducing that Ferrari of a language to a circus clown car.
Let me explain.
As a professor for 32 years, I was fortunate, thanks to KU Endowment funding, to represent our university at research conferences around the world. Wherever I traveled, I tried to learn and speak the language (OK, except for Slovenia and Kyrgyzstan). It's fun, and I think the locals appreciated the effort. So before teaching for a semester in Italy, I audited a KU Elementary Italian course. Once my family and I arrived in Paderno del Grappa, I stuck to Italian in speaking with anyone born between Milan and Sicily, many of whom spoke no English. And my troubles began.
When the newlywed Italian couple who lived downstairs from our apartment adopted a golden retriever puppy, they became heroes to my two children, ages 10 and 5. I already had been entertaining these neighbors with my all-thumbs efforts to chat, but when, in the hallway, I asked the new puppy's name, the wife began snorting and had to lean against the wall for support. I mentally replayed my attempt and realized I had used the formal Italian expression: "What does he call himself—Come si chiama?" I think my neighbor was trying to say "Woof," but she finally choked out, "Giacomo!"
And then I became a legend in Paderno del Grappa. I tried to say, "And how old is he?" using the formal "And how many years does he have?" But I mispronounced anni, the Italian word for "years" (you have to really enunciate the two separate N's), and I asked, "And how many a##holes does he have?" She began laughing so hard that she started crying, and she slid down the wall, shaking her head.
They remained wonderful neighbors, and we loved playing with Giacomo, but she could never really talk with me after that. She'd start laughing and would just wobble away.
Being a fairly generous guy—un uomo generoso?—I shared my linguistic innovations with Italians beyond Paderno del Grappa. On one of our first weekends in Italy, my wife, Kris, and the kids and I drove to nearby Padua. We wanted to see the Prato della Valle plaza with its 78 statues (one even has its own stone pigeon), and we were going to meet my mother-in-law, Betty, who was off on her own travels, for lunch. She joined us in time for dessert and ordered a slice of cake.
After we paid our bill (il conto!), I realized that our waiter had forgotten to include Betty's cake, so I went back to the counter. "Voglio pagare la gâteau che mia madre ha mangiato," I proudly said. "I'd like to pay for the cake that my mother ate." I didn't know Italian for mother-in-law, so I just said mother.
The woman at the register flinched as sharply as if I had leaned over and tapped her on the nose. Her eyes fluttered, and she started gasping. She stumbled back from the counter and ran into the kitchen behind her, waving her arms and shouting, "Ah-ha-ha—ah-ha-ha-ha" mixed with "Gatto! Gatto! Gatto!"
I recognized the signs and calmly reviewed what I had said. Oops … I had used the French word for "cake," gâteau, instead of the Italian word, torta. (Curse that conference in Paris.) Unfortunately, the French gâteau sounds a lot like the Italian gatto—cat. Basically, I had asked to pay for the cat that my mother ate.
"Non gatto! Torta! Torta!" I shouted to the vanishing cashier, but the kitchen had suddenly become pretty noisy, and they didn't hear me. We left quietly without paying for Betty's cake.

Rare moments of triumph did interrupt my steady destruction of the language of Dante. In a train station near our little town, I queued up to purchase round-trip tickets to Venice and listened to the customer in front of me melt into incoherence when, to her query of "Do you speak English?", the ticket agent replied, "This is Italy. I speak Italian"—and then he proved it. The customer reeled away.
With visions of Giacomo and restaurant cats dancing in my head, I specified in stumbling Italian the tickets and times I wanted.
The agent looked at me without expression. "Ninety thousand lire," he said (about $45). "Your train leaves on Track 7 in 30 minutes. Enjoy your trip." Every word in English.
Weeks later, while checking my family into a hotel above the Spanish Steps in Rome, I stuck with my Italian until the world's most diplomatic desk clerk said, in flawless English, "Perhaps we might switch to English, sir, so that your wife can join the conversation."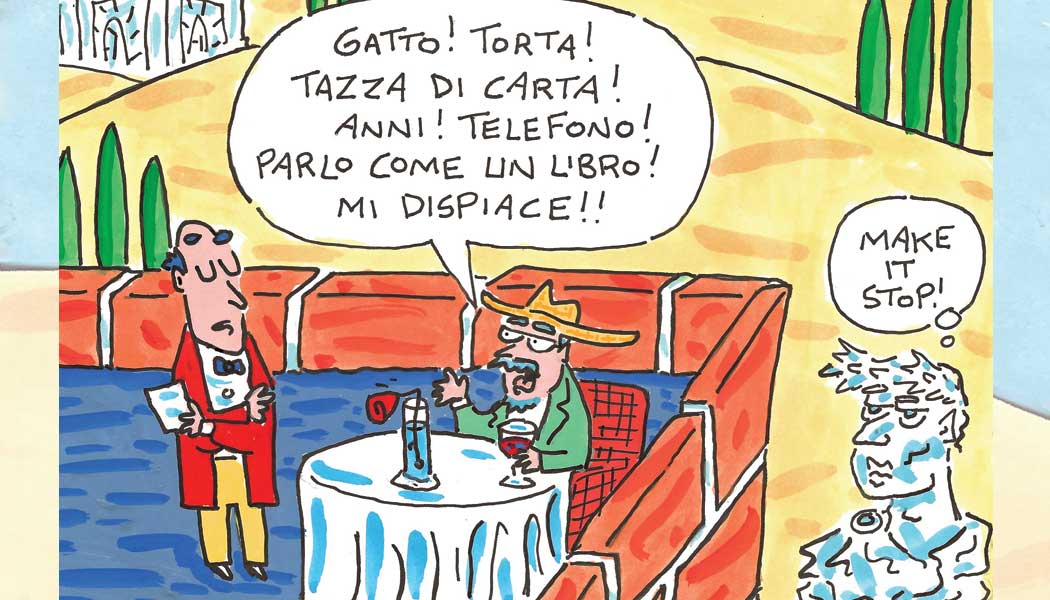 Such glories, however, were few, and linguistic pratfalls tainted most of my small victories. One of my favorite places to practice speaking Italian, for example, was a tabacchi, a little shop, just across the street from the gates of our campus. The owner spoke no English, and she'd listen patiently, with a beautiful smile, while I'd ask about cheese or lightbulbs, and she'd gently correct my many mistakes.
One afternoon, about midway through the semester, I walked in with Kris and our two different phones from two different makers that required two different cards. This was going to be complicated, and the owner's eyes widened.
But I had practiced. As I slogged through the detailed explanation of what we wanted, two of the owner's associates came from the back of the shop to listen.
When I finally finished, the owner smiled at me as if I were her prize pupil. She put her hands together, palm to palm, with her fingertips touching her chin and whispered, "Perfetto!"—"Perfect!" But she was trying not to laugh, and her two associates weren't even trying.
Kris looked from them to me and asked, "If it was perfect, why are they laughing?"
I said I didn't know: Perfect meant perfect.
"Ask them if it's because you spoke so slowly," Kris said. OK—let's see: "Mia … moglie … chiede … ridete … perché … parlo … lentamente?" I asked in not-so-perfetto Italiano.
And no one needed a translator for their rapid answer. "Sì!" they said in unison.

The only time any of our Italian neighbors smacked me down for my daily assault on their beautiful language is also, unfortunately, a bad-dad story.
My family's favorite place in Paderno del Grappa was the Alpina, a coffee shop halfway between our apartment and the campus. On our first morning in the little university town, I stopped in to try out my Italian and get coffees to go. The owner, Alba, spoke no English, and I couldn't convey the idea of "to-go" cup. Finally, I said, "Voglio una tazza di carta"—"I would like a cup of paper"—and I made a walking-away motion with my index and middle fingers.
Alba now understood—and was adamant. "No," she said. "No cups of paper. Here, we sit and drink our coffee and talk with each other." She was right, of course, and we grew to love the Alpina.
Near the end of our time in Italy, I was in the Alpina with my 5-year-old daughter, who was chattering away with an entranced coffee crowd in the Italian she had taught herself so that she could play with the dogs she met. Alba was beaming, loving every word.
Then I interrupted the conversation to correct my daughter's Italian grammar. Inexcusable—just inexcusable. Even though I think this is a funny story, decades later that moment still fills me with shame.
And Alba wasn't having it. "Stop!" she commanded, cutting me off. She smiled down at my daughter. "Your daughter is speaking our Veneto dialect," she said. "Her, we can understand." Then she looked up at me and shook her head. "But you—you talk like a book."

Soon, with luck, Kris and I will return to Paderno del Grappa, and I will speak Italian. Some old-timers might remember my earlier blunders. I might even make a few more. And if that happens? Well … words fail me.
Chuck Marsh, c'77, g'80, PhD'85, is professor emeritus of journalism. He began his career as a staff writer and assistant editor of Kansas Alumni from 1982 to 1985.
Illustrations by Charlie Podrebarac