Jayhawks mourn visionary leader
Chancellor Gene Budig's indelible legacy endures three decades after his tenure
BY JENNIFER JACKSON SANNER
Chancellor Gene A. Budig, 81, who guided the University to extraordinary growth from 1981 to 1994, was known for his quiet but strong leadership and his rock-solid commitment to KU's academic mission—manifest not only through his public decisions but also in his personal dedication. 
Following Budig's death on Sept. 8,  many Jayhawks shared tributes. "We have lost one of the great chancellors of the University of Kansas, and I mourn the passing of a valued and important friend, mentor and colleague," said David Ambler, vice chancellor emeritus for student affairs. "I shall remember him most for his personal integrity, kindness, sense of humor, wisdom, visionary leadership and his steadfast commitment to education as the means of making this a better world for all of us."
Budig became KU's 14th chancellor at 42, having already led the University of West Virginia and Illinois State University as president. The native of McCook, Nebraska, began his higher education career at his alma mater, the University of Nebraska, where he earned three degrees before age 30.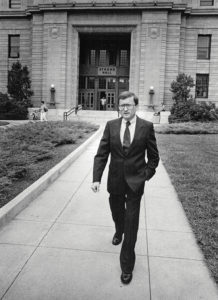 KU thrived under Budig's leadership. Enrollment reached an all-time high in 1992 of 29,161, the number of distinguished professorships nearly tripled, and KU's impressive physical growth included the Dole Human Development Center, Anschutz Library, the Lied Center for the Performing Arts, the KU Vietnam Veterans Memorial, the Adams Alumni Center, and the opening of the KU Edwards Campus in Overland Park. In addition, KU Medical Center regained its financial footing. 
"His term as chancellor was, for many students and faculty, the best period of their academic years. We shall miss him. Rock Chalk, Gene."
–Professor Emeritus James Carothers
The educator who as a boy dreamed of playing for the Yankees left KU to become president of baseball's American League.
Jayhawks remember their 14th chancellor as the champion of a cherished cause: rebuilding Hoch Auditiorium, which was ravaged by fire after lightning hit the landmark in June 1991. Budig convinced state leaders to dedicate $18 million toward building modern lecture halls behind the beloved historic facade. The new building was rightfully rededicated as Budig Hall in 1997.   
"Gene's sense of humor was also legendary. On my 50th birthday, he arrived at my house decked out in his tuxedo.  He was there, he announced to my guests, to park cars."  
–Professor Emeritus Bill Tuttle
With his wife, Gretchen Van Bloom Budig, he also devoted untold hours to Campaign Kansas, KU Endowment's fundraising campaign from
1988 to '92. The campaign began with a goal of $150 million but raised $265 million. The Budigs instilled confidence in donors, recalls KU
Endowment President Dale Seuferling, j'77. "Gene and Gretchen not only worked tirelessly during Campaign Kansas to raise funds, but they also gave generously of their personal gifts to benefit KU.  Their giving legacy created six endowed funds for faculty and staff," Seuferling said. "In 2008, their lifetime giving to KU had exceeded one million dollars and it was my distinct honor to welcome them to membership in the Mount Oread Society of the Chancellors Club." 
The Budigs lived in recent years in Isle of Palms, South Carolina. He also is survived by his children, Mary Frances, Christopher and Kathryn, and their spouses; his sister and brother; and five grandchildren.