Renowned renegade to visit KU Oct. 28-29
Judy Heumann, international activist for people with disabilities, to celebrate ADA's 30th anniversary Oct. 28-29
Judy Heumann, the fiery activist for disability rights who helped spark an international movement, will celebrate the 30th anniversary of the Americans with Disabilities Act Oct. 28-29 with the KU and Lawrence communities and guests worldwide through a virtual event. Please visit accessibility.ku.edu for a complete schedule; reservations required for each online event.
More than 55 organizations from KU, Lawrence and the region have joined forces to sponsor Heumann's visit, which is organized by the KU ADA Resource Center for Equity and Accessibility. 
Heumann, who survived polio at 18 months, in February published Being Heumann: An Unrepentant Memoir of a Disability Rights Activist with co-author Kristen Joiner.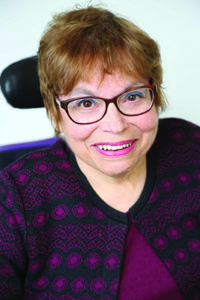 A lifelong wheelchair user, she was barred from a New York City public elementary school where the principal said she was a "fire hazard." After her mother challenged the school board, Heumann attended a special school and eventually her mother's advocacy opened the door to mainstream schools. She graduated from high school in 1961 and later earned her teaching certificate. She also sued the New York City Board of Education when it refused to hire her as a teacher. 
In her early 20s, Heumann was a counselor at Camp Jened, a camp for people with disabilities documented in the Netflix film "Crip Camp." The camp's spirit of inclusion helped advance the movement that eventually led to passage of the ADA.