'De-densified' campus one of many changes in the COVID era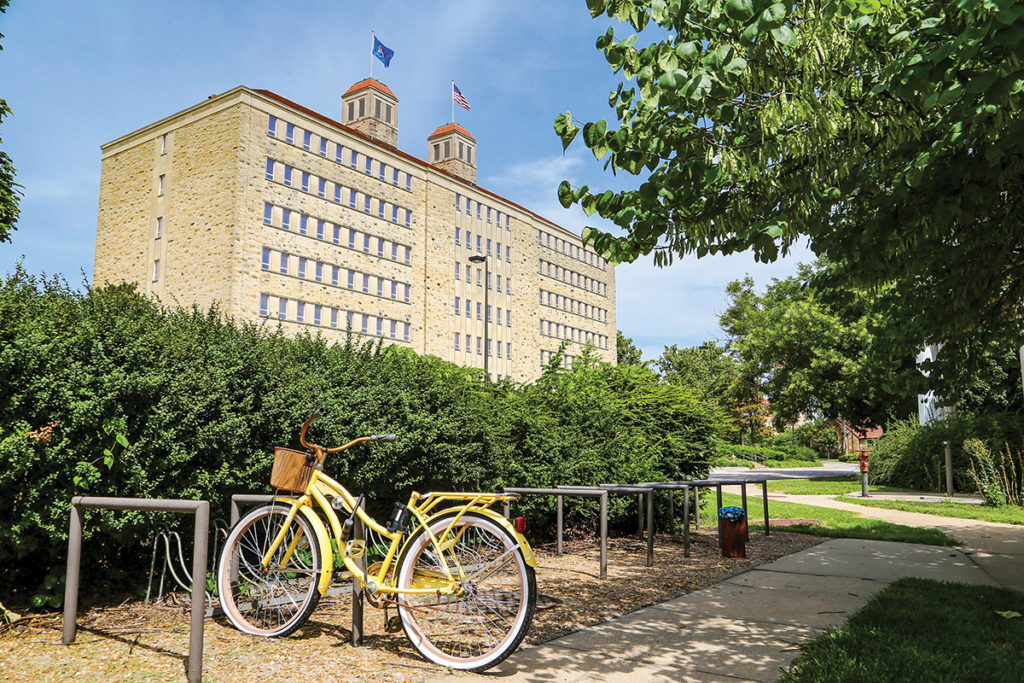 Editor's note: Combating coronavirus and COVID-19 on campus and across our communities is a dynamic, fluid test of knowledge and resolve; this description of KU's physical campus, coursework, research, residential life and athletics represents what we know about the University experience through Labor Day. As with all aspects of the pandemic's impact on societies worldwide, KU's situation can change, in ways large and newsworthy or small and personal. With a two-week gap between editorial deadlines and magazines arriving in mailboxes, this report could suddenly become badly out of date. If so, we will update significant developments at kansasalumnimagazine.org; for now, please keep "as of press time" in mind while reading our campus coverage throughout Rock Chalk Review.
Signs of pandemic are evident across Mount Oread. There are actual signs, of course, mostly bold-type reminders that masks are required, inside, outside, alone or in a group, but there are also doorway kiosks to monitor every Jayhawk's mandatory health-tracker app, reconfigured classrooms and stairway circulation, and an immediately apparent emptiness—"de-densification," in the parlance of our times—that results from half of all coursework credit hours residing fully online, with another third in an online/in-person hybrid format.
Midday on the first day of classes, Aug. 24, Jayhawk Boulevard, normally a frantic scene brimming with energy and enthusiasm, instead saw no lines for buses. Racks at the Kansas Union, Watson Library, and Chalmers, Marvin, Budig and Fraser halls contained a total of 14 bikes, two of which were long abandoned and thoroughly deboned. A couple of listless protesters, one of whom offered an oddly happy wave, stood on the Strong Hall lawn holding placards that bemoaned KU's decision to open for classes.
In fact, the only bustling locale to be found anywhere on campus was at the Union's Chick-fil-A outlet. Even global pandemic can't dim students' unquenchable lust for fried-chicken sandwiches.
"Frankly," Chancellor Doug Girod said Aug. 26, "it feels more like a summer semester."
Which, in this upside-down world, is a good thing.
"This has never been done before," Girod said. "We've never been through a pandemic like this before. Every two days we're a little smarter than
we were."
Early returns from saliva tests required of all faculty, staff and students exceeded the most optimistic hopes: As of Aug. 19, the first 7,088 entry tests showed a positivity rate of 1.2%; of 89 positive cases, 87 were students and two were faculty and staff. By Aug. 28, the overall positivity rate in 21,719 tests was 2.18%, including a shocking 10.01% for students within the KU Greek community.
"This has never been done before. We've never been through a pandemic like this before. Every two days we're a little smarter than we were."
–Chancellor Girod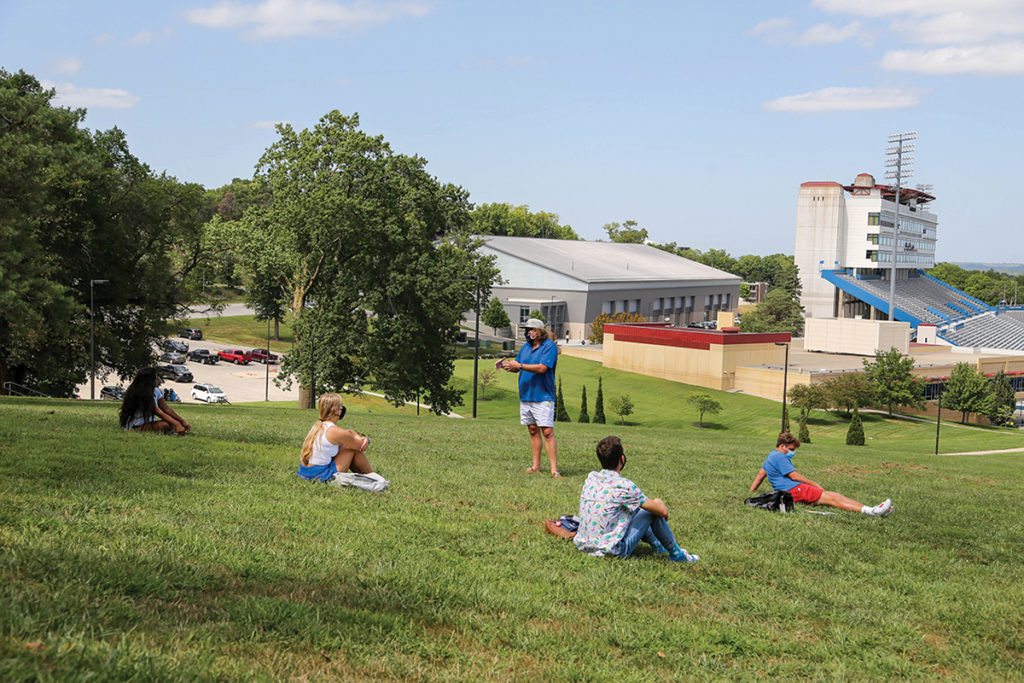 By Sept. 2, as KU wrapped up its entry testing and began moving into targeted testing, the inclusive positivity rate had settled at 2.42%, and Greek numbers, by then including new members, had crept down to 8.38%, earning Girod's thanks "for working with us to improve the health and safety within the community."
Girod and other KU officials stated repeatedly during the "huge logistical undertaking" of mass testing that overall positive rates were within ranges they anticipated and were prepared to handle, and it appeared that drastic changes to the semester's "high-flex format," in the description of Provost Barbara Bichelmeyer, were unlikely. Even if the statistics were to rise, Girod noted, "the reality is, the students are here, and whether we're online or not, they're here. We need to remember that as we think about what our measures are going forward."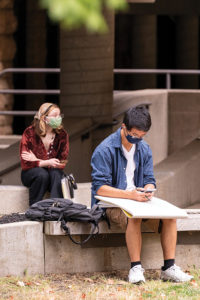 Following mandates from the Big 12, KU announced that nearly all fall athletics competitions would be limited to conference opponents, the lone exception being the Sept. 12 home football game against Coastal Carolina, originally scheduled for Aug. 29 in Conway, South Carolina. As with all September athletics events, the game will be played without fans, with the hope that a limited number of Jayhawk faithful will be allowed into David Booth Kansas Memorial Stadium for the Oct. 3 Homecoming game against Oklahoma State.
"That's certainly disappointing news on one hand," Girod said, "but at the same time, I think it gives us the opportunity to get athletic seasons off to a safe start and work out the bugs and what it means to compete in the age of COVID."
Facing a "revenue shortfall in the tens of millions" of dollars and declaring that departments and budgets supporting more than 470 student-athletes in academics and varsity competition "are in jeopardy," Kansas Athletics on Aug. 31 announced creation of the "Jayhawk Relief Fund," pleading with devoted donors to come to its rescue. Athletics had earlier implemented staff salary reductions, furloughs and budgetary cuts, "and unfortunately we will need to do so again this fall," according to Athletics Director Jeff Long.
To be sure, however, all is not doom and gloom on Mount Oread. Two weeks into the semester, Bichelmeyer, j'82, c'86, g'88, PhD'92, noted the "gift to feel some life come back to campus." She praised faculty and advisers who made "phenomenal" efforts to create personalized course designs that "meet our students wherever they were this year." Said Girod, "We're off to a good start. Everybody's got to do the right thing, and that's what Jayhawks do, right?"
The most immediately visible COVID changes dotting the verdant late-summer landscape are big white tents assembled on lawns across campus, creating safe outdoor spaces for classes and studying. The tents were an immediate hit, and it might not be a stretch to see something similar fashioned far into the future.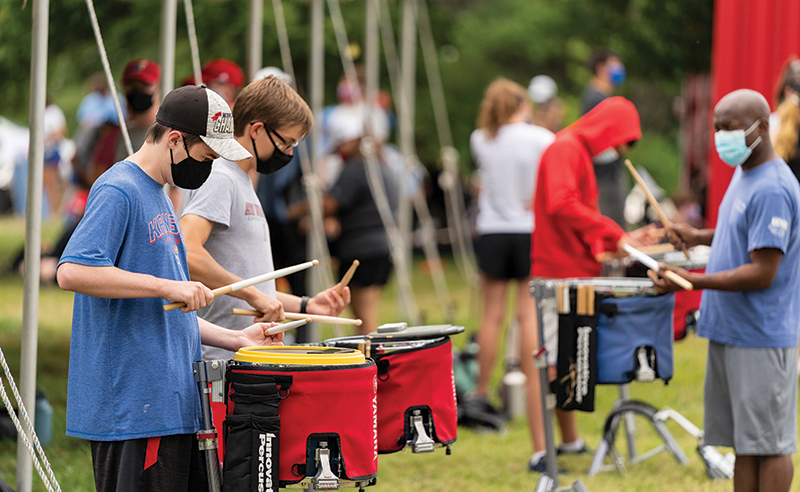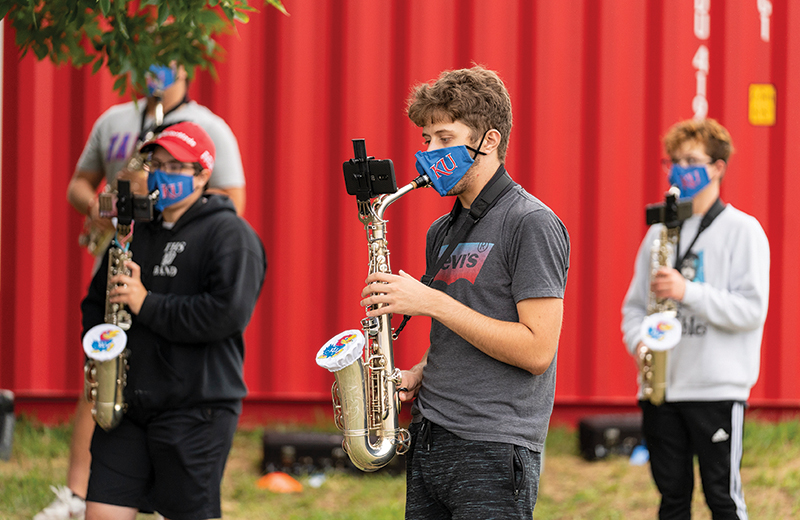 "I was quite excited to come here to study," Bryn O'Mara, a senior biology major from Louisburg, said while perched with her computer at a table under the tent outside Lindley Hall. "It's a really fun idea, and it helps students get outside after we've been cramped up in classrooms and libraries."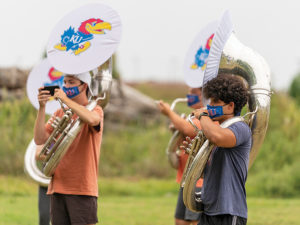 While the tents proved popular, typical features of the launch of any semester were missing, including the student-organization recruiting fairs and a long-running pop-up poster shop that usually attract streams of students to the Kansas Union's fourth-floor lobby. Wescoe Beach, too, was all but deserted, and only a few student groups sponsored information tables on Jayhawk Boulevard.
Oddly, though, those that did found unexpected interest. At least that was the experience for a campus ministry called Christian Challenges.
"I was here last year, and for sure more people are stopping this year," Hayes Miller, an Olathe senior in applied behavioral science, said while staffing the ministry's table on the Stauffer-Flint lawn. "People are ready to get back into community."
That was the case as Miller chatted with Wichita freshman Aaron Reith, who shared that social restrictions were making it difficult to meet people and forge new friendships. "It's not exactly what I was expecting for my first semester at college," Reith said.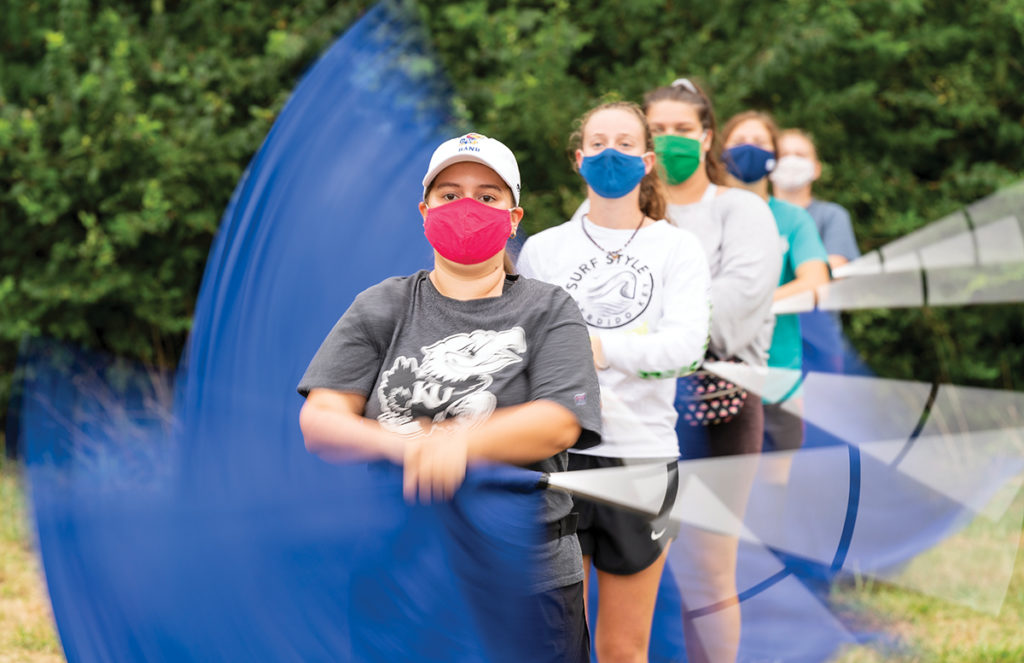 As Reith made his way toward Watson Library, without a companion at his side or even the usual swarm of pedestrians, bicyclists and skaters to navigate, Miller pondered the odd, sometimes heartbreaking vibe created by these most unprecedented of times.
"This has a chance of being the loneliest incoming class of freshmen in history, and we all need to do what we can to help them build a social structure. I think people are still looking for the full college experience, even with everything that's going on, so it's important to be intentional in creating your community."
Pausing, Miller glanced down the empty boulevard, awaiting the next student hoping to find exactly that. Community.
"People just want to talk, you know?"
Even in the age of COVID. Especially in the age of COVID.