ADA resource center grows to aid KU staff with disabilities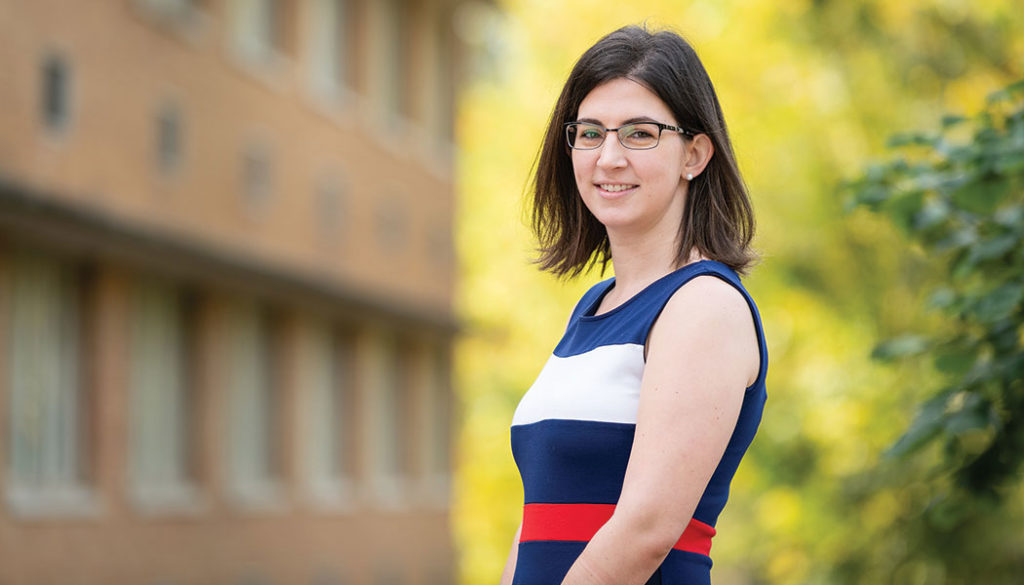 On any given day, Abby King might help a KU employee arrange for a standing desk, secure an accessible parking spot, or qualify for extended breaks or leave time as a way of coping with a physical or mental disability on the job.
King, b'12, g'18, this summer joined the ADA Resource Center for Equity and Accessibility as the University's first accommodation specialist. The office helps employees with disabilities and their supervisors make accommodations in the spirit of the Americans with Disabilities Act, does ADA consultations with KU departments and staff, and develops campus policies on issues of importance to the disability community.
King's role is to help employees find solutions to their individual accessibility issues.
"We are here to keep people in their jobs," she says. "That is the main goal: to keep people working in the jobs they are in, and to make them successful in those jobs."
To be eligible for an accommodation, staff, faculty and student employees must be certified by a doctor as someone who qualifies as a person with a disability, which is defined as a physical or mental impairment that substantially limits a major life activity. Once the medical paperwork is in order, "We talk to them about what accommodations would work for them in their workspace, and once we come up with a solution, we present that to their supervisor," King says. "It's a conversation, and it can be a bit of a negotiation sometimes."
The specifics of the disability are not disclosed to an employee's supervisor, and the supervisor is not allowed to disclose to anyone that the employee is receiving a workplace accommodation, King says. "Our role in that negotiation is to protect the employee's privacy and to keep the conversation going, to be a mediator between the two of them."
Reasonable accommodations can include helping someone who suffers from migraine headaches find a workspace with natural rather than fluorescent lighting. It might involve working with Campus Operations to ensure accessible parking spaces are cleared after snowstorms. It can mean helping employees get approval for an emotional support animal, a telework arrangement or a doctor-recommended chair or desk.
The office also does outreach to help employees learn about their right to seek accommodations, and that effort has led to an increase in inquiries, King says. The office handled about 300 accommodation requests last year, and those numbers could increase.
Roughly 20% of Kansans in the most recent census said they live with a disability, according to Catherine Johnson, director of the ADA Resource Center since 2016. In its most recent annual report to the federal government on the percentage of its workforce that voluntarily identifies as a person with a disability, KU listed a rate of 3.9% of faculty, staff and student employees. A survey sent out in early November from Johnson's office seeks to uncover any barriers in the process that might prevent more employees from completing the voluntary self-disclosure form.
"If the Kansas number is correct and you apply it to KU," Johnson says, "we should have well more than 3.9% of people disclosing that they are a person with a disability."
The office recently moved to 117 Carruth-O'Leary Hall. Renovations now underway are meant to improve access and encourage greater use.
"We really want it to be a resource center for everybody on campus," Johnson says. "We hope this construction turns it into a place where people feel comfortable dropping by to check in."
For more information visit accessibility.ku.edu.