Agbaji gets bad, and that's good
Senior guard's high-octane leadership fuels 'Hawks
The grin that first appeared as Ochai Agbaji stuffed an alley-oop lob from Christian Braun to give KU a 12-point lead with less than 7 minutes remaining Jan. 24 against Texas Tech had briefly faltered, along with KU's lead, as the Red Raiders, who'd beaten the 'Hawks Jan. 8 in Lubbock, stormed back to send the game in overtime.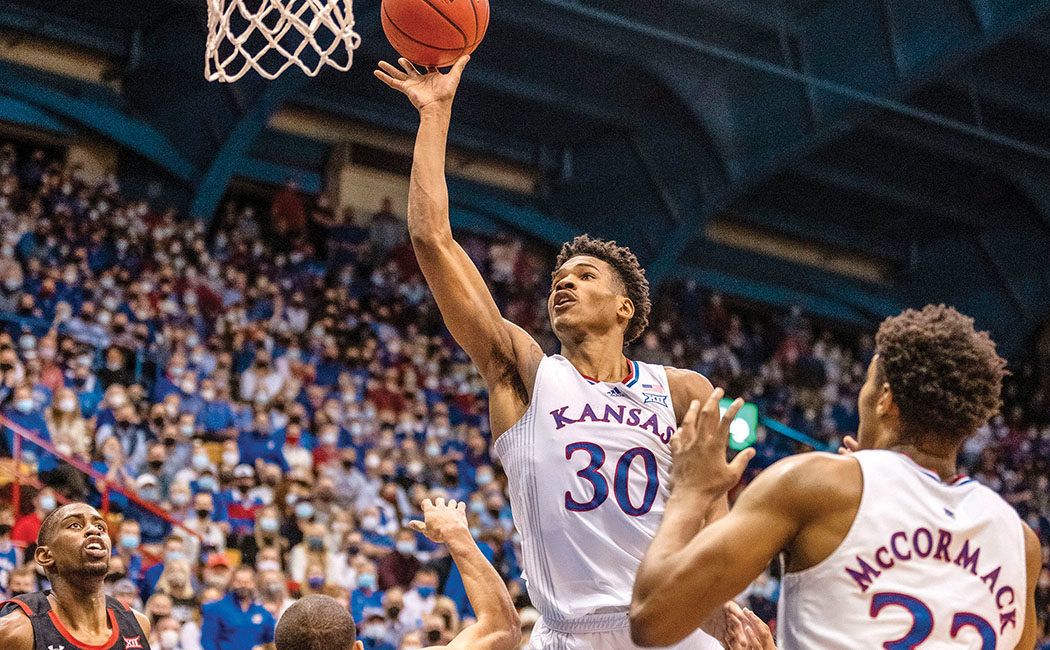 Then came Agbaji's guarded, off-balance three-pointer with 7.3 seconds remaining in overtime to send the game into double-overtime, during which he grabbed a pair of key defensive rebounds and made two free throws, and the huge smile was back. It certainly didn't dim in the jubilant postgame locker room.
"This right here," Braun, a junior guard, said of the team's unquestioned senior leader, "is a bad man! National Player of the Year, First Team All-American, Ochai Agbaji!"
With his usual quiet charisma, Agbaji acknowledged the praise with a small wave, taking in the sort of moment he couldn't have dreamed of as an unassuming underclassman. Then came coach Bill Self, who exclaimed, "We've got the best player in America right here on our team. That was as bad-a-boy performance as I've ever coached."
Agbaji's 37 points (including seven of 12 from beyond the arc) and seven rebounds (all on the defensive glass) in the revenge match against Tech were both career highs and cemented his status as one of the country's elite wings. It's a role he's grown into over a long KU career—until missing the Feb. 1 game at Iowa State, Agbaji had made 97 consecutive career starts in 103 games played—and it didn't happen by accident.
Agbaji, of Kansas City, Missouri, entered the NBA's predraft workouts, but returned for his senior season after hearing from Toronto's general manager that he needed to become more assertive.
"That's been on repeat in my head," Agbaji says, "since the moment I got told that."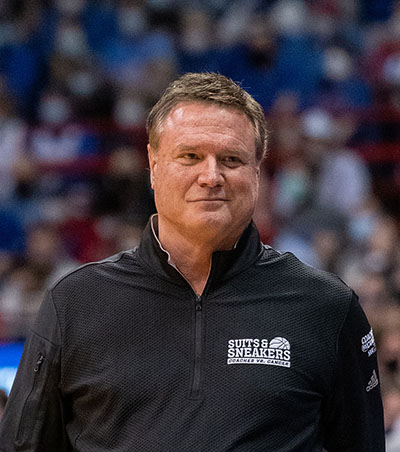 As Kansas Alumni went to press, Agbaji led the Big 12 in scoring at 20.9 points per game. Only two players in the Bill Self era—consensus All-Americans Wayne Simien and National Player of the Year Frank Mason III—have finished a season with 20 points a game.
"My mindset has changed from stepping into this role of being a leader of this team," Agbaji says. "It's crazy to see the grand scheme of things, coming from my freshman year, the different roles from year to year."
For all his scoring and leadership, however, potentially the team's best midseason showing came Feb. 1, when Agbaji remained in Lawrence for COVID safety protocols: Players whom the Jayhawks must rely on if they're to create success in the NCAA Tournament finally jumped out with big nights, including senior forward David McCormack (14 points, 14 rebounds), sophomore guard Dajuan Harris Jr. (14 points), sophomore forward Jalen Wilson (13 points), and Self's pick for player of the game, sophomore guard Joseph Yesufu (seven points, five rebounds, four assists, three steals).
"His teammates covered for him and picked us up, just like he's picked us up so many times," Self said on his Jayhawk Network radio show. "Maybe it gives somebody else confidence. Maybe they are ready to step in."