Journalist, artist to receive degrees
BY JENNIFER JACKSON SANNER
Editor's note: Amid the coronavirus (COVID-19) outbreak, Commencement will not occur on May 17. University leaders will reschedule the traditional ceremony for late summer or early fall. Kansas Alumni and the Association will report details as soon as they are available.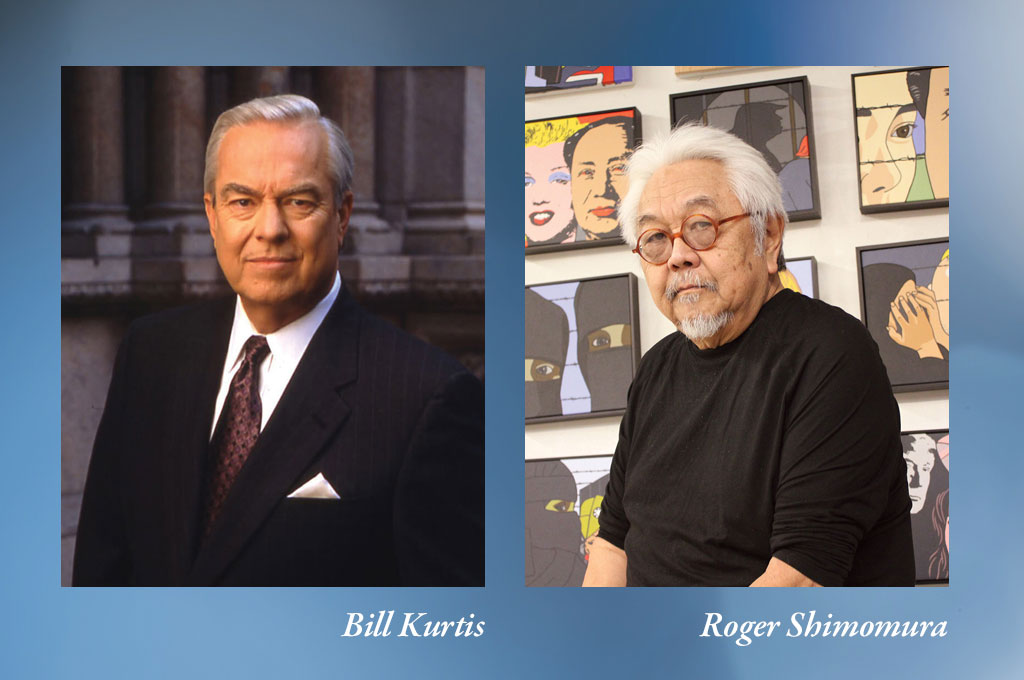 Bill Kurtis and Roger Shimomura will become the University's 20th and 21st recipients of honorary doctorates during the 148th Commencement, May 17. Kurtis is a renowned broadcaster and documentarian, and Shimomura is an acclaimed artist and longtime KU Distinguished Professor. 
Kurtis, j'62, who grew up in Independence, has excelled as a reporter and broadcaster. A graduate of KU and Washburn University School of Law, he began his career at WIBW-TV in Topeka. Following his 24-hour coverage of the destructive 1966 tornado, he became a CBS reporter and anchor in Chicago. He led the first team to report on the defoliant Agent Orange's impact on U.S. servicemen. As a result, veterans affected by Agent Orange  became eligible for compensation and treatment. He also chronicled the desperate plight in Saigon of children of U.S. servicemen and Vietnamese mothers. His story led to laws granting the children access to the United States. 
He later co-anchored the CBS Morning News and, after retiring from the network, he founded Kurtis Productions. He created a Peabody Award-winning series, "The New Explorers," for PBS as well as documentary series for the A&E Network, The History Channel and CNBC. 
Kurtis maintains his Kansas roots as a conservationist and owner of the 10,000-acre Red Buffalo Ranch in the Flint Hills. It is the nation's largest remaining tract of tallgrass prairie.
Shimomura, born in Seattle, spent two years of his early childhood in Minidoka, Idaho, in one of 10 concentration camps for Japanese Americans during World War II. 
As a distinguished military graduate from the University of Washington, he served in Korea, and later earned his master's degree in fine arts from Syracuse University. Often inspired by his immigrant grandmother's diaries, Shimomura has created paintings, prints and theatre pieces that depict the sociopolitical issues of Asian America. Featured in more than 150 solo exhibitions, his work is in the permanent collections of more than 80 museums.
He has received more than 30 grants, including four National Endowment for the Arts Fellowships.  He was named the first Kansas Master Artist and received the Governor's Arts Award. A KU faculty member since 1969, he is a Distinguished Professor and recipient of the Higuchi Research Award and the Chancellors Club Career Teaching Award.