KU junior Kate Wienke receives 2023 Goldwater scholarship
Aspiring astrophysicist earns national accolades.
by Erinn Barcomb-Peterson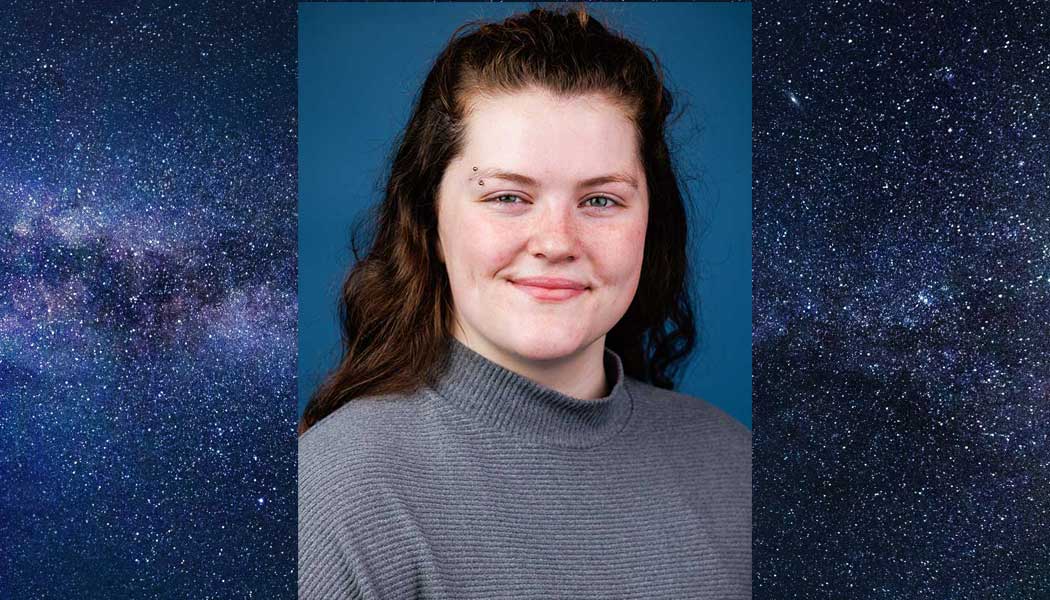 Kate Wienke, a St. Louis junior studying physics, is the University's newest Barry M. Goldwater scholar.
She is the 77th KU undergraduate to receive the honor, which recognizes achievements in the STEM fields, since the Goldwaters were first awarded in 1989.
"We are delighted for Kate, and we are thrilled for the opportunity to congratulate her on being named a Goldwater scholar," says Chancellor Doug Girod. "Kate has demonstrated an outstanding record of scientific achievement as an undergraduate, and we look forward to seeing her continue to excel in the future."
Congress established the Goldwater scholarship program in 1986 in tribute to the retired U.S. senator from Arizona and to ensure a continuing source of highly qualified scientists, mathematicians and engineers. The only students eligible for nomination are sophomore- and junior-level students with outstanding academic records, significant research experience and high potential for careers in mathematics, the natural sciences or engineering.
Wienke aspires to earn a doctorate in astrophysics and lead a team conducting research on astrobiology or exoplanets. She also hopes to teach at the university level and start a mentorship program for young, underrepresented students in physics.
Beyond the financial support the Goldwater offers, Wienke says the award also will expose her to the expansive network of former and current Goldwater scholars and connect her with more experienced colleagues in her field.
"The Goldwater really does open doors," she says.
As an undergraduate, Wienke has already made her mark in physics. In 2021, within KU researcher Ian Crossfield's KU ExoLab, she compared the densities of exoplanets with the elemental abundances of their stars. She presented on this work at KU's Undergraduate Research Symposium in spring 2022.
Wienke spent last summer doing research at the California Institute of Technology, which she says was one of the most valuable experiences she has had both personally and academically. A surprising lesson she learned was that research is not necessarily how it looks in the movies, with physicists dashing around on an hour of sleep with an endless to-do list.
"There is still plenty of work to be done, and I had my fair share of late nights," Wienke says. "But I also spent hours just waiting for my code to finish running or to get an email back from a colleague. I definitely received a lesson in patience."
In September 2022, she was one of 36 students invited to participate in Caltech's FUTURE of Physics for junior and senior undergraduate gender minorities in physics. She is now conducting research on using Spitzer Phase Curve Analysis to detect an atmosphere on the Super-Earth HD with NASA Exoplanet Science Institute research scientist Jessie Christiansen.
At KU, Wienke is an honors ambassador and University Scholar, and she served as the project leader on a team examining diversity, equity, inclusion and belonging within the department of physics and astronomy.
She is also co-captain of the Women's Rugby Club and was a member of the KU rowing team her freshman year. She has received numerous accolades, including the KU Gene R. Feaster Physics Scholarship and KU Francis W. Prosser Physics Scholarship, and she was on the 2021 Academic All-Big 12 Rookie Team for achieving a 4.0 GPA while participating as a Big 12 athlete.
Wienke's advice to fellow students who want to pursue nationally competitive scholarships is to get involved with their passions, not just what makes a student look good on paper.
"Let the 13-year-old in you that loves science peek through," she says. "The Goldwater, like many scholarships, is merit-based, but they want to see the passion for science and research, too. I got involved in research I found interesting and ended up with the most amazing mentor, Professor Crossfield, who has guided and supported me since the day I stepped into his office."
Erinn Barcomb-Peterson, j'01, directs the KU News Service.
Photo courtesy of KU Marketing