KU junior earns national fellowship for military students
Aurora Turner hopes to improve the KU experience for fellow military-affiliated Jayhawks.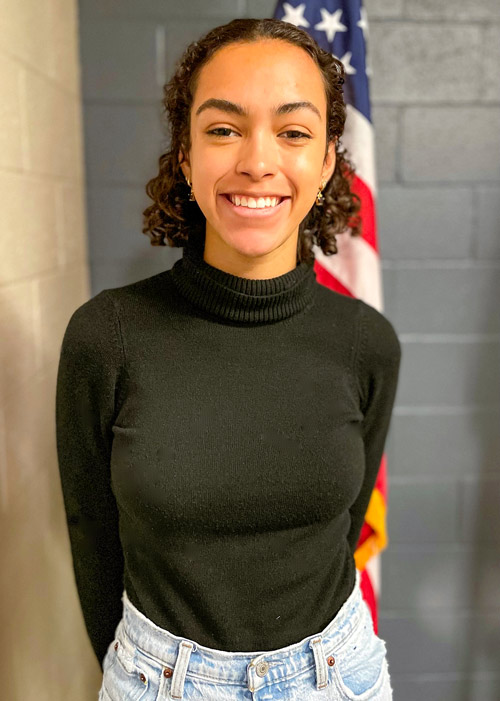 Aurora Turner was one of only 16 students nationwide selected in November as a 2023 Leadership Fellow, an award from the National Veterans Leadership Foundation that recognizes service and leadership potential in military-connected students.
The William Allen White School of Journalism student majoring in strategic communications grew up in a military family, is a member of KU Student Veterans of America, and works at the Lt. Gen. William K. Jones Military-Affiliated Student Center, the University's resource center for Jayhawks with military ties.
The fellowship is open to veterans, active-duty and reserve service members, National Guard, ROTC students, and military spouses and dependents. It includes a tuition stipend and a six-month development program that helps students grow as leaders, continue their lives of service and make an impact on the military-connected community on their campus.
"Making a positive community for military-affiliated people on campus is important to me," says Turner, whose father attended the U. S. Naval Academy and has served in the Navy for 30 years. "I feel like you're getting a unique experience at college, because you're coming from a background of moving around a lot. Sometimes, depending on how you're affiliated, like if you're in ROTC or the Reserve, you have a lot more responsibilities than a typical college student. Your experiences are very different.
"I feel like giving back and having a place where we can all come together and kind of bond over those shared experiences is very, very nice, and I want to help foster that on campus in the future," Turner says.
April Blackmon Strange, director of the student center, says she nominated Turner for the fellowship because of "her desire to grow as a leader, her unique experiences as a military dependent, and her passion for improving KU for other military-affiliated students." She noted Turner's nontraditional college experience as a strength.
"As a military dependent who moved 10 times growing up, graduated from an overseas high school and spent her first year and a half of college in Italy attending KU virtually because of COVID-19, Aurora brings a unique perspective and passion to connect with others who are transitioning from the military world to college life," Strange says. "The opportunity to work with a cohort of students with similar identities and their own unique stories will not only benefit her personally and professionally but will also help us better serve KU's military-affiliated community."
The fellows started the development program in January and will conclude their tenure with a conference in June.
"It's really going to focus on networking and giving us different skills we can implement to help further our connections with people, especially on campus," Turner says. "They really emphasize connecting us to people who can not only help further our professional careers outside of school, but also can help us further our work on campus."
The National Veterans Leadership Foundation is a philanthropic group dedicated to developing leadership, fostering a spirit of service, and supporting military men and women and their families.
The NVLF partners with institutions committed to serving veterans and other military-connected students, and each year those partner institutions nominate top students to serve as Leadership Fellows. KU joined the alliance in early 2022.
The University ranks fifth nationally among Tier 1 research institutions in the 2022-'23 Military Friendly Schools survey.
Photo courtesy of KU News