KU Vets Day 5K runs in the family
On the Hill and from afar, members of the Girard family join forces for annual event.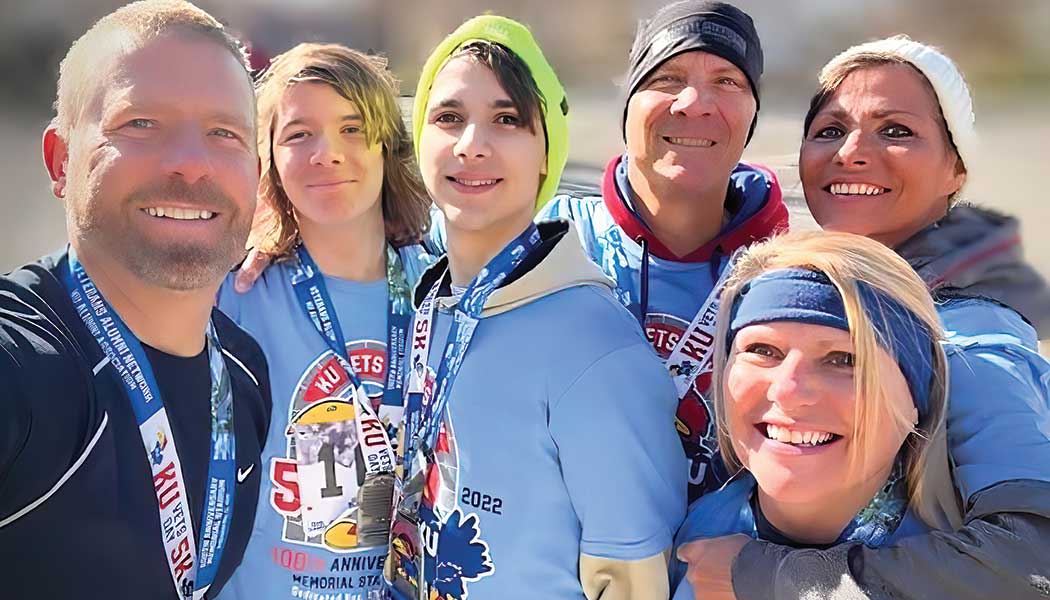 When Kansas National Guard officer and Department of Defense contractor Lee Girard returned from his last overseas deployment, in 2018, he and a few co-workers at Fort Leavenworth saw advertisements for an upcoming 5K road race and agreed to sign up together.
Those plans fell through, unfortunately, but Girard, b'90, g'93, was still itching to find a road race to help motivate his personal and professional fitness goals. That's when he noticed promotions for the Alumni Association's 2019 Veterans Day 5K and mentioned it to his son Garrett, then a KU ROTC student.
"He said, 'Yeah, let's do it,'" Girard recalls from Lawrence, where he and his wife, Debbie, live. "So, he and I ran it together that year."
After the COVID break of 2020, Lee and Garrett in 2021 were joined by the Girards' youngest child, Freya, then a Lawrence High School freshman and cross-country runner. As the 2022 Vets Day 5K approached, Girard mentioned it during a family dinner with his in-laws, Jeff and Dianna Carlson, of Olathe. Both were quick to take up the challenge, Girard says, "and it just kind of grew from there."
Garrett, c'18—now an officer in the Kansas National Guard like his father—participated virtually while on deployment in the Middle East. The Girards' oldest son, Robert, c'16, and his wife, Alyssa Denneler Girard, c'16, joined in virtually, too, from Bloomington, Indiana. The Girards' son Hunter, a KU freshman, signed up, as did Debbie, who chose to affiliate with the event's merry band of 5K walkers rather than be relegated once again to camera duty.
Family members also joined in virtually, including son Garrett Girard, who is deployed to the Middle East, and son Robert and his wife Alyssa Girard, who live in Indiana.
In all, the extended Girard clan signed up 10 family members for the 2022 Vets Day 5K, which on Nov. 13 attracted a record 669 participants—including 219 who joined virtually—from 28 states, Washington, D.C., and nine countries. All proceeds from the event support KU's Lt. Gen. William K. Jones Military-Affiliated Student Center, Veterans Alumni Network and the Student Veterans of America chapter.
"It's important to me, and it's important to us," Girard says. "It has a lot of meaning, and I think it's a great thing that KU does that."
The day is even more of a celebration for the Girard family because it's also Lee's birthday, yet he concedes that while actually running the challenging course—up Mississippi Street and Memorial Drive, down Jayhawk Boulevard and Sunflower Road to Sunnyside Avenue, back up Naismith Drive, around the Chi Omega Fountain, and finally circling back to the stadium down 11th Street—he isn't thinking about his birthday, his family, veterans with whom he served, or even the solemnity of the occasion.
"Whenever I'm running a 5K, that's all I can focus on, especially on that course. That uphill seems like forever," Girard says with a laugh. "There's no time to be thinking about other stuff. I'm concentrating on what I'm doing, which is trying to stay alive. I just turned 57. It's not getting any easier.
"They're not fun when you're running 'em, but they're sure fun when you're done."
And what about when he's 58? Will he still be willing to challenge that long, winding uphill from the stadium to Jayhawk Boulevard next year?
"We'll be there," he replies firmly. "And Garrett will be back off deployment, so he'll be geared up to do it in person."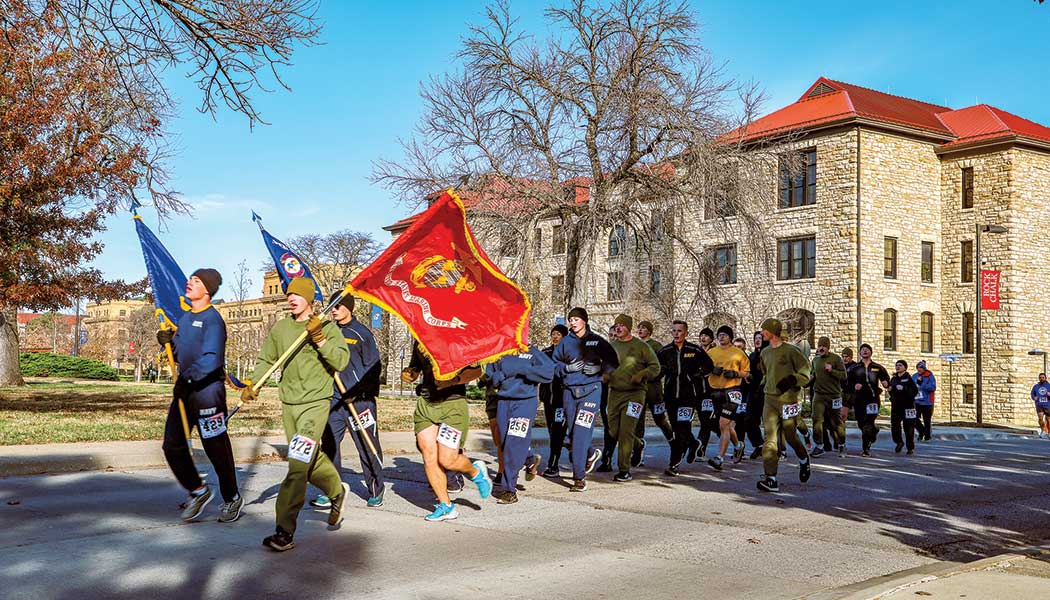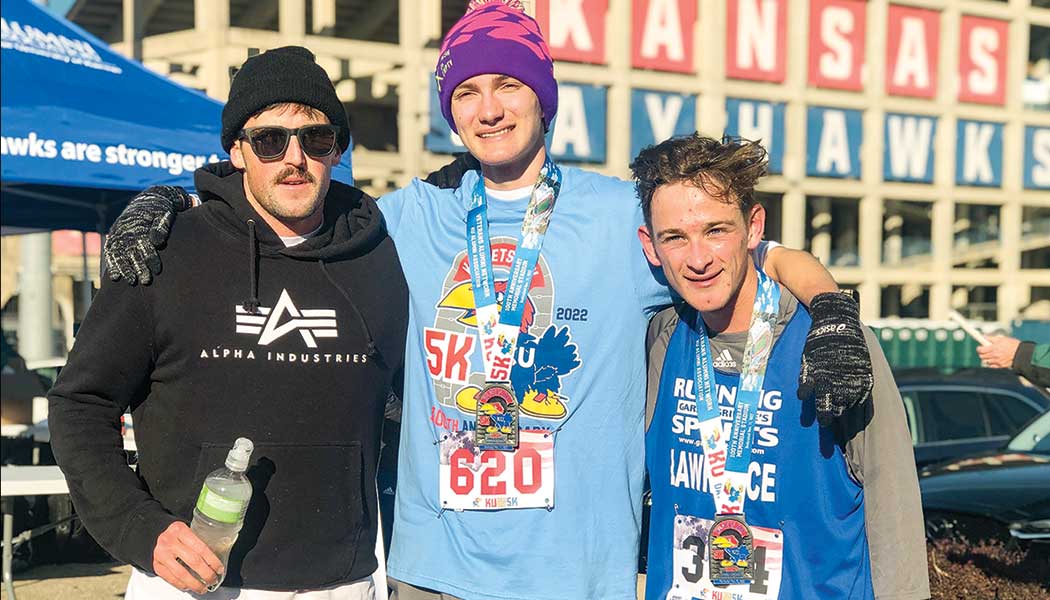 Festive runners, walkers and strollers of all ages braved bone-deep chill for the Nov. 13 Vets Day 5K, but the race went to the young (bottom, l-r): bronze medalist James McDermott, Overland Park senior; winner Jon Kazmaier, a senior at Liberty, Missouri, High School; and runner-up Brandon Sikes, Lawrence Free State High School junior.
Chris Lazzarino is associate editor of Kansas Alumni magazine.
Photos of the Girard family courtesy of Lee Girard; Vets Day 5K photos by Dan Storey