Sayers, Hadl statues unveiled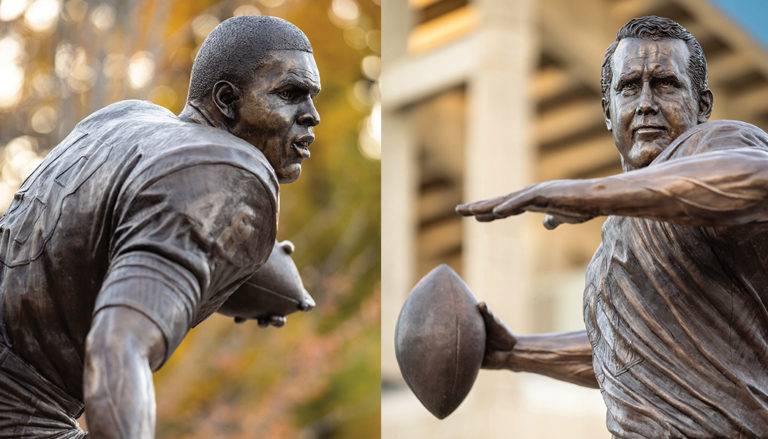 With little to cheer this season except admirable perseverance during a pandemic that rattled the flow of fall football Saturdays on the Hill, the University chose halftime of the Oct. 3 Homecoming game against Oklahoma State to unveil a pair of long-rumored statues to remind fans, alumni and recruits of two legendary figures in the history of KU football: quarterback John Hadl, d'68, hailed by Chancellor Doug Girod as a "hometown hero," and NFL Hall of Famer Gale Sayers, d'75, g'77, a running back who dazzled the football world during his brief career with a graceful gait that belied his strength and speed.
The small ceremony, limited in scope amid COVID-19 restrictions, revealed twin 8-foot-tall, 1,000-pound works of sinewy bronze, flanking the front entrance to the Anderson Family Football Complex.
Although the statues are the first such commemorations for any of KU's football greats, the ceremony was bittersweet: Sayers, the "Kansas Comet," had died 10 days earlier after a long illness.
"Gale was a trailblazer on and off the field, and throughout his life," said Athletics Director Jeff Long, "and that continues today, as he becomes the first African American to be recognized with a statue on the campus of the University of Kansas."