Alumna wins prestigious fellowship, KU joins Light It Blue campaign
Alumna wins prestigious fellowship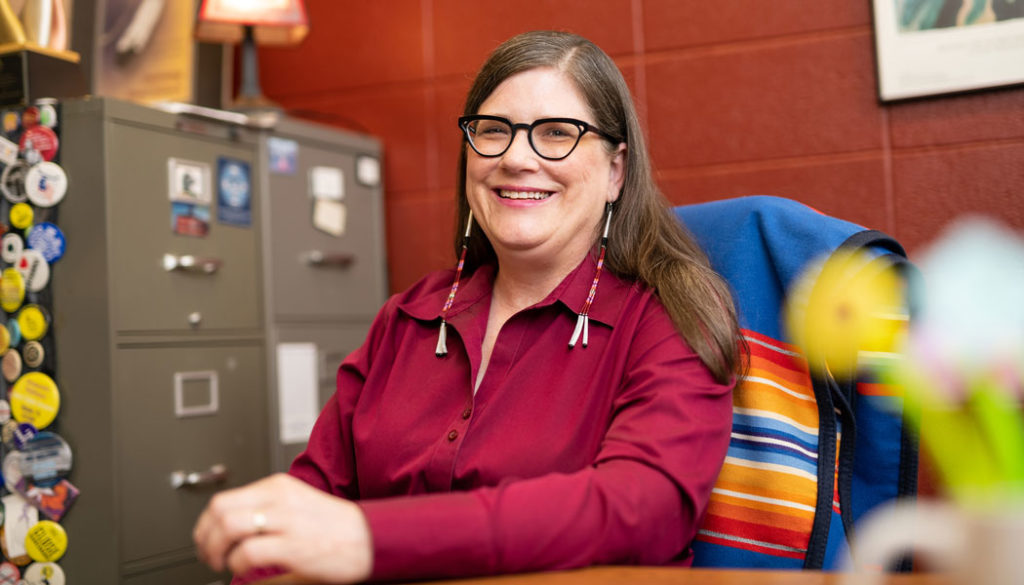 Scholar and public policy advocate Sarah Deer, c'96, l'99, in May was named an Andrew Carnegie Fellow, considered one of the most generous awards for scholarship in the humanities and social sciences. 
It's the latest in a long line of honors for Deer, who earned a MacArthur Fellowship in 2014 and induction into the National Women's Hall of Fame last September. She will use the $200,000 stipend to complete a book, Indigenous Democracies: Native Women and the Future of Tribal Nations in the United States, interviewing Native American women who lead democratic projects in their communities, like organizing resistance to a pipeline at Standing Rock Reservation in South Dakota.
"I am honored to be able to tell the story of native women's contributions to American society in the face of oppression and violence," Deer says. "Their courage and deep connection to their relatives and communities is a testament to the enduring spirit that has allowed native people to weather the storm of settler colonialism and contribute to the improvement of American democracy. I am humbled by the strength of native women and excited to work with them more closely." 
A professor at KU since 2017 with a joint appointment in the School of Public Affairs and the department of women, gender and sexuality studies, Deer is the third KU faculty member awarded a Carnegie Fellowship. She's a member of the Muscogee (Creek) Nation and chief justice for the Prairie Island Indian Community Court of Appeals.
—Steven Hill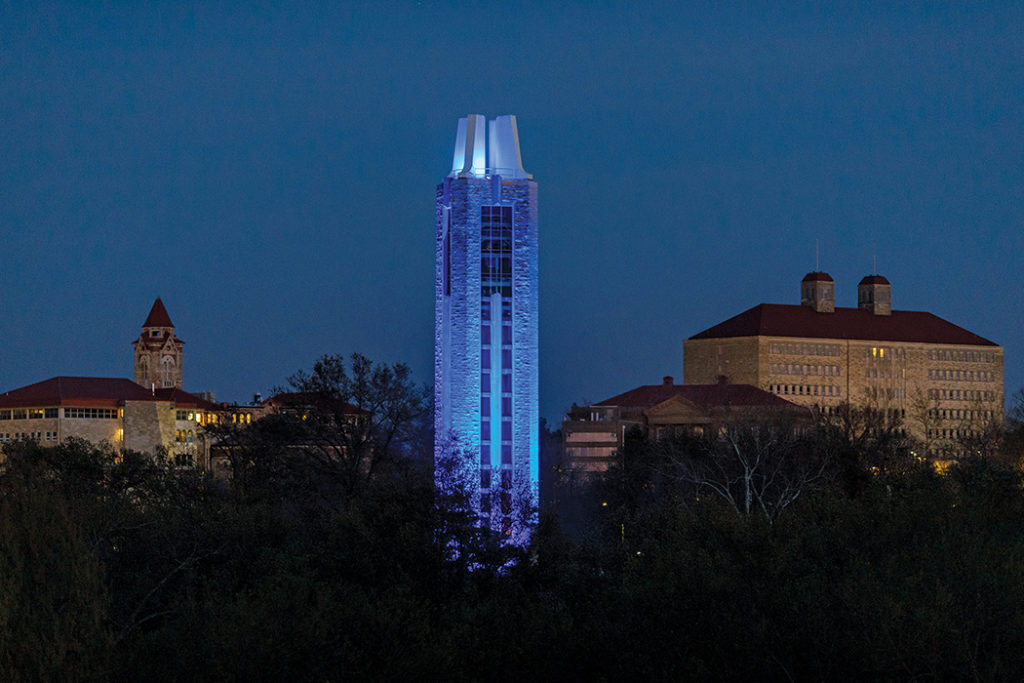 KU joined the Light It Blue campaign to show support and gratitude for essential workers and health providers fighting the COVID-19 pandemic. At 8 p.m April 9, several campus sites glowed with blue light, including the Campanile and the Waving the Wheat Wall behind the DeBruce Center. Kansas Athletics also displayed messages of support on the video boards at Hoglund Ballpark and at the Rock Chalk Park track and field complex in northwest Lawrence.
A masked bird appeared outside the Alumni Association in support of essential workers, and to remind everyone to stay healthy and safe.