Alumna coaches pets by coaxing their owners
Elise Patrick first discovered her passion for animal behavior and dog training five years ago as a volunteer at the Lawrence Humane Society. A part-time job in administrative support at KU allowed her to spend hours at the shelter each week, shadowing the behavior manager and conducting classes alongside her.
"Every chance we got we were talking about training and behavior," recalls Patrick, g'10, "and I realized, 'Oh my gosh, I could probably do this as a career and actually make a living at it.'"
Patrick was already leaps and bounds ahead of the pack, having studied sociology and psychology as an undergraduate at Baker University before earning her master's degree in higher education at KU, all of which provided foundational skills that could easily be applied not only to humans but also to four-legged creatures.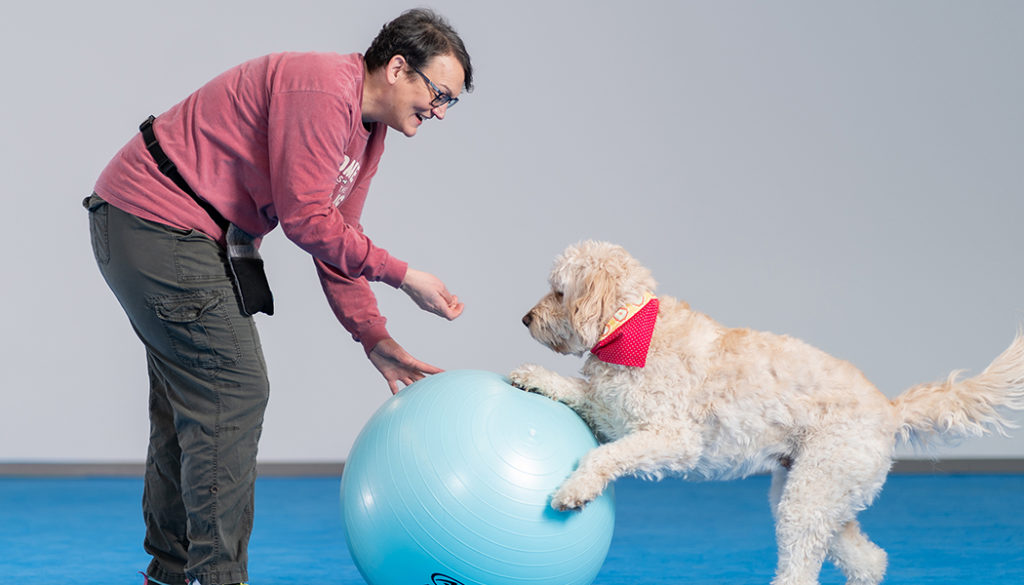 "Behavior is behavior, regardless of the species," she says. "The other thing about dog training is that it's really teaching people. It has very little to do with dogs when it all comes down to it. When you're teaching group classes, you have to find a way to communicate with people so that they can then communicate with, and train, their dogs. I really think all of my career in administrative support at KU, and certainly my higher education degree, contributed to that."
After developing basic dog training skills as an apprentice under several local professionals, Patrick completed a weeklong, intensive course at Peaceable Paws Academy in Fairplay, Maryland, taught by renowned trainer Pat Miller. In 2018 Patrick earned her Certified Professional Dog Trainer-Knowledge Assessed credentials, which require at least 300 hours of training experience and successful completion of a written exam. She moved from Lawrence to the small port community of Astoria, Oregon, where she opened her own dog training facility. "I happened upon a retail space that was just perfect for what I wanted to do," she says. "I was open about a year before COVID hit, and the rest is history."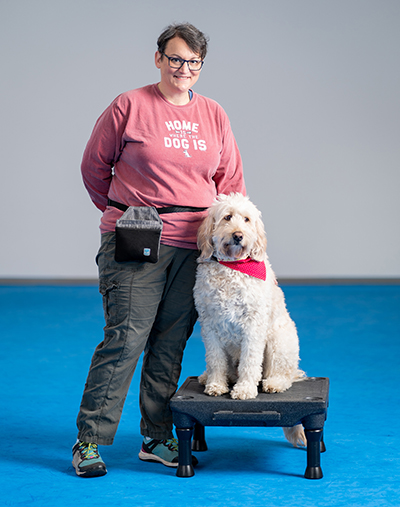 Patrick returned to Kansas last year and landed a position at Wagmore Canine Enrichment in Lawrence, which is owned by fellow Jayhawks and trainers Jerri Johnson, c'95, and Jeannene Loewenstein, d'83, g'88. In December she enrolled in the popular Karen Pryor Academy, which offers a six-month online training course that culminates with an in-person workshop in June, hosted by Wagmore. The comprehensive program covers modern behavior and training methods, including the use of clickers, a proven technique that conditions dogs to associate a desirable behavior with a crisp sound and a reward, most often a treat. It's one of many tools Patrick uses as a positive reinforcement trainer, also known as a fear-free or force-free trainer.
"We're getting behavior; we're not punishing behavior," she explains. "We're not using any type of chains or prongs or electronic shock to get our dogs to behave. We're using what we know to be the best way to help animals give behavior, which is by reinforcing it so that they get good consequences. And in the case of dogs, food is a good consequence."
Patrick teaches the Puppy Start Right and Surviving Adolescence classes as well as a Basic Manners course for those with dogs 6 months and older. At Wagmore's daycare facility, she coaches pups who need extra help with their socialization and training skills. She rounds out her workweek by teaching group classes on Sundays at Camo Cross Dog Training in Topeka.
Patrick admits that her biggest challenge isn't necessarily the furry critters she helps train—it's their owners. "In our society now, we just want quick fixes," she says. "The biggest complaint that we as positive reinforcement trainers get is that it's not happening fast enough. So, communicating with people in a way that makes sense to them and that we can get buy-in is a challenge. The rewarding part of that, though, is seeing those who do buy in and say, 'Oh yeah, this is awesome. This is a great way to train my dog.'"