Architecture professor receives 2020 award from senior class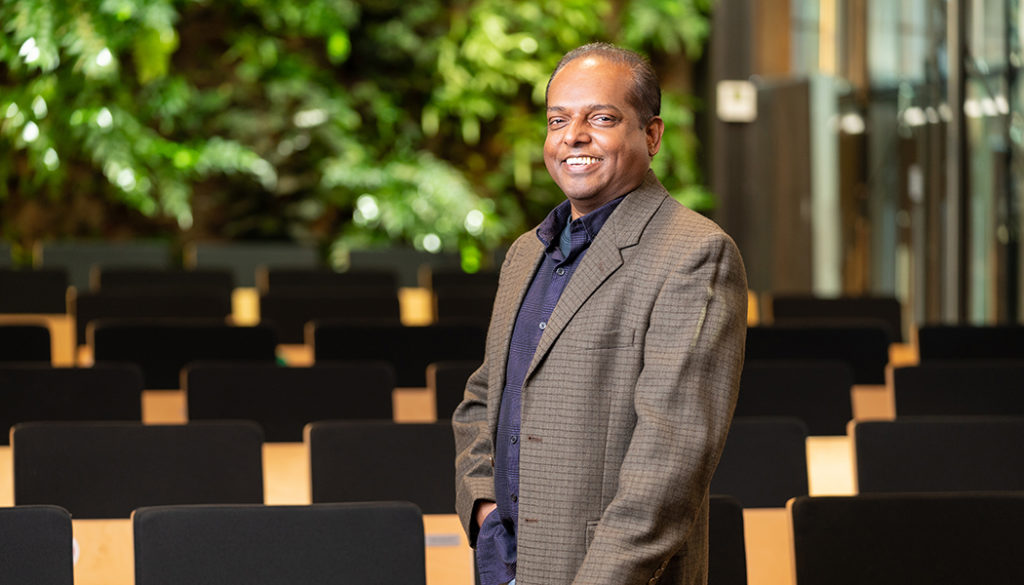 Kapila Silva didn't know what to make of the email he received on a Friday evening in late October, notifying him that he had won the 2020 HOPE Award. "I wasn't sure it wasn't spam," he says with a laugh. "It was quite a surprise, especially when I realized it was student-nominated. It's an honor."
The HOPE Award—Honor for the Outstanding Progressive Educator—is a decades-long tradition, established by the Class of 1959 and given annually to a notable professor through the Board of Class Officers. It is the only award given to a faculty member by the senior class. 
Silva came to the School of Architecture & Design in 2007 from the University of Wisconsin-Milwaukee, where he earned his doctorate in architecture in 2004 after receiving bachelor's and master's degrees from the University of Moratuwa in his native Sri Lanka. He was promoted to professor in August 2020 and teaches courses in architectural design and historic preservation. He received the school's Jack and Nancy Bradley Student Recognition Award in 2010 and KU's K. Barbara Schowen Undergraduate Research Mentor Award in 2018.
"I need to somehow help them get the education within the time they spend at the University, so when they graduate and go into architectural practice, they are very confident in their skillsets." –Kapila Silva
Silva describes himself as a hands-on instructor and uses the example of a basketball coach who's in the trenches with his players, ready to advise and guide them at any time. Last fall, he recalls being awakened at 5:30 in the morning by a text from a student who was struggling to send an assignment to another teacher. Silva responded immediately. "It was due that day, and he didn't know what to do," Silva says. "So, I sent him a Zoom link right away and talked to him. We went through a strategy."
In addition to teaching, Silva has led the School of Architecture & Design's Study Abroad program in Asia since 2008 with his colleague Dr. Jae Chang. The annual trips have taken Jayhawks to India, Singapore, Malaysia, Japan and other countries, allowing them to connect with local architecture students and faculty as well as city officials and residents. "That gives them a really good cultural immersion and understanding of how architecture is practiced and thought of in those countries," Silva says.  
A licensed architect in Sri Lanka, Silva conducts research into the management of UNESCO World Heritage sites, focusing on the social, cultural and psychological aspects of architecture, urbanism and historic preservation. He eagerly shares that knowledge with his students.
"I have a certain degree of expertise and experience in the subject area that they are studying," he says. "I need to somehow help them get the education within the time they spend at the University, so when they graduate and go into architectural practice, they are very confident in their skillsets."