Component in COVID-19 therapeutic linked to decades-old KU discovery
One of the first drugs to show promising results in treating patients with COVID-19 has longstanding ties to the KU School of Pharmacy. The investigational antiviral drug remdesivir, which in May received emergency-use authorization from the Food and Drug Administration, contains Captisol, a solubilizing and stabilizing agent that KU researchers developed and patented 30 years ago.
In the mid-1980s, Valentino Stella, then professor of pharmaceutical chemistry, was working with the National Cancer Institute to help formulate experimental anticancer drugs. One of the drugs used in a clinical trial at that time was found to cause severe adverse reactions in patients, primarily because of a surfactant that rendered the drug water-soluble so it could be administered intravenously. Stella recruited one of his graduate students, Roger Rajewski, from Victoria, Kansas, to help find a safer alternative. 
"There's obviously the discovery of an invention and the insight that goes into that, but then the hard work really begins. … There's a tremendous amount of work that's gone into a 30-year success story."
–Roger Rajewski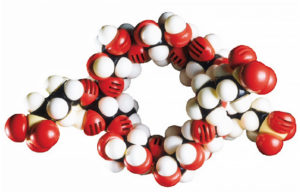 The two began studying a class of molecules known as cyclodextrins, specifically β-cyclodextrin, a cone-shaped, neutral molecule that was an effective solubilizer but also caused severe, even fatal, renal toxicity. Their goal was to modify the molecule's structure to make it safer while maintaining its benefit as a solubilizer. The process was anything but easy. 
"About two and a half years into the project, we were going nowhere fast," recalls Stella, PhD'71, who retired in 2016 as University Distinguished Professor Emeritus. "We figured out how you could prevent the toxicity, but we had lost the ability for the molecule to act as a solubilizer."
Realizing they were at a make-or-break moment in their research, Stella invited Rajewski for beers to determine the fate of the project—as well as his dissertation. Though they had learned that adding charge to the surface of β-cyclodextrin resolved its toxicity, it also prevented drugs from binding to the molecule's cone-shaped center. During that meeting, Rajewski proposed a solution: If they moved the charge away from the surface of the molecule, could they maintain its safety and its ability to bind drugs? 
Over the next six months, Rajewski began making derivatives that proved the answer was yes.
"It was the proverbial light going on above your head," Rajewski, c'84, g'87, PhD'90, says with a chuckle. He returned to the University in the mid-1990s and currently serves as a research professor in the department of pharmaceutical chemistry. 
Once Stella and Rajewski proved the safety of their technology and patented Captisol, it was licensed and marketed through a University startup company called CyDex, which is now part of Ligand Pharmaceuticals. Today Captisol is a solubilizing agent in 14 FDA-approved, life-saving products, including remdesivir, which is manufactured by Gilead Sciences. 
In the 30 years since Captisol's discovery, several KU alumni have played important roles in its formulation and delivery, as well as that of remdesivir, including Reza Oliyai, g'91, PhD'94, senior vice president for pharmaceutical and biological operations at Gilead; James "J.D." Pipkin, c'73, g'80, PhD'81, vice president of new product development at Ligand; and Vahid Zia, g'96, PhD'99, executive director of formulation and process development at Gilead. 
Stella has consulted for both pharmaceutical companies over the years and continues to stay in touch with former students who work there. Through those connections, he follows critical developments at Ligand and Gilead, especially those that relate to the current public health crisis and reducing the recovery time from COVID-19. 
"Remdesivir is having an impact, but it's not ideal," Stella says. "We need to be able to develop an oral drug. Remdesivir has to be given intravenously right now, meaning you have to be hospitalized to receive it. It's going to be impactful in the interim, but I think we need to come up with a drug that you could take orally once you first have the symptoms of COVID-19, just as you take an antibiotic for a bacterial infection."
According to Stella, Gilead and others are currently working on drugs that can be administered orally, as well as an inhaled solution of remdesivir, which also will use Captisol as a solubilizer and could potentially be used for outpatient therapy. A clinical study for this nebulized form of remdesivir is underway.
In the meantime, now that the U.S. Department of Health and Human Services secured an additional 500,000 treatment courses of injectable remdesivir through September, production of Captisol has skyrocketed from a manufacturing capacity of 60 metric tons per year to an anticipated 500 metric tons per year. Both Stella and Rajewski are extremely proud to see their colleagues—many of whom are fellow Jayhawks—leading the charge on those efforts.
"There's obviously the discovery of an invention and the insight that goes into that, but then the hard work really begins" Rajewski says, "There's an appreciation for all the people who have worked on Captisol and making Captisol a success—the people at CyDex, the people at Ligand, all the people who have worked on it. There's a tremendous amount of work that's gone into a 30-year success story."
Stella echoes that sentiment, highlighting the significant contributions KU alumni in particular have made through the years. "We discovered the material 30 years ago, but the people who are in the trenches right now are Reza, Vahid, J.D. and their colleagues," he says. "I think the KU pharmaceutical chemistry department is at the vanguard of training people who are developing world-class products and vaccines, and I think KU can be very proud of that, beyond remdesivir, beyond Captisol."