Huge tornado, as seen from atop Fraser Hall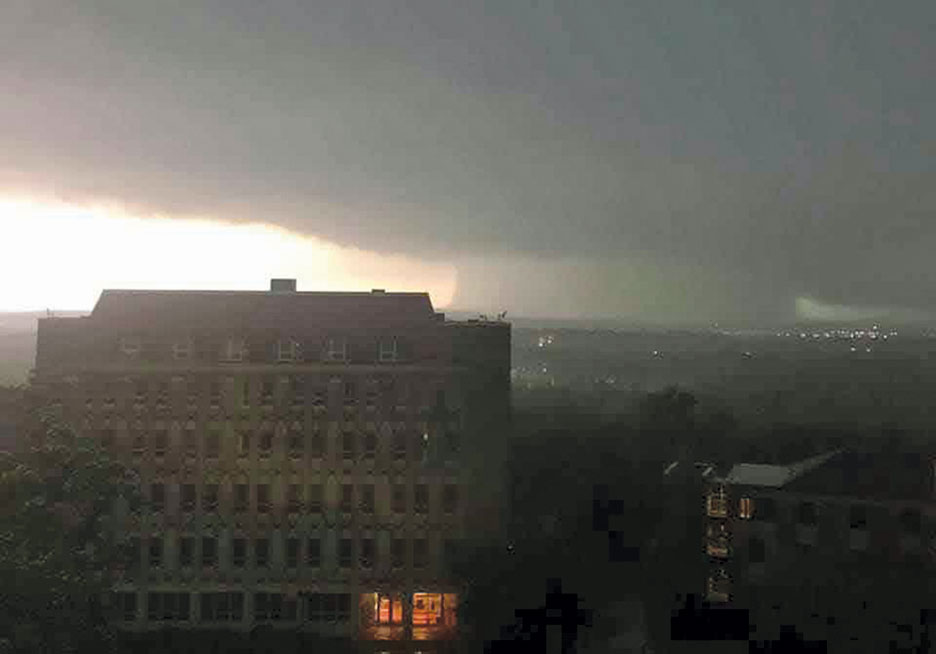 When bad weather turned nasty the evening of May 28, anthropology professor John Hoopes left his sixth-floor Fraser Hall office to monitor the view from the south stairwell, pausing briefly to snap three iPhone photos before he bolted for the basement. The shot he posted on Facebook—a massive "rain curtain" obscuring vortices, two minutes after landfall, that quickly strengthened into an EF-4 behemoth—became an iconic image.
Hoopes' photo of the fierce tornado that damaged or destroyed homes and farms across Douglas and Leavenworth counties was frighteningly beautiful enough to warrant attention from Framewoods Gallery, where prints can be purchased.
"It shows just how close this monster came to campus," Hoopes says. "It's good these things don't happen often."
Always eager to turn news of the day into cheeky learning lessons, Hoopes, who specializes in Central and South American archaeology, the next day posted Aztec imagery of a bad-looking dude.
"If you need to appease the storm god," Hoopes wrote, "Tlaloc's your guy."